Free presentations from the Historic Reno Preservation Society are open to the public. These programs are for you if you are an avid history buff or just want to know more about how and why Reno and northern Nevada got to where we are today.
All programs are on the last Sunday of the month and start at 1 p.m. They are held in the basement auditorium of the Washoe County Library in Reno at 301 S. Center Street.
Reno's Mid-Century Properties - January 29, 2017. Reno underwent a building boom in the 1960s and 70s to keep up with trends in modern architecture. Through a series of images, Sharon Honig-Bear will describe the features that defined the Mid-Century design movement, creating major changes in architecture and modern living.
The Keck Museum and Its Collection - February 26, 2017. Located in the Mackay School of Mines Building at the University of Nevada, Reno, the W. M. Keck Earth Science & Mineral Engineering Museum houses an outstanding collection of minerals, ores, fossil specimens and photographs, in addition to mining related relics. Presented by Museum Curator Garrett Barmore.
The Truckee Meadows Irrigation Ditches - March 26, 2017. There are nine hand-dug irrigation ditches still operating from the Truckee River in Reno. From short ones for the hydroelectric plants at Verdi, Fleisch and Washoe, to the big one, the Steamboat Ditch, more than 30 miles long. Most have access along at least part of their routes, winding through suburbs and golf courses, north past Kiley Ranch and south to Steamboat Hot Springs. Presented by Dana Munkelt.
The Newlands District - April 30, 2017. In 1889, Francis Newlands built his residence on a sagebrush-choked bluff overlooking the Truckee River. In the decades following, Senator Newlands and his real estate company laid out a series of subdivisions featuring picturesque landscapes, winding boulevards, and a mix of vernacular and high-style residences. This is today's Newlands District. Presented by architectural historian and historic preservation consultant ZoAnn Campana.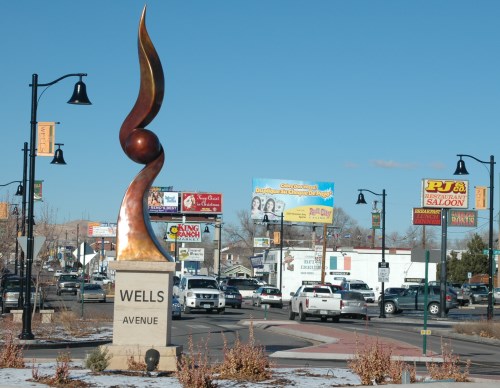 Old houses are being restored in Reno's historic Wells Avenue neighborhood. Photo © Stan White
Source: Historic Reno Preservation Society.