---
Reno-Tahoe International Airport (RNO)
---
Current Topics
Residential Dump Days
Here's your opportunity to get rid of household and yard waste at reduced rates and many bulky items for free.
Grow Your Own, Nevada!
Learn how to grow a vegetable garden and other plants in the high desert of Reno and northern Nevada.
Reno Earth Day
Join the 2015 Reno Earth Day celebration in Idlewild Park on Sunday, April 26. Admission to this family-friendly event is free.
Reno-Tahoe International Airport is located right in town, not one of those "out in the hinterlands" places common to many cities. It features easy access, ample parking, and service from numerous airlines. You want to get out quickly, or back in, Reno-Tahoe International Airport is the ticket.
Airport Authority of Washoe County,
Reno-Tahoe International Airport (RNO)
Physical Address:
2001 E. Plumb Lane,
Reno, NV 89502

Mailing Address:
P.O. Box 12490,
Reno, NV 89510-2490

Airport Authority of Washoe County: 775-328-6400
Airport Information Booth: 775-328-6870
General Aviation Information: 877-RENOFLY
Parking and Ground Transportation: 775-328-6566
Police: 775-328-6470
Noise Complaint Hotline: 775-328-6468
Airport Information Radio Station: 1610 AM
RNO Web Site: http://www.renoairport.com/

Flight Schedules
»Check Current Arrivals
»Check Current Departures
»Online Searchable Flights

Reno-Tahoe International Airport
is served by these passenger airlines: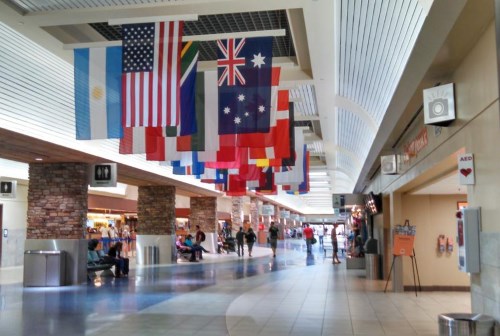 Main terminal at Reno-Tahoe International Airport in Reno. Photo © Stan White