What is Nevada Day?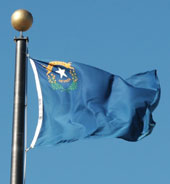 Nevada Day is a state holiday celebrating Nevada statehood on October 31, 1864, the 36th state of the United States. Nevada Day is America's largest statehood celebration. Most state and local government offices in Nevada are closed on the last Friday in October, giving residents an extra holiday during the year. The Nevada Day holiday in 2018, on October 26, celebrates the 154th anniversary of Nevada statehood. Most state and local government offices are closed. The Nevada Day Parade and other festivities for 2018 are on Saturday, October 27.
Nevada Day Celebration in Carson City
Nevada Day activities and celebrations are centered in Carson City, the only capital city the Silver State has ever had. You can enjoy a wide variety of events and activities, highlighted by the Nevada Day Parade on Saturday, October 27, 2018. Here are some of the main attractions in addition to the parade. Some of this may change or there could be additions - be sure to check the Nevada Day website for the latest information.
7 a.m. to 9:30 a.m. - Pancake Breakfast at Governors Mansion
8 a.m. - Hot Air Balloon Launch
8 a.m. - Nevada Day Classic Run/Walk
8:30 a.m. to 4:30 p.m. - Free Admission to Nevada State Museum and Railroad Museum (10/27 & 10/28)
10 a.m. - Flyover of Military Aircraft
10 a.m. to 2 p.m. - Nevada Day Parade
11 a.m. to 3 p.m. - Nevada Day World Championship Single Jack Drilling Contest
12 noon 9 p.m. - Annual La Ke Lel Be Nevada Day Pow Wow
12 noon to 2 p.m. - Senator Dean Heller's Chili Feed at the Carson Nugget
2 p.m. - Nevada Day Beard Contest
2 p.m. to 4 p.m. - Governor's Mansion Tour
Nevada Day Parade
The 2018 Nevada Day Parade will be on Saturday, October 27. The parade route is down Carson Street from William Street on the north to Stewart Street on the south. Parade activities begin with a hot air balloon launch at 8 a.m. (weather permitting), followed by military aircraft flyovers to start the parade at 10 a.m. It lasts around three to four hours. The theme for the 2018 Nevada Day Parade is "A State of Economic Diversity." Floats, marching bands, and a variety of entertainment are among hundreds of parade entries. The parade is a popular event - arrive early with chairs and blankets to claim a viewing spot. (Carson Street is the main drag through downtown Carson City.)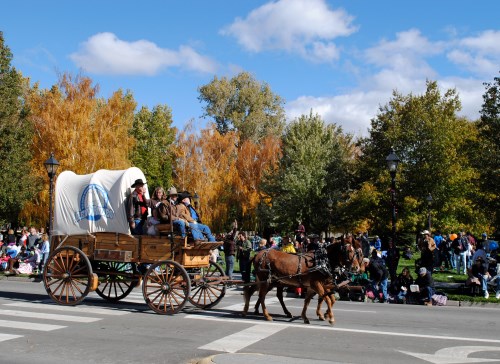 Nevada Day Parade in Carson City. Image courtesy Nevada Day, Inc.