---
Grow Your Own, Nevada! - Gardening classes in Reno
Fall 2018
Search NewToReno
Custom Search
---
---
Artown

Reno becomes Artown during the whole month of July, bringing Reno residents and visitors a month's worth of music, art, dance and other cultural experiences.
Sand Harbor at Lake Tahoe

Sand Harbor offers a number of family-friendly recreational activities, including sandy beaches, a boat launch, picnicking, group use areas, hiking, watercraft rentals and tours, and restrooms.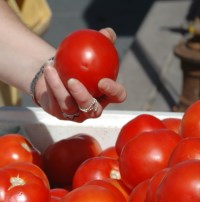 It's not super easy, but you can grow a vegetable garden and other plants in the high desert of Reno and northern Nevada. Beginners and veteran gardeners can learn both basic and advanced techniques with some help from "Grow Your Own, Nevada!" gardening classes.
What is Grow Your Own, Nevada!
"Grow Your Own, Nevada!" is a program offered to the public by the University of Nevada Cooperative Extension (UNCE). Besides Reno, the program is presented at numerous other UNCE offices around the state.
"Grow Your Own, Nevada!" is for homeowners and other small scale growers. It concentrates on imparting basic horticultural information and also provides information about new and alternative growing methods. If you are interested in food safety, self - sufficiency, and have a desire to eat locally grown food, these classes are for you.
Spring 2019 Schedule for Grow Your Own, Nevada!
Spring 2019 Grow Your Own, Nevada! workshops will be held on Tuesday and Thursday evenings from 6 p.m. to 8 p.m. Dates and subjects are listed below...
April 2: Edible Landscaping, Wendy Hanson Mazet
April 4: Nevada Soils, Melody Hefner
April 9: Season Extension: Simple to Complex (including costs), Wendy Hanson Mazet
April 11: Vermicomposting and Hot Composting, Jenn Fisher and Heidi Kratsch
April 16: Fruit Tree Pruning, Wendy Hanson Mazet
April 18: Nuisance Weeds in the Vegetable Garden, Melody Hefner
April 23: Growing Grapes in Nevada, Heidi Kratsch
April 25: Nevada's Bugs, Kevin Burls
Grow Your Own, Nevada! Class Locations
In Reno, Grow Your Own, Nevada! classes are held at University of Nevada Cooperative Extension office at 4955 Energy Way, Reno, NV 89502. There will also be classes in other Nevada cities - Battle Mountain, Carson City, Caliente, Elko, Ely, Eureka, Fallon, Hawthorne, Logandale, Lovelock, Winnemucca and Yerington. If you plan to attend classes at one of these other locations, contact the respective office for times and locations.
Registration and Fees for Grow Your Own, Nevada! Classes
The registration fee for classes is $15 each or $60 for all 8 classes. You can register online and sign up for the classes of your choice. For more information, call the program contact in Reno at (775) 336-0249.
About the Grow Your Own, Nevada! Instructors
Class instructors are UNCE experts that are experienced gardeners. Some are graduates of the Master Gardener Program, started in 1972 in Washington state as a response to ever increasing requests from home gardeners for information about growing fruits, vegetables, and landscape plants in their region. Master Gardeners are volunteers that give UNCE the ability to provide the public with current and accurate information while providing "participants a sense of community spirit, accomplishment and intellectual stimulation." You can contact the Master Gardener Program in Washoe County by phone at (775) 784-4848 or (775) 336-0246.
Sources: Grow Your Own, Nevada! and University of Nevada Cooperative Extension.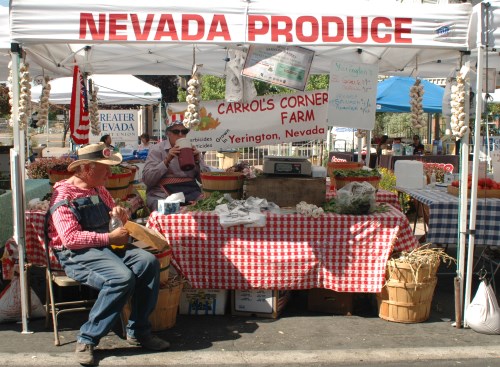 Lots of delicious produce and other food is grown right here in northern Nevada. Photo © Stan White