Much of Reno's St. Patrick's Day fun happens in our numerous Irish pubs, but there is plenty more. Check out the many activities going on throughout the area for various St. Patrick's Day events, many of which are family-friendly. Note that many activities and events occur before St. Patrick's Day, which is on Friday, March 17, 2017.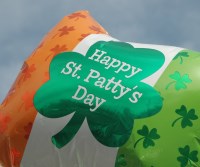 Sparks Shamrock Shuffle - Saturday, March 4, 2017. Dress in the green and come participate in this 5K fun run at Victorian Square in Sparks. Enjoy great music, green-themed aid station, hilarious course markers, costume contests with trophies, photo booth and lots more fun. Runners over 21 get a Shamrock Shuffle pint glass and green beer and can go to the after-party at O'Ski's pub. You can register online as an individual or group.
26th Annual Rocky Mountain Oyster Fry - Saturday, March 11, 2017, 10 a.m. to 4 p.m. Go up to Virginia City for this popular event. Cooks from around the west fry, smoke or grill these delectable concoctions in a way that will make you forget what you're really eating. This is also the day for the annual St. Patrick's Day Parade, a part of the whole St. Patrick's Day weekend of activities, which include the Rocky Mountain Oyster Fry, the Ball Breaker Saloon Crawl, music, costume contest and beer garden.
Leprechaun Crawl - Saturday, March 11, 2017. Enjoy a fun roving party that celebrates St. Patrick's Day in downtown Reno. Crawling starts at 8 p.m. and goes until 4 a.m. for those who last that long. There's no cover at the 25+ participating establishments. Dress in your St. Patrick's Day finery and enjoy a rousing evening with thousands of other party animals. For more information, call (775) 342-9565.
Leprechaun Race - Sunday, March 12, 2017. See if you can beat the leprechaun to the finish line on this fun race through Reno's Midtown and Wells Avenue districts. This is a family-friendly 5K event. Last day to drop off registration in person is Thursday, March 9. Online registration closes Wednesday, March 8. There will be no race day registration. The Leprechaun Race is a benefit for the Terry Lee Wells Nevada Discovery Museum.
St. Patrick's Day Party at Ceol Irish Pub - Friday, March 17, 2017. Ceol Irish Pub throws one of Reno's best St. Patrick's Day parties. In 2016, it's the 9th anniversary of Ceol's first St. Patrick's Day party. There will be food and plenty of Irish beverages. Music and Irish merriment will be featured on indoor and outdoor stages with music by The Blarney Band, the Gnarly Pints, the Clarke Brothers and Liam Kyle Cahill. Ceol Irish Pub opens at 3 p.m. daily and is located at 538 S. Virginia Street in Reno. The information phone number is (775) 329-5558.
St. Patrick's Day at Rapscallion - Friday, March 17, 2017. Rapscallion Seafood House & Bar will not be having an outside party like it has in past years. However, it is still celebrating St. Patrick's Day with their corned beef and cabbage, along with plenty of green beer. Rapscallion is at 1555 S. Wells Avenue in Reno. The info phone number is (775) 323-1211.
More Reno Area Irish Pubs - Reno, Sparks, and the Lake Tahoe area all have Irish pubs where you can be sure to enjoy St. Patrick's Day in proper style. Depending on where you go, you'll find Irish food and drinks, live music, dancers, and even bagpipers. My Irish pubs article lists them so you can find one in your neighborhood.
Shamrock Shave for St. Baldrick's Foundation - Saturday, March 18, 2017. The Reno Fire Department and others will participate in the seventh annual Shamrock Shave for the St. Baldrick's Foundation. The event will be held at the Ole Bridge Pub, 50 North Sierra Street, from 10 a.m. to 6 p.m. Head shaving begins at noon. Reno area residents are welcome to join in their commitment to help find a cure for childhood cancer. Contributions from the event will go toward the St. Baldrick's Foundation. Call (775) 544-4555 for more information.
St. Patrick's Spirits & Beer Fest at The Nugget - Friday and Saturday, March 17 - 18, 2017. Party at the Nugget as Gilley's transforms into St. Patrick's party central. Gilley's will be open 4 p.m. until midnight with live entertainment by Whiskey & Stitches and Plastic Paddy, specialty drinks and beers. The dining room will feature Irish specials. The Nugget Casino Resort is at 1100 Nugget Avenue in Sparks.
St. Patrick's Day Dining at the Atlantis - Friday, March 17, 2017. In true Irish spirit, you'll find a variety of food and drink specials to choose from, whether you're looking for a traditional Irish-style meal or some festive and fun drinks. Menu and drink specials will be available at The Purple Parrot, Toucan Charlie's Buffet & Grille, and Manhattan Deli. The Atlantis is at 3800 S. Virginia Street in Reno. (775) 824-4411.
St. Patrick's Day Dining at the Bonanza Casino - Friday, March 17, 2017. The Branding Iron Cafe will be serving a corned beef and cabbage special from 11 am. to 10 p.m. Also in the Branding Iron, enjoy a St. Patrick's day buffet from 4:30 p.m. to 9 p.m. The Bonanza is at 4720 North Virginia Street in Reno. (775) 323.2724.
St. Patrick's Day Free Safe RIDE Program - Make it a safe St. Patrick's Day and ride the bus if your celebrating involves enjoying green beer, ale, and Irish whiskey. RTC RIDE, RTC RAPID, and Sierra SPIRIT will be offering free rides on March 17, on all RTC transit services from 4 p.m. to 2 a.m. RTC is sponsoring this freebie along with several area businesses and organizations.
Family-Friendly St. Patrick's Day Customs and Traditions - Here are some suggestions for St. Patrick's Day customs, traditions and activities the whole family might enjoy, submitted for your consideration by guest author Sarah Lockwood.