The Fleischmann Planetarium and Science Center first opened in 1964 as the Fleischmann Atmospherium-Planetarium. A marvel at the time, the Planetarium's technology has been continually upgraded to maintain a state-of-the-art facility with a Spitz SciDome digital projector capable of producing brilliant shows and 3-D images.
Star Shows at the Fleischmann Planetarium
Fulldome planetarium shows play in the Dome Theater. When viewing one of these shows, you'll be surrounded by color, lifelike detail and sound. It's a unique audiovisual experience.
Shows change periodically and most are suited to family audiences. Visit "Now playing in our Dome Theater" to see the current lineup. There are shows every day and on weekends. The information phone number is (775) 784-4812.
Admission is $8 for adults and teens (ages 13 to 59). It's $6 for children 12 and under, seniors 60 and over, UNR and WCSD faculty, staff, and students with ID and military with ID. Groups of 15 or more get in for $5 each with advance reservations. Admission is free for Planetarium members.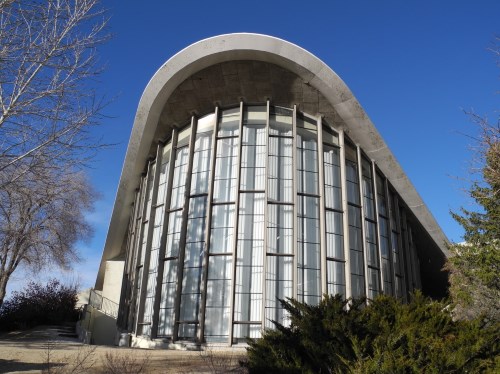 Fleischmann Planetarium and Science Center, University of Nevada, Reno. The unusual building is a hyperbolic parabaloid. Photo © Stan White
Free Exhibits and Star Gazing at the Fleischmann Planetarium
The Fleischmann Planetarium Exhibit Hall features changing hands-on interactive displays and permanent exhibits including large-scale rotating Earth and moon globes, a black hole demonstrator, dozens of meteorites and more. The Exhibit Hall is open whenever the Planetarium is open and admission is free.
On the lower level, check out ViewSpace (the Hubble Gallery), featuring a regularly updated program of current space news and Hubble Space Telescope findings. See rotating exhibits of astronomy-themed artwork from regional and national artists in the Art/Space Gallery.
There is free telescope viewing every Friday at the MacLean Observatory on the Redfield Campus in south Reno, weather permitting. Weather conditions that may cause cancellation include cloud cover, haze, precipitation, wind and cold temperatures. Call (775) 784-4812 for updates and hours. Hours vary by season. You will be outside during this event and no indoor facilities are available.
Fleischmann Planetarium Location and Parking
The Fleischmann Planetarium and Science Center is located at 1650 N. Virginia Street, on campus at the University of Nevada, Reno. You can park for free in the West Stadium Parking Complex, level 3, next to the Planetarium.