The 2017 Nevada State Fair takes place Thursday through Sunday, June 8 - 11. It will be in Mills Park in Carson City, Nevada's state capital.
Attractions and Fun at the Nevada State Fair
The Nevada State Fair will have all the fun things to do fair goers have come to expect. Go to the website and click on the links to get more information.
Midway of fun and carnival rides
Big variety of contests
Main Stage entertainment
Car Show
Wild West Wine Run steam train ride on the V&T Railroad
Rendezvous - Wild West theme
Agriculture and livestock
County Exhibit Pavilion featuring each of Nevada's 17 counties
The 2017 Nevada State Fair Grand Opening will be at the Mills Park Main Stage at 1 p.m. on Thursday, June 8, 2017. In attendance will be Governor Sandoval, lots of other local officials and politicians, the Nevada National Guard Joint Forces Color Guard, and a singing of the National Anthem.
Location of the Nevada State Fair
The 2017 Nevada State Fair will be at Mills Park in Carson City. Mills Park is at 1111 E. William Street, which is also U.S. 50. It's about 32 miles from Reno and freeway almost all the way. The easiest way to get there from Reno is to take I580 / U.S. 395 south to Exit 39 in Carson City. Turn right (west) onto E. William Street / U.S. 50 and go about a mile. Mills Park will be on the left.
Free Entry and Parking at the Nevada State Fair
There are no entry fees to the Nevada State Fair and parking is free at Carson High School. However, tickets are required for the midway carnival rides, games, and food. The fairgrounds and midway will be open from 11 a.m. to 10 p.m. each day of the fair.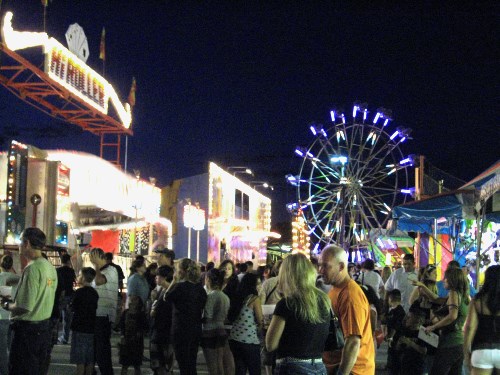 Midway and carnival rides at the Nevada State Fair. Photo © Stan White
What happened to the original Nevada State Fair?
The original Nevada State Fair was first held in 1874 and was Nevada's longest running event (136 years) until it's last year in 2010. In March of 2011, the fair's board of directors decided the show could not go on, citing a large debt and inability to raise funds necessary to continue.
In August of 2013, a new non-profit organization was formed to revive the tradition, bringing this event back to the Silver State.