About the Barracuda Championship PGA Golf Tournament
The 24th annual Barracuda Championship will be from Thursday, July 14 through Sunday, July 17, 2022. This PGA Tour golf tournament is held at Tahoe Mountain Club's Old Greenwood golf course in Truckee, CA. Barracuda Championship tournament play begins on Thursday, July 14, following The Row Pro Am, practice rounds, and the Barracuda Championship Pro Am.
The Barracuda Championship is a big-time professional sports event. It is the only PGA Tour event played near Reno and one of only 46 PGA Tour golf tournaments in the world.
Top PGA pro golfers play in the Barracuda Championship. Past winners have included Kirk Triplett, Vaughn Taylor, John Cook, Will MacKenzie, John Rollins, Matt Bettencourt, and the 2021 champion Erik van Rooyen.
There will be 131 top PGA players competing for a purse of $3.5 million at the 2022 Barracuda Championship. The Barracuda Championship is the only PGA Tour event using the Modified Stableford scoring format, which encourages more aggressive and exciting play. The field is cut to the top 67 players on Saturday of tournament week.
The Barracuda Championship is preceded by the Barracuda Championship Pro-Am Tournament. No other tier-1 professional sporting event affords sponsors and their guests the exclusive opportunity to play alongside professional athletes and enjoy world-class hospitality.
Spectating at the Barracuda Championship
For information about dos and don'ts, check out the "Frequently Asked Questions". To ensure a fun and hassle-free experience, spectators need to know the policies about such things as cell phones, cameras, and items you can and cannot bring with you.
Tickets for the Barracuda Championship
Barracuda Championship tickets are sold individually and in various packages. Tickets and parking passes must be purchased in advance. No onsite ticket sales or will call. For example, a one-day adult general admission pass starts at $35.00 and a parking pass is $10.00. Get details about all the options and purchase tickets online at "Barracuda Championship 2022 Tickets".
Source: Barracuda Championship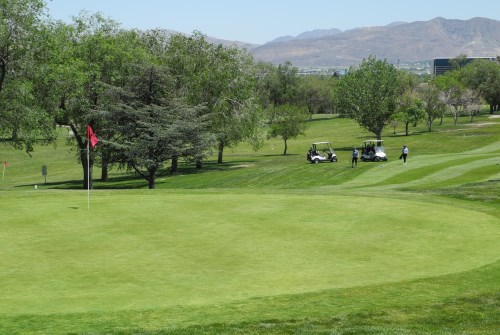 Great golfing on several public golf courses in the Reno / Sparks area. Photo © Stan White
Sponsored Links
Sponsored Link