Burning Man is a huge art festival dedicated to community, self-expression, and self-reliance. The annual event is held on the open playa of the Black Rock Desert, 100 miles north of Reno. Every year, this remote and virtually uninhabited place is transformed into Black Rock City, one of Nevada's largest towns for a week. From a small gathering to burn the first Man on a San Francisco beach in 1986, Burning Man now attracts some 72,000 attendees from around the world.
Burning Man 2017 takes place from Sunday, August 27 through Monday, September 4. The art theme for Burning Man 2017 is "Radical Ritual."


The Man burns. Photos © Stan White
Learn More About Burning Man
Even though I have attended Burning Man several times, I find that it's not possible to adequately describe the experience and what goes on. Burning Man is one of those things you need to see and participate in for yourself in order to understand the experience. Your experience will be unique and different from that of everyone else. If you are a virgin (someone who has never attended Burning Man), the best place to start is at the source. Here are some Burning Man website links to get you started. Once you get going, these will lead to a whole lot more.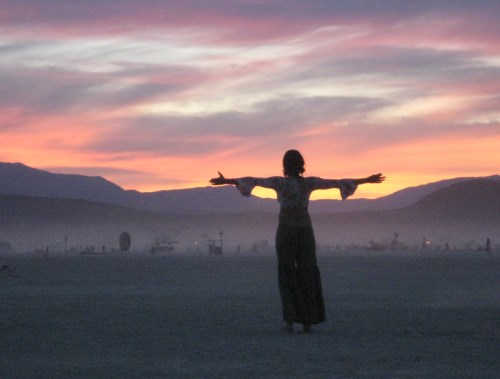 Sunset in Black Rock City during Burning Man. Photo © Stan White
Watch Burning Man Online
Burners and wannabes who can't be in Black Rock City can still get a look at the event via online live streaming. The feed comes from YouTube and is available as Burning Man Live Stream. There is obviously nothing to see until the event starts, so click the link to see what's on the air during the dates when Burning Man is happening.
Burning Man at the Nevada Museum of Art
Want to experience Burning Man without actually going out to Black Rock City? Well, there is no real substitute for the real thing, but you can get a good feel for the life of this iconic Nevada festival right here in Reno at the Nevada Museum of Art. Two Burning Man exhibits will be featured from July 1, 2017 through January 7, 2018.
City of Dust: The Evolution of Burning Man - This exhibit explores the evolution of Burning Man from its beginning on Baker Beach in San Francisco to the event we have today in the Black Rock Desert north of Reno. "Never-before-seen photographs, artifacts, journals, sketches, and notebooks reveal how this temporary experimental desert city came to be - and how it continues to evolve."
View from the Playa: Photographs by Eleanor Preger - From Incline Village, Preger has been taking Burning Man photos for years. Her work will be displayed in the Nightingale Sky Room atop the Museum.
Burning Man Around Reno
There are numerous art installations around Reno that first appeared at Burning Man. Two of the most prominent are the "BELIEVE" and "Space Whale" sculptures in City Plaza, across from City Hall and next to the Virginia Street Bridge. Others include "Portal of Evolution" at Bicentennial Park and "Pentamonium" at the Lear Theater. The "Reno Playa Art Park," features more Burning Man art. This park is a great use of vacant land created by the demolition of two derelict motels. It is located in the 500 block of N. Virginia Street, across from Circus Circus.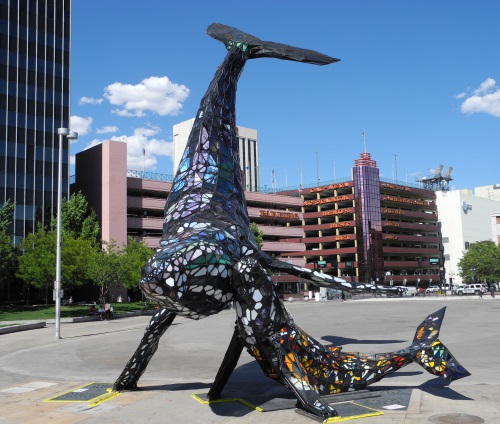 "Space Whale" was at Burning Man 2016. It is now installed in City Plaza in downtown Reno, Nevada. Photo © Stan White
Across the street from "Space Whale," the Metro Gallery inside Reno City Hall (1 E. 1st St.) currently has an exhibit of large Burning Man photographs.