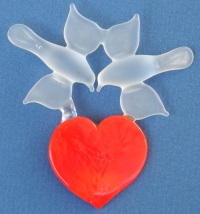 Valentine's Day 2022 is on Monday, February 14. Reno and Sparks have a number of excellent dining places that will be serving from special menus for you and your sweetheart on Valentine's Day. With a nice range of dishes and prices, there is sure to be a romantic restaurant venue to suit just about every taste and budget.
Valentine's Day Dining Around Reno
Valentine's Day Dining at the Atlantis - Monday, February 14, 2022. Treat your valentine to the best dining in Reno. From award-winning buffet to four diamond gourmet, enjoy an unforgettable Valentine's Day dinner at Atlantis. Special Valentine's Day dining will be available at Atlantis Steakhouse, Bistro Napa, Manhattan Deli and Toucan Charlie's Buffet & Grille. Specials will be available from Friday through Monday. Call (775) 824-4411 for reservations. The Atlantis is located at 3800 S. Virginia Street in Reno.
Valentine's Day Dining at the Grand Sierra Resort - Monday, February 14, 2022. Restaurant Row inside the Grand Sierra will have numerous Valentine's dining specials at Charlie Palmer Steak, Rim Asian Bistro, The Grand Buffet and Grand Cafe. In addition, you can book special room rates and specials on spa treatments. Visit the Grand Sierra website for details on menus, times and costs. The Grand Sierra is at 2500 East Second Street in Reno.
Valentine's Day Dining at the Bonanza Casino - Monday, February 14, 2022. Dine at the Cactus Creek Prime Steakhouse with your sweetheart for $85 per person. This is a full T-bone dinner with salad or soup and dessert. Call (775) 334-5555 for required reservations or reserve online. The Branding Iron Cafe is also featuring Valentine's Day dining from 10 a.m. to 9 p.m. for $22.95. You can make reservations online or call (775) 334-5520. The Bonanza Casino is at 4720 N. Virginia Street in Reno.
Valentine's Day Dinner at Wild River Grille - Monday, February 14, 2022. The Wild River Grille will serve a five-course dine-in gourmet Valentine's Day dinner for two, with multiple entree choices. It's $165 per couple and includes a glass of champagne and a rose. Seatings available from 4 p.m. to 10 p.m. The Wild River Grille is in Reno's historic Riverside Hotel building, next to the Truckee River at 17 S. Virginia Street. You can reserve a table online or call (775) 284-7455.
Sweetheart Dinner at The Nugget - Saturday, February 19, 2022. Enjoy a three-course romantic dinner in the Grand Ballroom. Dining begins at 5:30 p.m. This is not a buffet - wait staff will serve guests at their tables. 21+ event. Tickets are $49.99 and available online. The Nugget Casino Resort is at 1100 Nugget Avenue in Sparks. (775) 356-3300.
Valentine's Day Dining at Liberty Food & Wine Exchange - Monday, February 14, 2022. Liberty will be serving a dine-in three-course Valentine's dinner from 4 p.m. to 9 p.m. This is a delicious dinner is $90 per couple. Food is also available to-go. For reservations, call (775) 336-1091. Liberty is located at 100 N. Sierra Street in downtown Reno.
Fun Things to Do for Valentine's Day
For information about even more activities than are listed here, go to "February 2022 Events and Activities in the Reno Region."
"Sweet: A Tasty Journey" at the Wilbur D. May Museum in Reno - through May 15, 2022. This is an interactive exhibit at the Wilbur D. May Museum at Rancho San Rafael Regional Park in Reno. "Sweet" will take you on a journey through the history and manufacturing of candy, chocolate, and other treats. Learn about candies of the past, meet real-life Willy Wonkas, and explore cultures around the world through their candy. The entry fee is $10 for adults, $9 for children 3 to 17 and seniors. Kids under 3 are free. Hours at the Wilbur D. May Museum are Wednesday through Saturday, 10 a.m. to 4 p.m. and Sunday from 12 noon to 4 p.m. The museum is closed on Monday and Tuesday.
A "Date" Night Out with Pineapple Pedicabs - every Friday and Saturday, February 4 - 26, and Monday, February 14 and Sunday February 20, 2022. Tour is 5 p.m. to 7:30 p.m. and show is 8 p.m. to 9:30 p.m. $149 per person. The tour is an all-in-one, private, curated night out in downtown Reno. It includes a cocktail (or mocktail) from Shim's Surplus, a fine dining experience under the Reno Arch with bubbles at Cafe Whitney, reserved seating and tickets to see a show at The Theater, a romantic pedicab ride during sunset and a pedicab tour through Burning Man Art and the Truckee Riverwalk.
"The Devil Made Me Do It" in Virginia City - Saturday, February 12, 2022. This event includes options for just the sampling tour or choice of all-inclusive overnight romance packages with a room, dining credit, wine or a gift basket. Take a quiet escape to a town where history comes alive or invite your friends to join along and make a night out of it. Participation is capped for the sampling tour and there are only 30 overnight packages. Prices range up to $250 per couple. Get all details for either option from the website. Tickets are available online.
Go to the Movies - The movies are always fun and there are plenty of good ones playing at all of the theaters in the Reno / Sparks area. If you haven't been to the IMAX deluxe theater in Sparks, Valentine's Day might be a good time to check it out.
Get Married - If wedding vows are part of your Valentine's Day plans, you'll need a marriage license. "Marriage Licenses in Reno and at Lake Tahoe" tells you how to get the needed paperwork in Reno, areas to the south like Carson City, and up around Lake Tahoe.
Lover's Aloft Balloon Festival - February 10 - 13, 2022. Come to Lovelock, Nevada, for this Valentine's Day event. You will enjoy hot air balloon race and tethered rides, renew your marriage vows, participate in murder mystery luncheons and more. While there, you can lock your love at Lovers Lock Plaza, next to the unique round courthouse. Several nearby businesses sell locks just for this special use. You can even get married in Lovelock with a little advance planning. Lovelock is about 90 miles east of Reno / Sparks on I80.
Sponsored Links
Sponsored Link