NewToReno Info
---
Reno Area Halloween Happenings
Spooky fun around Reno and Sparks. Have a ghoulish good time!
Search NewToReno
Custom Search
---
---
Current Topics
Farmers Markets
There's a farmer's market going on in Reno and/or Sparks almost every day of the week during summer and early fall.
Reno Food Trucks
Reno and Sparks food trucks are not the old roach coaches of yore. These food trucks offer a wide variety of high quality dishes.
Memorial Day Weekend
Memorial Day weekend is the start of the summer vacation season and there are lots of things to do around the Reno region.
Summer Camps for Kids
Enroll your kids early for the best choices among a wide variety of Reno area summer camps.
Reno Aces Baseball
The Reno Aces' 2017 season is now playing at Greater Nevada Field. Let's go out to a ball game.
Halloween activities around Reno happen all during the month of October and offer something for everyone - spooky haunted houses, safe and free trick-or-treating, adults-only activities, and more. Check these Halloween links for something suited to your interests...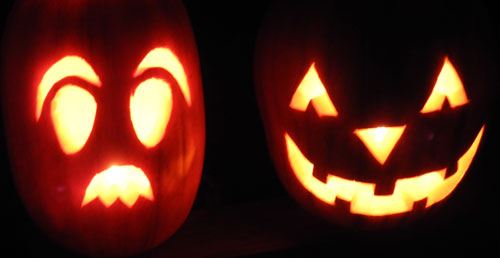 Reno Police Department offers Halloween Safety Tips

Avoiding dangerous situations during Halloween can mean simply using a little common sense to make the holiday a great one and keeping it from turning into a tragedy, says the Reno Police Department.

The Reno Police Department recommends that parents plan children's Halloween activities by teaching them and helping them practice basic everyday safety such as not getting into cars with people they don't know, not talking to strangers, watching both ways before crossing streets and crossing only when the traffic lights allow.

The Reno Police Department also suggests the following common sense tips to help make Halloween trick-or-treat activities fun and safe:

- Costumes purchased at stores or made at home should be made of
materials that are fire resistant and have eye holes large enough
for good peripheral vision, which is especially important for
safely crossing streets. Costume props should be flexible enough
to not cause injury if fallen on.

- The use of any toy or simulated gun as a prop is not recommended.

- Instruct children to never go into the home of a stranger or get
into their car.

- Make sure children carry a flashlight, glow stick or that they have
reflective materials on costumes to make them more visible at night,
especially when crossing streets.

- Younger children should never be allowed to go out alone on Halloween.
They should be accompanied by an adult or teen aged sibling. Parents
should make sure that older children are old enough and responsible
enough to go out on their own.

- Parents should plan a safe trick-or-treat route that includes stopping
only at familiar houses in their own neighborhood.  

- Be sure to instruct older children to trick-or-treat in a group with
other older children, to stay only in populated places and well
lighted areas, and not to go off the beaten path or cut through back
alleys and fields.

- Parents should know the routes older children will be taking, set
a time for their return home and make sure they understand the
importance of being home on time.

- Be sure to instruct children not to eat any treats until they are
brought home to be inspected by an adult.

- Adults should keep well informed about other activities their children
may be attending or participating in such as parties, school or other
functions.

- Explain to children the difference between tricks and vandalism.

Parents can establish a Halloween tradition of safe practices that children will pass on to their own families some day by practicing common sense, says the Reno Police Department.