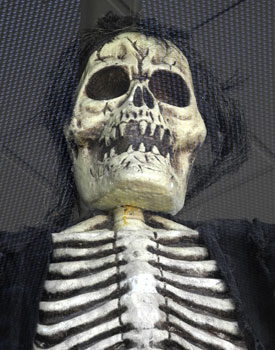 Really scary haunted houses are popular around Reno and Sparks during Halloween season. Some of these haunted houses have effects that can be frightening even for those who think they are ready. Parents are cautioned to use discretion when taking children to these Halloween events. Halloween 2021 is on Sunday, October 31.
Corn Creepers Haunted Attraction at Andelin Family Farm
Opens Friday, October 1, 2021. Corn Creepers is the only haunted attraction in a real corn field. It's pretty scary and not recommended for small children. However, there is a an option where visitors can wear a glow necklace and the spooks will tone down the scary. Even so, it's not recommended for small children. Admission is $18 per person purchased onine, $20 at the farm. Corn Creepers is open Thursdays through Saturdays in October. It is separate from the Corn Maze attraction. Hours are Thursdays 7:30 p.m. to 10 p.m., Fridays and Saturdays 7:30 p.m. to 10:30 p.m. Located at 8100 Pyramid Way in Sparks. (775) 530-8032. No pets. It's recommended to buy tickets online.
Key & Code Escape Rooms
Some escape rooms are scary and offer a different take on the haunted house idea. There are several available, but the two most suited to Halloween are "Dr. Ensaine" and "Virginia City Haunt." Get together with a group of friends, family, or co-workers to see if you can escape in time. Both of these are in Sparks at The Legends shopping center, 1420 Scheels Drive. (775) 683-9900. The other location is at The Summit shopping center in Reno, 13965 S. Virginia Street. (775) 433-1199.
Haunted Halloween Happenings in Nearby Areas
Bats in the Belfry - Virginia City Guided Ghost Tours
Fridays and Saturdays during the winter months. Take a walk through one of America's most haunted cities. Tours are on Friday and Saturday evenings. Reservations required - space is limited. Call (775) 815-1050 or make reservations online. Note: Anyone who is intoxicated or acting inappropriately will be asked to leave the tour or investigation and no refund will be given. People under 18 must be accompanied by an adult.
Carson City Ghost Walk
Saturday, October 23, 2021 for the Halloween time ghost walks. "Forces of Nature" tours will leave every half hour between 10 a.m. and 2 p.m. The tours are a spooky and enjoyable way to experience Carson City's Victorian Era and diverse past. Hear about lingering spirits of the past, haunted and paranormal stories. These are guided walking tours of the downtown district's historic homes. Tours depart from The McFadden Plaza on Curry Street, located behind the St. Charles Hotel (The Fox Brew Pub) in Carson City. Tours depart every 1/2 hour and last about 2 hours. Tickets are $20 in advance, $25 day of, kids under 3 free. Tours happen rain or shine. Call (775) 348-6279 to order tickets or get them online.
Halloweekend at Homewood
Thursday through Sunday, October 21 - 24, 2021, 3 p.m. to 9 p.m. Activities for the entire family. Pumpkin painting, face painting, pin the boo on the ghost, pumpkin tic-tac-toe, trick-or-treat village, haunted house and more. Plus, enjoy chairlift rides all day long, but rider beware, the chairlift is haunted after 7 p.m. From 7 p.m. to 9 p.m. The festival is free, but you need tickets for the chairlift rides and haunted hous. Homewood Mountain Resort is on Lake Tahoe's west shore at 105 Tahoe Ski Bowl Way.
More Halloween Activities
Sponsored Links
Sponsored Link