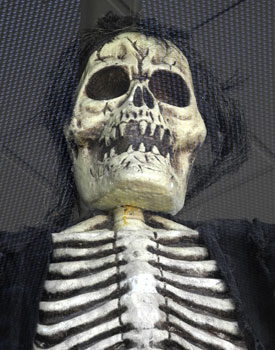 Really scary haunted houses are popular around Reno and Sparks during Halloween season. Some of these haunted houses have effects that can be frightening even for those who think they are ready. Parents are cautioned to use discretion when taking children to these Halloween events. Halloween 2019 is on Thursday, October 31.
Slaughter House by Reno Fright Fest
Opens Friday, October 4, 2019. The Slaughter House claims to be northern Nevada's largest haunted house. This is a professional haunted house that is reportedly really scary. You should read the Reno Fright Fest Warning before going to this haunted event.
The Slaughter House is inside Greater Nevada Field, 250 Evans Avenue near downtown Reno. Haunting is in the catacombs beneath the ballpark and there is free parking across from the stadium. An additional attraction - the Terror Train - requires its own separate ticket or you can get a combo ticket. Slaughter House is open Thursdays through Saturdays during October. For Halloween, it will be open October 31 and November 1 - 2, 2019.
October 4 - 5
October 10 - 12
October 17 - 19
October 24 - 26
October 2019 hours are 7 p.m. to 11 p.m. Open late on Halloween and during the Zombie Crawl (October 26, 2019).
General admission tickets are $17. If you just can't wait to be scared, get a Speed Pass ticket for $24. The Terror Train is $10. The Combo Ticket (Speed Pass plus Train) is $30. Tickets are available online.
Laughter House by Reno Fright Fest
Sundays, October 6, 13, 20, 27 and Wednesday October 30, 2019. Sundays from 2 p.m. to 6 p.m., Wednesday 5 p.m. to 9 p.m. Come experience the new for 2019 Laughter House for a less frightening experience for kids. There is a narrated trick or treat train ride that takes you inside the ball park to collect candy from your favorite characters while riding our Halloween train. Family friendly and appropriate for all ages. Tickets are $10 per person. At Greater Nevada Field, 250 Evans Avenue near downtown Reno.
Corn Creepers Haunted Attraction at Andelin Family Farm
Opens Thursday, October 3, 2019. Corn Creepers is the only haunted attraction in a real corn field. It's pretty scary and not recommended for small children. However, there is a an option where visitors can wear a glow necklace and the spooks will tone down the scary. Admission is $13 per person. Corn Creepers is open Thursdays through Saturdays in October. Hours are 8 p.m. to 10 p.m. Thursday and Friday, 8 p.m. to 10:30 p.m. on Satutrday. Located at 8100 Pyramid Way in Sparks. (775) 530-8032.
October 3 - 5
October 10 - 12
October 17 - 19
October 24 - 26
October 31 - November 2
Key & Code Escape Rooms at Legends in Sparks
Escape rooms are a different take on the haunted house idea. There are several available, but the two most suited to Halloween are "Dr. Ensaine" and "Virginia City Haunt." Get together with a group of friends, family, or co-workers to see if you can escape in time. Tickets are $24 per person for an hour to figure out how to escape. Located at the Legends in Sparks, 1420 Scheels Drive, Suite E-108 and 1180 Scheels Drive, Suite B-103. (775) 683-9900.
Haunted Halloween Happenings in Nearby Areas
Carson City Ghost Walk
Saturday, October 19, 2019 for the Halloween time ghost walks. "In the Shadows" tours will leave every half hour between 10 a.m. and 2:30 p.m. The tours are a spooky and enjoyable way to experience Carson City's Victorian Era and diverse past. Hear about lingering spirits of the past, haunted and paranormal stories. These are guided walking tours of the downtown district's historic homes. Tours depart from The McFadden Plaza on Curry Street, located behind the St. Charles Hotel (The Fox Brew Pub) in Carson City. Tours depart every 1/2 hour and last about 2 hours. Tickets are $15 in advance, $20 day of, kids under 3 free. Tours happen rain or shine. Call (775) 348-6279 to order tickets or get them online.
Halloweekend at Homewood
Friday through Sunday, October 25 - 27, 2019, 3 p.m. to 9 p.m. Join us for a peak-to-shore fright-fest featuring spooky fun for the whole family. Take a stroll through the trick-or-treat village at South Base featuring free scary movie showings, face painting, pumpkin decorating, and surprises from local vendors. Enjoy chairlift rides all day long, but rider beware, the chairlift is haunted after 7 p.m. From 7 p.m. to 9 p.m., the Quail Chair whisks you through one haunted scene after another – but first, walk through Homewood's haunted house. The festival is free, but you need tickets for the chairlift rides. Homewood Mountain Resort is on Lake Tahoe's west shore at 105 Tahoe Ski Bowl Way.
More Halloween Activities