Pyramid Lake is one of the most beautiful desert lakes in the world. It is a remnant of ancient Lake Lahontan, which covered a large area of northwestern Nevada at the end of the last Ice Age (about 12,000 to 15,000 years ago). The water in Pyramid Lake comes from the Truckee River, which flows some 121 miles from its source at Lake Tahoe in the Sierra Nevada. Pyramid Lake is completely within the Pyramid Lake Paiute Tribe Reservation.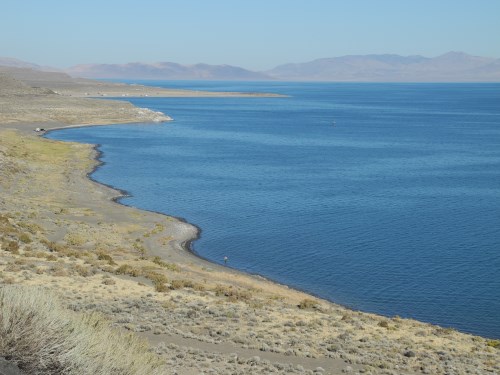 Pyramid Lake, north of Reno, Nevada. Photo © Stan White
Recreation Activities at Pyramid Lake
If fishing is your recreation of choice, you have undoubtedly heard of Pyramid Lake and its huge Lahontan cutthroat trout. Other species in the lake include Tahoe sucker, Tui chub, Cui-ui, and Sacramento perch. If you aren't into fishing, other available activities include...
Camping
Boating
Swimming
Photography
Bird Watching
Sightseeing
Fisheries Management Facilities
Most areas designated for camping, fishing, boating, swimming, and other activities are along Pyramid Lake's west shore. For sightseeing, bird watching, and photography, some additional spots around on the east side are accessible via unpaved roads. There are areas closed to access, such as around the Pyramid formation. Be sure to check web information, ask when obtaining permits, or ask a ranger on the Pyramid Lake Paiute Tribe Reservation before venturing into remote areas.
The large island in the lake is Anaho Island National Wildlife Refuge and access is restricted. A colony of American white pelicans uses the island, as well as other species like California gulls, Caspian terns, great blue herons, and snowy egrets.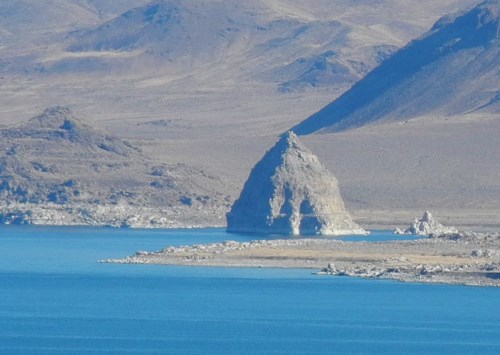 This formation is why Pyramid Lake became so named by explorer John C. Fremont. Photo © Stan White
Permits Required on the Pyramid Lake Paiute Tribe Reservation
Pyramid Lake is a valuable asset managed and regulated by the tribe for its recreational, economic, and natural values. All are welcome to visit and enjoy recreation at Pyramid Lake, but permits are required by those who are not tribal members. Permits can be purchased online, from outlets in Nixon and Sutcliffe, the Sutcliffe Ranger Station, 2500 Lakeview Drive, Sutcliffe, NV 89510, or at a number of vendors around the area. Basic permit prices are shown here, with more detail on the permit pricing web page. Rangers / tribal police are sworn peace officers and patrol the reservation. Those using the area without a valid permit will be cited. For more information, call (775) 476-1155. Details of rules and regulations are available online from "Fishing, Camping, & Boating Regulations." (10 percent discounts for seniors 65 and older, military (active, veterans, reserves), and non-PLPT tribal members. IDs required for discount.)
Pyramid Lake Use Permits
Daily Boating - $12.00
Daily Jet Ski - $26.00
Day Use* - $10.00
Day Use, 3 Day - $25.00
Boating, 3 Day - $30.00
Jet Ski, 3 Day - $65.00
Overnight Camping** - $15.00
3 Day Overnight Camping** - $38.00
* - from sunrise to sunset.
** - per vehicle, per night, until 11 a.m. the next day.
Pyramid Lake Fishing Permits
You must purchase a tribal fishing license for Pyramid Lake, but you do not need a State of Nevada fishing license.
Daily Fishing - $11.00
3 Day Fishing - $28.00
Second Rod - Daily - $11.00
Second Rod - 3 Day - $28.00
Youth (age 12 - 18) Daily - $5.00
Youth 3-Day - $13.00
Pyramid Lake Seasonal Permits
The season is October 1 through September 30.
Day Use - $80.00
Fishing - $88.00
Second Rod - $88.00
Fishing (Youth) - $40.00
Boating - $96.00
Jet Ski - $208.00
Two Routes to Pyramid Lake
There are two ways to reach Pyramid Lake from the Reno / Sparks area...

1. Take I80 east about 32 miles. Take the Wadsworth/Pyramid Lake exit #43 and follow the signs into town. Turn left onto Nevada 447 and drive 16 miles to Nixon. From there, you can continue north on 447 to the west shore, or turn left on 446 to access Pyramid Lake's east side.

2. What locals call the Pyramid Highway (Nevada 445) starts at I80 in Sparks, near Victorian Square. Depending on exactly where you start in Sparks, it's about 30 miles to Pyramid Lake and an intersection with highway 446. A left turn will take you to Sutcliffe and a right to Nixon. There is shoreline recreation access either way. This route travels through urban and suburban areas for around 20 miles before becoming an open highway. However, I think it's more scenic once you're out of town. Be sure to stop at the overlook a panoramic view of Pyramid Lake.
Hazards at Pyramid Lake
Pyramid Lake is not a swimming pool. Like any natural body of water, there are things you need to know about so your visit is both fun and safe. Use caution and common sense when near and in the water and the chances of a mishap are greatly reduced. Pyramid is relatively remote and in a harsh environment - if you get in trouble, help won't be immediate.
There are no lifeguards or safety personnel other than tribal rangers.
If you can't swim, stay out of the water. There are sudden drop offs near the shore.
The weather can change fast. Sudden high winds and thunderstorms can make conditions hazardous in a hurry.
If it's windy, do not go out on the lake. If you capsize in the middle of the lake, search and rescue will not arrive on the scene immediately.