Older Americans Month 2018 - "Engage at Every Age"
Older adults are a vital part of our society. Since 1963, communities across the country have shown their gratitude by celebrating Older Americans Month each May. The theme of the 2018 celebration is "Engage at Every Age," emphasizing that you are never too old (or young) to take part in activities that can enrich your physical, mental, and emotional well-being. It also celebrates the many ways in which older adults make a difference in our communities.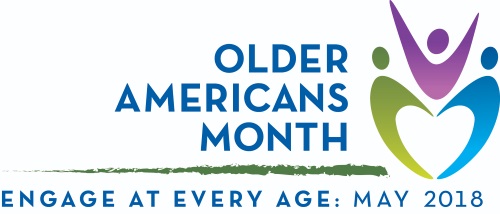 Image courtesy U.S. Dept. of Health and Human Services, Administration for Community Living.
Older Americans Month in Reno, Sparks and Washoe County
In Reno, Sparks, and throughout Washoe County, May will have numerous events and activities for senior citizens in recognition of Older Americans Month. The opening ceremonies begin at 9 a.m. on Tuesday, May 1, 2018, at the Washoe County Senior Services Center, 1155 E. 9th Street in Reno. This event is free and will include an information fair and over 40 participating agencies. People can learn about ways to participate, volunteer and join in on all the fun.
Closing ceremonies will be 10 a.m. to 1 p.m., May 31, 2018, at Evelyn Mount Community Center, 1301 Valley Road in Reno. This event includes a BBQ lunch and raffle prizes. The information phone number is (775) 328-2575.
All during May, seniors and others can enjoy over 100 special events and programs in the Reno / Sparks area and other locales, from Incline Village to Gerlach. Among other things, participants will enjoy nutritious food, music and stage performances, classes, learn how to get involved, or just come out for some good old fashioned fun.
You can pick up an activities guide and calendar at the opening ceremonies and at Sparks City Hall, Reno City Hall, Incline Village Parks and Recreation, Sun Valley General Improvement District, and all Washoe County Libraries and senior centers. You can also download the 2018 Older Americans Month Booklet from the Washoe County Senior Services website.
Free Admission to the National Automobile Museum
Seniors 50 and older get free admission to the National Automobile Museum every Thursday in May, 2018. Come enjoy one of the best auto museums in the country.
Idlewild Health Walks
Truckee Meadows Parks Foundation (TMPF) is offering a series of free, weekly interpretive walks for people living with dementia and their caregivers. Idlewild Health Walks are an extension of the Discover Your Parks Walks from TMPF, which encourage people to get outdoors to explore and care for local parks.
For additional information for senior citizens, visit "Reno Area Senior Services, Resources & Programs."