Older Americans Month 2017 - "Age Out Loud"
Older adults are a vital part of our society. Since 1963, communities across the country have shown their gratitude by celebrating Older Americans Month each May. The theme of the 2017 celebration is "Age Out Loud," an effort to amplify the many voices of older Americans and raise awareness of vital aging issues across the country.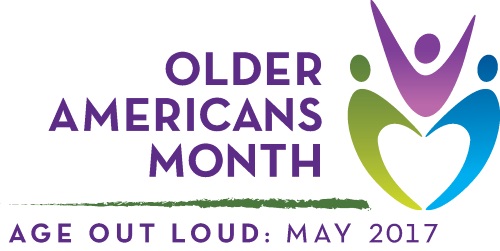 Image courtesy U.S. Dept. of Health and Human Services, Administration for Community Living.
Older Americans Month in Washoe County
In Reno, Sparks, and throughout Washoe County, May will have numerous events and activities for senior citizens in recognition of Older Americans Month. The opening ceremonies will be from 8:30 a.m. to 1 p.m. on Monday, May 1, 2017, at the Washoe County Senior Services Center, 1155 E. 9th Street in Reno. This event is free and will include an information fair, live entertainment, and over 40 participating agencies. Closing ceremonies will be 10 a.m. to 1 p.m., May 31, 2017, at Evelyn Mount Community Center, 1301 Valley Road in Reno. The information phone number is (775) 328-2575.
During the rest of May, seniors and others can enjoy over 60 special events and programs in the Reno / Sparks area and other locales, from Incline Village to Gerlach. Among other things, participants will enjoy nutritious food, music and stage performances, classes, learn how to get involved, or just come out for some good old fashioned fun. The list of planned events is quite extensive. You can pick up an activities guide and calendar at the opening ceremonies and at any senior center in Reno, Sparks, and Washoe County. You can also download the 2017 Older Americans Month Calendar of Events booklet from the Washoe County Senior Services website when it becomes available.
Seniors who like to get outside and visit our local parks will like "Discover your Parks Walks for Reno Area Seniors," a series of four free guided walks in different public parks around the Truckee Meadows.
For additional information for senior citizens, visit "Reno Area Senior Services, Resources & Programs."