---
Free Days to Visit National Parks and Public Lands
Search NewToReno
Custom Search
---
---
Street Vibrations Fall Rally

The 2019 Street Vibrations Fall Rally is Wednesday through Sunday, September 25 through 29. This is the big Street Vibrations event.
Fall Fish Festival

The Fall Fish Festival is an annual event celebrating a variety of fish species that live in Lake Tahoe and surrounding streams. It's family friendly and free.
Virginia City Events

You can "Step Back in Time" as you walk the wooden sidewalks just like they were when Virginia City was one of the richest places on Earth.
UNR Wolf Pack Football

Nevada Wolf Pack football home games are played in Mackay Stadium on the University of Nevada, Reno campus.
Admission fees are annually waived at many public lands facilities administered by the federal government on certain holidays and other special days. Other fees, such as for overnight camping and cabin rentals, will still apply.
National Parks Entrance Fee-Free Days in 2019
Bureau of Land Management Fee-Free Days in 2019
Site-specific standard amenity and individual day-use fees at Bureau of Land Management (BLM) recreation sites and areas will be waived on the following dates in 2019.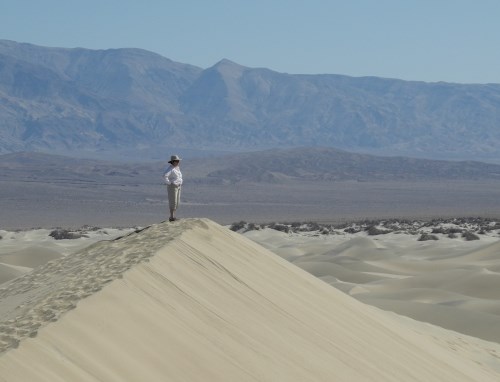 Hiking the sand dunes in Death Valley National Park. Photo © Stan White
Many facilities operated by these two agencies have no entrance fees at any time. For those that do, the following days will be fee-free in 2019.