If you know of any outstanding Christmas lights displays around the Truckee Meadows, please use our Contact Us form to send an address so it can be added to the list.
34th Annual Hidden Valley Parade of Lights
There are lots of highly decorated homes in the Hidden Valley area of east Reno. All the decorations are actually part of a contest by the homeowners' association, but everyone can come to enjoy the lights. Since they are all in one area, it's a good way to enjoy lighted Christmas decorations without driving too much. The easiest way to get there is to go east on Pembroke Drive from McCarran Boulevard. Go up the hill when you get into the houses and you'll start seeing the decorated homes. (Be sure to check for street closures due to Southeast Connector construction. You may have to use an alternate route.)
"America's Best Private Holiday Lights" contest finalist
2380 Solitude Drive, Reno - Jeff Kendell's home was a 2014 finalist in the USA TODAY "America's Best Private Holiday Lights" contest. The house and yard were decorated with 30,000 lights synchronized to four pieces of music - "Amazing Grace," "Carol of the Bells," "Wizards in Winter," and "March of the Toreadors." This is one of Reno's most highly decorated homes for the Christmas season. Solitude Drive is in the Galena area of south Reno, off the Mt. Rose Highway. As far as we know, the home will be decorated again in 2015.
LightShowBro in Sparks
During this musical Christmas light show, you will see many thousands of lights, perfectly synchronized to a 13 minute custom music mix. The display consists of house lighting, lighted props, flood lights, eave lighting, strip lights, and more. You can hear the synchronized music by tuning your car radio to 89.3 FM. There will be about 16 minutes of simple music and lights between shows, so just wait if you get there during a break. Shows in 2016 run daily every half hour from 5 p.m. to 9:30 p.m., from November 30 through December 31. Learn more about seeing this big light show from LightShowBro.com. The show is located at 5555 Junction Peak Drive in Sparks, off of Sparks Boulevard and Ion Drive.
Lights of Omni
Come see 60,000 LED lights synchronized to 8 Christmas songs, transmitted via FM 89.9 to your car radio. The display is at 290 Omni Drive in Sparks


Lights of Omni. Image courtesy Dean Parker.
Singing Santa in Sparks
This Christmas lights display features Santa Claus singing various songs. The featured tune is "A Soldier's Silent Night." It is located at 4435 Dancing Moon Court in Sparks, off Los Altos Parkway.
City of Reno Holiday Tree
Reno's Holiday Christmas Tree will be lit on December 7, 2016, and will be on display through the holiday season. The 2016 Holiday tree is located in its traditional location at the corner of 1st and Virginia Streets, between City Hall and the Truckee River. Following the tree lighting, there will be an escort to the "Reno Ice Skating Rink", located at Greater Nevada Field.
Sparks Community Christmas Tree
Sparks Community Christmas Tree is lit each year as part of the Sparks Hometowne Christmas celebration and parade. The tree is located at Saint Mary's Amphitheater on Victorian Avenue and will be lit at 6:30 p.m. on Friday evening before the Sparks Hometowne Christmas parade and celebration on Saturday, December 3, 2016. The parade starts at 1 p.m. and is only one of many events during the day.
Christmas Tree at The Nugget in Sparks
Saturday, December 3, 2016. The lighting of what is one of the biggest tree in Nevada and the whole U.S. will be at 5:30 p.m. It is a 105' tall white fir. The public is invited to come to the event at Victorian Square and then enjoy the tree during the holiday season. The Nugget is at 100 Nugget Avenue in Sparks.
More Christmas Light Displays
The big shopping centers (Outlets at Sparks, Meadowood Mall, Summit, etc.) all have nice holiday lights displays. There are other private home displays all over Reno and Sparks, but it can be difficult to find information about these. My advice is to watch the media (TV news and newspapers) as they sometimes report on some of the bigger displays. If you know of one, feel free to Contact NewToReno with the information.
2016 Lights of Tanea
Lights of Tanea is back for 2016 after taking the season off last year. This is the biggest and most spectacular Christmas lights display at a private residence in the Truckee Meadows - "The Biggest Little Christmas Light Show in Reno." Lights of Tanea was started to raise awareness and donations for the National Multiple Sclerosis Society and donations of clothing for Friends of the National MS Society. Lights of Tanea also hosts a non-perishable food drive for the Evelyn Mount Community Outreach program. The 2016 show begins on Friday, November 25 and runs through Christmas.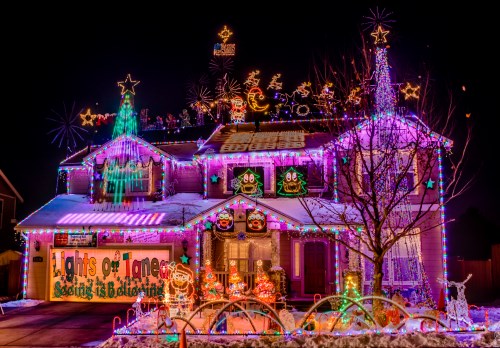 Photo courtesy Lights of Tanea

The show features music (tune to 97.7 FM) synchronized to the lights, animated characters, Santa and his reindeer, special effects, and much more. Free candy canes and hot chocolate are given out on Fridays and Saturdays.

Lights of Tanea runs from November 25 through December 25, 2016. Show times are Sunday through Thursday, 5 p.m. to 10 p.m., Friday and Saturday from 5 p.m. to 11 p.m., Christmas Eve and Christmas Day from 5 p.m. to midnight.

Lights of Tanea is located at 16180 Tanea Drive in southwest Reno. Visit the "Directions & Info" page for specific directions and important information about visiting the display. You need to follow a few common sense rules so everyone can enjoy the show.
Christmas Lights at the Nevada State Capitol in Carson City
This Neoclassical Italianate style building is beautiful year round, but it takes on a special charm each year when it and the surrounding grounds are lit with thousands of Christmas lights. Enjoy the show in downtown Carson City at 101 North Carson Street.
Christmas Lights at the Governor's Mansion in Carson City
The historic Nevada Governor's Mansion shines with thousands of lights during the Christmas season. It is located at 101 North Carson Street in Carson City.