What are the Reno-Tahoe Senior Summer Games?
The Reno-Tahoe Senior Summer Games is a program of competitions styled after the real Olympic Games and designed for area citizens age 50 and above. There are both individual and team competitions. Participants compete for gold, silver, and bronze medals within age groups. The Senior Summer Games run from August 9 through August 27, 2016.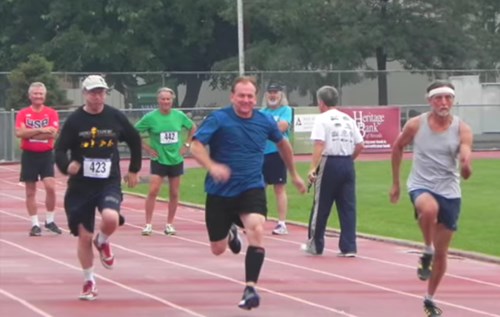 Image courtesy City of Reno
Register to Participate in the Reno-Tahoe Senior Summer Games
Registration opens June 1, 2016. You will be able to download the registration form from the Games website, then follow the instructions on making payment and submitting the form. You can also request that forms be mailed or emailed to you by calling Senior Services at (775) 657-4602 or sending a message to SeniorServices@reno.gov. Forms can also be dropped off in person at these other Reno locations: Neil Road Recreation Center (3925 Neil Road), Evelyn Mount Northeast Community Center (1301 Valley Road), and Teglia's Paradise Park Activity Center (2745 Elementary Drive).
Get more details and links to forms by visiting the Reno-Tahoe Senior Games website and by checking out the 2016 Senior Summer Games Information Sheet.
Registration Fees for the Reno-Tahoe Senior Winter Games
The basic registration fee for all participants is $25 (increases to $30 after July 31), which includes a T-shirt, water bottle, carry bag, and ticket to the closing ceremonies luncheon and dance. There is an additional fee for each sport. The golf tournament will have a separate fee.
Extra T-shirts are $10 each, ball caps are $15 and additional closing ceremonies luncheon and dance tickets are $20 per person.
Sports at the Reno-Tahoe Summer Games
As you can see, there is something for just about everyone. To see where and when the sports are happening, check the online Event Calendar available from the website. Venues include Neil Road Recreation Center, High Desert Archery, Evelyn Mount Northeast Community Center, Sands Regency, Washoe County Senior Center, High Sierra Bowling Lanes, Dick Taylor Park, Grand Sierra Resort, Sierra Sage Golf Course, Northwest Pool, Magic Carpet Golf, Boys and Girls Club, and Virginia Lake Park.
Opening Ceremonies
Archery
Badminton
Basketball Skills
Beanbag Baseball
Beanbag Toss (Corn Hole)
Blackjack Tournament
Bowling
Croquet
Fly Casting
Golf Tournament
Go Karts
Horseshoes
Miniature Golf
Pickleball
Slot Tournament
Swimming
Table Tennis
Track & Field
Walk Race
Reno-Tahoe Summer Games Sponsors
The Reno-Tahoe Senior Summer Games are sponsored by the City of Reno Parks, Recreation & Community Services Department and the City of Reno Senior Advisory Committee.