Fall 2016 Residential Dump Days are Saturday and Sunday, October 22 and 23.
Residential Dump Days gives Truckee Meadows residents an opportunity to get rid of many bulky items for free and household and yard waste at reduced rates. The event is put on by Waste Management, our local purveyor of trash and garbage. A big promoter of the event is Keep Truckee Meadows Beautiful.
Participating Local Transfer Stations
Two Waste Management transfer stations in Reno will participate in Residential Dump Days. The fall 2016 event will be on Saturday and Sunday, October 22 and 23. Bulky items associated with illegal desert dumping will be accepted for free. Other items will be accepted at reduced rates. This event is for residential customers only. Commercial customers will be charged the normal rate. For more information, call (775) 329-8822.
Reno Transfer Station - 1390 E. Commercial Row, Reno, NV 89512.
Hours - Saturday and Sunday, 8 a.m. to 4:30 p.m.
Stead Transfer Station - 13890 Mt. Anderson Road, Reno, NV 89506.
Hours - Saturday and Sunday, 8 a.m. to 4:30 p.m.
Residential Dump Days Fees
Fees at the transfer stations for regular household and yard waste will be reduced for Residential Dump Days.
Standard pick-up truck - $10.00 flat fee.
Small pick-up truck - $6.50 flat fee.
Eligible bulky items and household appliances - No charge.
Household Appliances and Bulky Items Eligible for Free Dumping
Refrigerators (additional charge for Freon recovery)
Sofas
Chairs
Hot water heaters
Mattresses / Box springs
Stoves
Dishwashers
Washers / Dryers
Tires limited to 4 per household
Note: Electronic waste/recycling and hazardous waste will not be accepted. Hazardous waste is never taken at the transfer stations or the Lockwood Landfill. Tires are limited to 4 per household.
Other Times for Free Dumping
Residential customers in Reno and Sparks (but not Washoe County outside these cities) can take one standard pickup of trash to the transfer stations for free four times a year. You must be current on your bill and present proof of residency.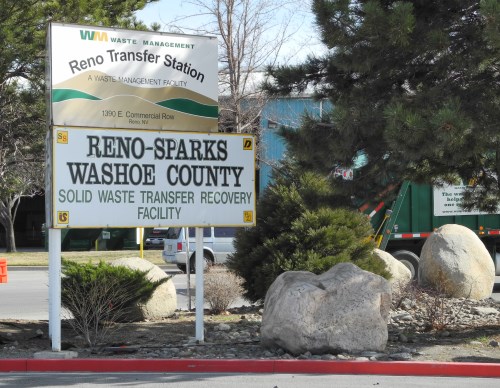 Waste Management Transfer Station in Reno, Nevada. Photo © Stan White