The 2016 Labor Day holiday is on Monday, September 5. This three day weekend is the last big holiday weekend of the summer. There are plenty of things to do for your last summer fling. Fall in 2016 officially arrives on September 22.
Picnic in a Public Park
Labor Day picnics are a popular activity and we have plenty of public parks where you can set up to enjoy eating outdoors with family and friends. Here are some local favorites...
Take a Hike
The variety of "Reno Area Hiking and Walking Trails" ranges from easy urban paths to challenging mountain treks. You can choose something right here in the Truckee Meadows or drive to some spectacular hikes in nearby areas. Be sure to check the weather forecast before heading out. If thunderstorms are predicted, be extra cautious about going high on exposed ridges and peaks like on the Mt. Rose Trail.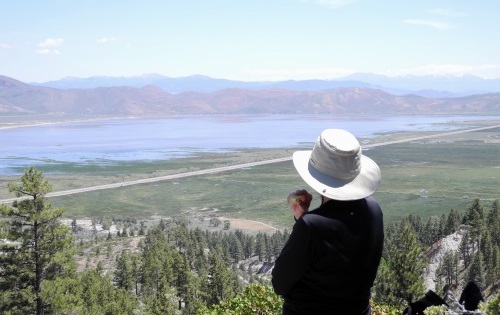 Washoe Valley view from the Ophir Creek Trail above Davis Creek Regional Park. Photo © Stan White
Ride a Steam Train
The Virginia & Truckee Railroad will have steam train rides between Carson City and Virginia City during Labor Day weekend. Get your tickets ASAP if you want to ride this popular excursion train.
Steam trains will be running all Labor Day weekend at the Nevada State Railroad Museum in Carson City. There are regular departures from Wabuska Station from 10 a.m. to 4 p.m. each day. Reservations not required.
Play in the Water
The Truckee River at Wingfield Park in Reno and Rock Park in Sparks may be a little low, but there should be enough water for a fun Labor Day of water play. To find out about public swimming pools, follow the links from my "Public Swimming Pools and Water Play Places in Reno and Sparks" article.
One place that will for sure have water is Sand Harbor at Lake Tahoe. This extremely popular beach park will be even more so on Labor Day weekend. If you want a parking place and spot on the sand, get there early. Otherwise, you must ride the East Shore Express buses from Incline Village.
Visit a Museum
The Reno area has numerous museums covering a wide range of interests. Here are a couple of particular interest.
The Discovery - The Terry Lee Wells Nevada Discovery Museum is one of the best places in Reno for family fun in an educational atmosphere. At The Discovery, kids have endless opportunities to explore science and the natural world while having fun. There are numerous activities and events for adult visitors as well. The Discovery will be open through the weekend and on Labor Day.
Nevada Museum of Art - The Museum will be closed on Labor Day, but open on Saturday and Sunday of Labor Day weekend. The featured exhibit is all about art in Nevada - "Tilting the Basin: Contemporary Art of Nevada."
Chow Down at the Nugget Rib Cook-Off
The Nugget Rib Cook-Off will be going full tilt during Labor Day weekend. Get over to Victorian Square in Sparks to enjoy lots of BBQ ribs and fixin's, free entertainment, and lots of arts and crafts vendors. There is a free daily shuttle bus form the Outlets and Sparks shopping center, saving you a big parking hassle.
Wolf Pack Football Season Opener
On Friday, September 2, our Nevada Wolf Pack football team opens its 2016 season with a home game at the recently renovated Mackay Stadium against the Cal Poly Mustangs. Kickoff is scheduled for 6:30 p.m. Go Pack!
Labor Day at Lake Tahoe
South Lake Tahoe will have a Labor Day fireworks show. It will be on Sunday, September 4, 2016, starting at around 8:30 p.m. Show up early if you want to snag a spot at one of these best viewing areas - Nevada Beach, a couple of miles east of Stateline, Edgewood-Tahoe, and Lakeview Commons / El Dorado Beach. Another option is booking a cruise on either the Tahoe Queen or M.S. Dixie II paddlewheelers and watching the show from out on the water.
There are two great places at Lake Tahoe for Labor Day play. On the north shore near Incline Village, check out Sand Harbor for a beautiful beach, picnic areas, a nice visitor center, and more. Down near the city of South Lake Tahoe is Taylor Creek Visitor Center, operated by the U.S. Forest Service. This excellent facility offers lots of family friendly activities and is ADA accessible. There are fun and easy interpretive trails, the fascinating Stream Profile Chamber, and access to beaches on Lake Tahoe. It's next door to the Tallac Historic Site.
Labor Day in Virginia City
Virginia City will host three days of Labor Day weekend fun. Comstock Civil War Reenactors will be hosting Virginia City Civil War Days, featuring an encampment in Miner's Park, battle trains, BBQ buffet dinner, free dance, Victorian high tea, and a Labor Day parade at 12 noon on September 5.
"Flashback Friday Museum Days" isn't exactly a Labor Day event, but it's close. Held on Friday, September 2, 2016, the day is all about visiting museums in Virginia City that will have free admission on this day. This includes 12 museums, from the Washoe Club Haunted Museum to the Historic Fourth Ward School. Start your tour by picking up a map at the Historic Crystal Bar, now the Virginia City Visitors Center.