Thanksgiving Day and weekend in the Reno / Sparks area means numerous options for dining out rather than cooking a big meal at home. Most venues have a variety of entrees to please both the adults and kids in your family. Thanksgiving Day 2019 is Thursday, November 28. Unless otherwise specified, the meals described below will be served on Thanksgiving Day.
There is more to the Thanksgiving Day holiday weekend than just eating. Learn about lots of fun things to do from "Thanksgiving Day Weekend Activities and Events."
Thanksgiving Day Dining at Reno and Sparks Casinos and Restaurants
Thanksgiving Day Dining at the Atlantis Casino Resort Spa
The big feast at the Atlantis will be a Grand Ballroom Gourmet Thanksgiving Dinner, from 11 a.m. to 5 p.m. Enjoy a variety of entrees, including seafood, plus a big selection of desserts. Other Thanksgiving dinner spots in the Atlantis will be Toucan Charlie's Buffet & Grille, Atlantis Steakhouse, Bistro Napa, Manhattan Deli, and Purple Parrot. Visit the Atlantis Thanksgiving dining page to check the many options and see the menus. The Atlantis is at 3800 S. Virginia Street in Reno. Call (775) 824-4411 for reservations and more information.
Thanksgiving Tailgate Buffet at The Nugget
Catch all the football action on screens throughout the Nugget Ballroom while enjoying a traditional Thanksgiving feast. This being a buffet, there will be multiple choices for entrees, sides and desserts. To make recommended reservations, call (775) 356-3300. The cost is $33.99 for adults, $15.95 for kids ages 5 to 11, free for 4 and under. Service is from 11 a.m. to 7 p.m. The Nugget is at 1100 Nugget Avenue in Sparks.
Restaurant Row Thanksgiving Day Specials at the Grand Sierra Resort
Restaurant Row in the Grand Sierra will be serving Thanksgiving dinner in several restaurants - Charlie Palmer Steak, The Grand Buffet (both brunch and dinner) and Grand Cafe. To check serving time and menus, and for reservations, visit the website or call (775) 789-2000. The Grand Sierra is at 2500 E. 2nd Street in Reno.
Thanksgiving Day Dining at the Peppermill
Several restaurants at the Peppermill will be offering Thanksgiving dining menus - Biscotti's Thanksgiving Harvest Buffet, Bimini Steakhouse, Cafe Milano, Island Buffet, Oceano and Romanza Ristorante. Service times vary depending on the restaurant. For menus, costs, and hours, refer to the website. The Peppermill is at 2707 S. Virginia Street in Reno.
Thanksgiving Day at The Row
The Row is 3 casinos in downtown Reno - Eldorado, Silver Legacy, Circus Circus. They are all owned by the same outfit and market themselves together. Roxy, La Strada, The Brew Brothers, The Buffet, Cafe Central and Millies will be serving Thanksgiving dinner menus. Visit The Row restaurants for links to menus and other dining details.
Thanksgiving Day Dining at the Bonanza Casino
The Bonanza Casino will be serving Thanksgiving dinner in its Cactus Creek Prime Steakhouse from 2 p.m. to 9 p.m. and in the Branding Iron Cafe (buffet from 10 a.m. to 8 p.m., roast turkey dinner from 4 p.m. to 10 p.m.) The menu includes all of the traditional Thanksgiving dinner and dessert items, plus some special holiday dishes. Check the website for menu details and pricing. The Bonanza is at 4720 N. Virginia Street in Reno. Call (775) 334-5555 for more information and to make reservations.
Thanksgiving Dinner at Sands Regency Reno
The Sands Buffet serves up a wide variety of choices for your Thanksgiving dining pleasure. It's $18.99 per person. The Copa Bar and Grill will also be serving Thanksgiving dinner, starting at $21. (775) 348-2200. The Sands is at 345 N. Arlington Avenue in Reno.
Thanksgiving Day Dining at Mimi's Cafe
This 3-course Thanksgiving dinner is the traditional turkey with all the sides and dessert. It's $19.99 for adults, $9.99 for kids. Mimi's also has a complete Thanksgiving turkey dinner you can order to take home. It serves 8 to 10 and is $104.99. The Reno Mimi's is at 5090 Kietzke Lane. It is open from 7 a.m. to 9 p.m. Sunday through Thursday, 7 a.m. to 10 p.m. Friday and Saturday. For information and reservations, call (775) 448-9882.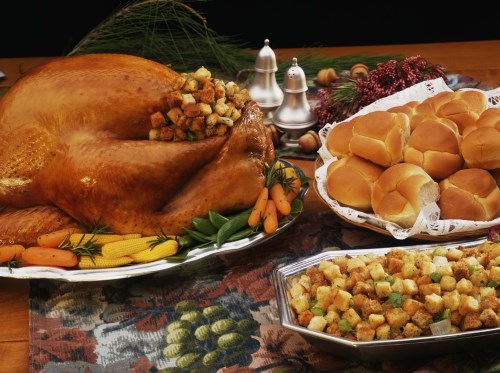 Thanksgiving Day Dining at Lake Tahoe and Carson Valley
Thanksgiving Day Dining at Squaw Valley
This year, this delicious meal will be served buffet style in the Terrace Room, with beautiful views of Squaw Valley and Lake Tahoe in the background. If this sounds like a Thanksgiving to remember, then you have 2 reservation times to choose from: 12 noon and 3:30 p.m. A reservation time must be selected at when you purchase. It's $69 adults (ages 13+) and $31 child (5 to 12). Reservations are available online. Thanksgiving dinner will be served in the Olympic House at Bar One. Squaw Valley is between Truckee and Tahoe City at 1960 Squaw Valley Road, Olympic Valley, CA.
Thanksgiving Buffet at Lone Eagle Grille
Join us for our annual Thanksgiving buffet turkey, ham, prime rib and all the trimmings, plus choices for kids. Service is from noon to 8 p.m. The cost is $110 for adults, $40 for children. Advance reservations required - call (775) 886-6899 or reserve online. Lone Eagle Grille is at 111 Country Club Drive, Incline Village, NV 89451.
Thanksgiving Dining at Gar Woods Grill & Pier
This upscale restaurant is located on the north shore at 5000 N. Lake Blvd., Carnelian Bay, CA 96140. Thanksgiving dining will offer a choice of roast turkey or honey glazed ham, plus all of the traditional fixings and desert. Served starting at 1 p.m. Dinner is $49.90 for adults, $29.90 for children 10 and under. For more information and to make recommended reservations, call (530) 546-3366.
Thanksgiving Dinner at Carson Valley Inn in Minden
CV Steak will feature a wood-roasted turkey or prime rib dinner with all the fixings, starting at 2 p.m. Katie's Country Kitchen will have a traditional Thanksgiving dinner served from 11 a.m. To make reservations, call (775) 783-6650. If you don't want to eat out, pick up a ready-to-go turkey dinner big enough to serve up to 10. To order, call Katie's Country Kitchen at (775) 783-6664. The Carson Valley in is at 1627 Hwy 395 N. in Minden.
Sponsored Links