Riders and fans of Harley Davidsons and other big motorcycles cruise into Reno and Sparks for both versions of Street Vibrations. These are big street parties with lots of color, colorful characters, free entertainment on several outdoor stages, food and drink, vendor booths, and more.
Each Street Vibrations includes action in downtown Reno, Victorian Square in Sparks, Chester's Harley Davidson in Reno, and up in Virginia City. Registered riders receive a ride pin and hog tag, participation in poker runs and scavenger hunts, VIP parties, ride-in show, slow bike races and secured VIP parking. Everyone else is free to enjoy the scene, including live entertainment from several bands on multiple stages. For more information about Street Vibrations, (775) 329-7469.
Street Vibrations Fall Rally
The 2016 Street Vibrations Fall Rally is Wednesday through Sunday, September 21 to 25. This is the big Street Vibrations event, lasting two days longer than the Spring Rally. Over 50,000 riders converge for the Fall Rally and there are even more events and things to do, including America's Finest Denver's Choppers Old School Bike Show, Tattoo Expo, more than 300 vendors, factory rigs selling everything motorcycle, stunt shows, rides to Lake Tahoe, events at Chester's Harley-Davidson in Reno, Battle Born Harley-Davidson in Carson City, up in Virginia City, biker drinking places, and more. A portion of the proceeds benefits the Juvenile Diabetes Association. These events aren't just for Harleys - they are open to all motorcycles. Check out these benefits of registration if you are thinking about becoming an official participant rather than just riding in and hoping for the best.
Street Vibrations Spring Rally
The 2016 Street Vibrations Spring Rally is Friday through Sunday, June 3 to 5. The main action will be in downtown Reno, with a poker walk, live entertainment, VIP bike parking and more up in Virginia City. See what's going on and when with the 2016 Street Vibrations Spring Rally schedule.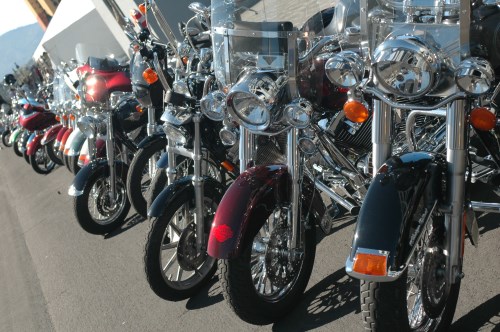 Big bikes at Street Vibrations in downtown Reno, Nevada. Photo © Stan White