There's lots to do during summer, 2022. Here are some of your choices for staying active and having fun this summer season.
Great Basin Naturalists Summer Exploration Camps
Weekly sessions from June 13 through August 8, 2022. Both day camps and overnight camps are available. This summer, experience a portal to the wilder world - explore the Sierra, investigate the Great Basin, and get moving outside with hands-on, adventurous, outdoor exploration camps. Your child will experience, first hand, the beautiful Nevada environment just like the scientists do. Camps are for kids ages 8 to 12 and are held at Galena Creek Visitor Center. Cost varies depending on which camp is chosen, scholarshops available. Counselor-In-Training and Culinary Intern camps also available. You can sign up online after creating an account.
Youth Backcountry Camps from Tahoe Rim Trail Association
Dates for ages 14 - 17 are July 21 - 24 and August 3 - 6, 2022. For ages 12 - 14, it's June 15 - 18, 20 - 23, 27 - 30, July 6 - 9, 13 - 16 and August 10 - 13, 2022. This is real camping summer camp for kids. Staff leads kids into the wilderness to share the joy and rewarding challenge of backpacking and wilderness survival through four day backpacking adventures. Participants come away with a sense of responsibility for the outdoors and develop confidence as they overcome a variety of challenges. To register online, visit the website and click on the dates of interest. For questions, contact info@tahoerimtrail.org or call (775) 298-4485.
Summer Intro to Painting, Digital Art and Illustration, Printmaking and Fun with Clay Camps for Kids at Nevada Museum of Art
Camps are in June, July and August, 2022. These are half-day art camps at the Nevada Museum of Art's E.L. Cord Museum School. Kids ages 7 to 15 will enjoy experimenting with clay, painting, digital and other art mediums and meet new friends during these half-day camps. Visit the website for camp details and online registration. The information phone number is (775) 329-3333.
Camp Discovery at The Discovery Museum
June 13 through August 12, 2022. The Discovery (Terry Lee Wells Nevada Discovery Museum) offers a series of summer camps for kids from Kindergarten through 6th grade. There are numerous themes and sessions for various age groups - grades K, 1 to 2, 3 to 4, and 5 to 6. You can view the schedule and sign up online for Camp Discovery sessions. Get additional information from the "Camp Discovery FAQ". This year, The Discovery is offering two weeks of camps (in June and July) at another location as well - Van Gorder Elementary School in Sparks. The Discovery is at 490 S. Center Street in Reno. The info phone is (775) 786-1000.
Summer Creativity Camps from Arts for All Nevada
Summer camps are in weekly sessions during June and July, 2022. Week-long art camps from Arts for All Nevada are offered at the Lake Mansion. Camps are in the mornings from 9 a.m. to 12 noon and for kids 6 to 10 years. Refer to the "Classes and Events" for details, dates, and sign up information. Arts for All Nevada main location is the Lake Mansion, 250 Court Street in Reno. Call (775) 826-6100 for more information.
Summer Outburst Kidz Kamp from Sparks Parks & Recreation
Monday through Friday from June 9 to August 11, 2022. Summer Outburst is available to kids entering 1st through 6th grade and features fun-themed weeks with age appropriate activities, including arts and crafts, water play and active games. These activities are included in the registration fee. Participants are grouped by grade. You can register online from the website or in person at the Recreation Office, 98 Richards Way in Sparks. Call (775) 353-2376 for more information.
Vacation Station Summer Camps from the City of Reno
Weekly sessions from June 9 through August 12, 2022. Reno's Department of Parks, Recreation and Community Services offers camps for kids with activities geared to kids ages 6 to 12.5 years. Be sure to check out the City of Reno camp information website to see what's going on. Get details about times, dates, and fees from the Camps for Kids website. Weekly registration only – there will be no daily rates. All participants must be pre-registered with a payment plan on file. Call (775) 334-4280 for more information.
Surge Camp by LifeChurch
June 13 - 17, 2022, 9 a.m. to 12 noon. This camp is open to the community. It's a high energy camp complete with music, STEAM activities, and extreme games. 10300 Rio Wrangler Parkway, on the Lifechurch campus next to Damonte Ranch High School. Designed for kids who will have completed Kindergarten through 5th grade by the week of camp. Cost is $50 before May 15, and $75 after. Visit the website to register online.
KIDS University Summer Break Camps at UNR
June 13 to July 22, 2022. Kids University hosts a wide-range of youth camps during the summer and school breaks throughout the year. Choose from themed, weeklong camps designed to incorporate the academic STEAM components — science, technology, engineering, arts and math — with a healthy dose of fun. Camps are for kids grades 2 through 8. Camps are taught by certified teachers, graduate students and experts in their fields. Online registration features a full list of camps, dates, times and fees. For more information, call (775) 784-4046.
University of Nevada Basketball Camps
July 12 - 15 and July 25 - 28, 2022. All of our camps and clinics are open to any and all entrants from 3rd going into the 7th Grade (limited only by number, age, and/or grade level). Camps feature individual and group instruction in technique, drills and fundamentals. There is daily offensive and defensive instruction and guest speakers. Hours are 9 a.m. to 3 p.m. Camps are at Lawlor Events Center and Ramon Sessions Basketball Performance Facility. Visit the website for more information and to register online.
UNR College of Engineering Summer Camps
4 camps from June 27 through July 29, 2022. The College of Engineering at the University of Nevada, Reno is offering Engineering Everywhere camp for 12 - 14 year olds, Engineering Adventures camp for 12 to 14 year olds, and Engineering Exploration camp for 15 to 17 year olds. These camps are introductions to engineering and include many of their engineering majors. They are held in various engineering buildings on campus. Camps will be from 8:30 a.m. to 4:30 p.m. Visit the website for links to sign up for each of four sessions. (775) 784-6925.
Great Basin Outdoor School Summer Adventure Day Camp
Five weekly sessions from June 13 through July 29, 2022. Each day is a different outdoor, scientific theme and will include daily guest speakers from the community, crafts, experiments, and lots of time in the outdoors. Camp this summer will focus on geology, water, local ecology, climate change and sustainability, community service, and more. Takes place at the River School Farm in Reno, 7777 White Fir St. Cost is $240 for one child for one full week, with sibling discounts available. For kids aged 6 to 12. Visit the website to sign up or call (775) 324-0936 for more information.
Student Stewards Summer Science Camp
Weekly camps run from June 6 through August 5, 2022, with a different theme each week. Truckee Meadows Parks Foundation is sponsoring summer camps held outdoors at Idlewild Park in Reno. Camps are for kids 8 to 12 years old. Camps are STEAM based (Science, Technology, Engineering, Art, and Math) and will incorporate all of these things at camp, including outdoor exploration, hands-on activities, experiments, games, crafts, and more. Monday through Friday, 9 a.m. to 4 p.m., with extended hours available. Online registration is available. (775) 410-1702.
Summer Kid Craft from The Holland Project
July 18 - 22, 2022, 9 a.m. to 12 noon. Recommended for ages 5 to 12, but all ages are welcome. Each workshop includes two craft projects exploring a wide variety of materials and techniques. Parents/guardians are welcome to drop-off or stick around and craft along with your kiddos. You can register for any single day ($30) or save some money by going for all five days ($120). Pre-registration is required. Fees cover all materials and participants will leave with different crafts each day. At The Holland Project, 140 Vesta St. in Reno. For questions or more info email alisha@hollandreno.org.
KidScape Productions Summer Camps
Full play camp will run from July 11 - 15, 2022. KidScape camps focus on acting, theater and improv comedy. The full play camps are for kids ages 7 to 17. Summer improv camp is for ages 8 to 18 and will be June 20 - 24, 2022. All conclude with a performance to showcase what was learned. Visit the website for information about times, places and online registration. Call (775) 313-3900 for more information.
Musical Theater Summer Camp
June 20 - 24, 2022. For students ages 9 to 14. In this interactive musical theater camp, campers will have a blast performing the best of Broadway while practicing choreography, learning singing techniques, and developing a character. Each day's activities will include creative acting games, fun dance combinations, and belting out some tunes. First child is $235, with discounts available for multiple children from the same family. Online registration available. Presented by Sierra School of Performing Arts, 1380 Greg Street in Sparks. (775) 852-7740.
Explore Camp with Girl Scouts of the Sierra Nevada
The Reno Day Camp is June 20 - 24, 2022. It is for girls in Kindergarten through 12th grade. Camp runs from 9 a.m. to 3:30 p.m. Though we won't be offering overnight camp at Camp Wasiu II this summer, we are happy to announce that Wasiu on the Road, our traveling day camp, is returning with 5 stops throughout our council area: Quincy, Reno, Elko, Bishop, and Tahoe. The Reno camp will rotate between Hidden Valley Park, Galena Creek and Bowers Mansion. (775) 322-0642.
Camp Mesa Rim
Camps from May to August, 2022. There are 1 day, 4 day and 5 day camps, from 9 a.m. to 3 p.m. Camps for young climbers (ages 7 to 13) not only develop children and young adults into strong, competent and safe rock climbers, but also responsible and respectful community members as well. These skills are all acquired through the lens of community care, self growth, leadership, and self awareness. Camp activities are tailored to each child based on their age and experience level. Visit the website for more information and to sign up online. Camps are at Mesa Rim Climbing & Fitness Center, 970 Harvard Way in Reno. (775) 507-4255.
Camp Invention
June 13 - 17 and June 20 - 24, 2022, 9 a.m. to 3:30 p.m. Children (K - 6th grade) are presented with fun, hands-on challenges that encourage creative problem solving, teamwork, entrepreneurship, and innovation. Camp Invention is led by experienced local educators and new curriculum is introduced each year. Sessions are at Caughlin Ranch Elementary School and Doral Academy of Northern Nevada in Reno, and Bethlehem Lutheran School in Carson City. Visit the website for more information and online registration.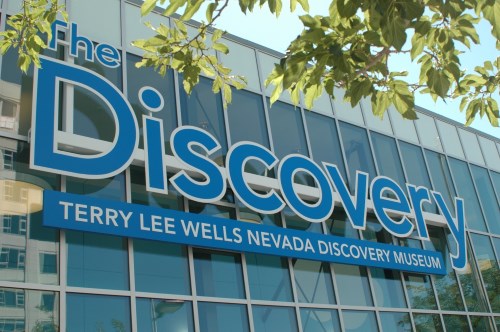 Summer camps at The Discovery in Reno, Nevada. Photo © Stan White
Acro Enso Summer Camps
Weekly sessions from June 13 through August 12, 2022, 9 a.m. to 3 p.m. For kids ages 7+. Learn a variety of movementrcus arts including, aerials, partner acrobatics, tumbling, Cyr wheel and more. Your children will enjoy a truly unique experience that inspires personal expression, creativity, and fun healthy play. You can sign-up online. Acro Enso is at 601 E. 4th Street in Reno. (775) 357-9573.
Reno Aces Baseball Camp at Greater Nevada Field
Monday to Wednesday, July 18 - 20, 2022, 9 a.m. to 1 p.m. The Reno Aces are welcoming kids ages 9 to 13 to their three-day camp at Greater Nevada Field. Along with three days of instruction from two former MLB players, participants will receive lunch each day and a ticket to an Aces game. This is an opportunity to play at Greater Nevada Field and utilize a Major League-quality training facility. The cost is $250. You can register online. (775) 334-4700.
Summer Camps at Lake Tahoe and Other Nearby Areas
Lake Tahoe Music Camp
June 25 - 28 and June 28 - July 2, 2022. Lake Tahoe Music Camp is a sleep away camp committed to providing a memorable and exceptional musical education experience for music students (completing 6th – 12th grades). Lake Tahoe Music Camp will be held in two sessions. Situated on its own private beach, Lake Tahoe Music Camp offers jazz and classical music workshops, clinics, performances, mentoring and instruction with award-winning University faculty, guest conductors and professional chamber and jazz musicians. In their free-time every afternoon, students can play basketball, volleyball, ping-pong, swim in the lake, canoe, kayak and participate in organized recreational activities. Visit the website for more details. Online registration is available. Due to limited space, registrations are accepted on a first-come, first-served basis. (775) 784-4278.
Summer Camps from Tahoe Expedition Academy
June, July, August, 2022. Tahoe Expedition Academy offers adventure and academic summer day camps and overnight backpacking for kids in Truckee and on Lake Tahoe's north shore. Held in week-long sessions, the summer camps focus on a variety of topics, all with an outdoor focus. They are available for kids ages 5 to 14 and divided by age groups. Online registration is available. (530) 287-9684.
Sugar Bowl Kids Summer Camp
July 11 - 15, July 18 - 22, July 25 - 29, August 5 - 9, 2022. Camp Sugar Bowl summer camps are an opportunity for school-aged children to engage in experiential learning, master outdoor sporting skills and gain a deeper understanding of the natural environment. Camps are tailored to specific age groups ranging in age from 4 to 15. Activities include hiking, rock climbing, kayaking, swimming, mountain biking, nature art, storytelling and yoga. You can register online or call (530) 269-7401 for information.
Camp Skylandia in Tahoe City
Starting on June 20, 2022. This series of camps offers something for kids ages 3.5 to 14. Camps include Lil' Pines, Skylandia Campers, and Counselors-in-Training. Visit the website for additional information and online registration. Sponsored by Tahoe City PUD on the shore of Lake Tahoe. (530) 583-3440.
Sierra Nevada Journeys Summer Camps
June 12 through August 5, 2022. Campers will be involved in educational and fun, adventurous activities like outdoor science learning, teamwork, and leadership. Each week offers a different camp theme based on basic summer camp activities. There are weekly camp sessions for ages 8 to 13 and 14 to 17. Camps are held at Grizzly Creek Ranch, 45 minutes north of Reno in Portola, CA. Get all the details from the "Summer Camp Handbook." For more information, call (530) 832-1085.
Bear Valley YMCA Camp
Sessions in June, July, August, 2022. For ages 7 through 16, plus family camp. There are a variety of sessions and session lengths available. Visit the website for details and to sign up online. These camps are sponsored by the YMCA of Superior California. The Bear Valley YMCA Camp is at State Hwy. 20 and Forest Rte. 18, Nevada City, CA 95959. (916) 452-9622.
Sponsored Links
Sponsored Link