Great Basin Naturalists at Galena Summer Camp
This summer camp is for ages 8 to 12. Eight weekly camp sessions start on June 12, 2017, and will feature different weekly themes and more activities to get your children exploring the outdoors. Located within the Galena Creek Recreation Area, a beautiful forested park on the Mt. Rose Highway between Reno and Lake Tahoe, these summer camps foster creativity, promote core education, and emphasize responsibility to society and the environment. There will be both overnight residential camps and day camps. Camp dates, themes, registration information and pricing are all on the "Summer Exploration Camp" website and you can download the "2017 Summer Camp Brochure." For more information, call (775) 849-4948.
Teen Environmental Science and Service Learning Academy
This summer, teens age 13 to 17 can be part of a leadership program Teen campers, ages 13 to 17, join a discovery-based team, meet and work with scientists in the field, participate in service learning opportunities, go on extended day outdoor adventures, gain leadership experience, learn self-reliance and make new friends. The program includes both day camps and overnight camps. Weekly sessions start on June 19, 2017, with the last program ending on July 28, 2017. Get details about dates, registration, and cost from the Teen Exploration Camp website. (775) 849-4948.
Youth Backcountry Camps from Tahoe Rim Trail Association
This is real camping summer camp for kids ages 12 to 17. Staff leads kids into the wilderness to share the joy and rewarding challenge of backpacking and wilderness survival through a three to five day backpacking adventure. Participants come away with a sense of responsibility for the outdoors and develop confidence as they overcome a variety of challenges. Dates for ages 14 - 17 are June 25 - 28, 2017. For ages 12 - 14, it's July 9 - 12 or August 13 - 16, 2017. To register online, visit the website and click on the dates of interest. For questions, contact Maggie Brandenburg, Outdoor Youth & Programs Manager at maggieb@tahoerimtrail.org.
Summer Art Break, Art High Camps and Summer Art Camps for Kids at Nevada Museum of Art
These are half-day art camps at the Nevada Museum of Art's E.L. Cord Museum School. Kids ages 7 to 12 and teens ages 13 to 18 will enjoy experimenting with clay, ceramics and other art mediums and meet new friends during these one-day and week-long camps. Camps are in June, July and August, 2017. Visit the website for camp details and online registration. The information phone number is (775) 329-3333.
Camp Discovery at The Discovery
The Discovery (Terry Lee Wells Nevada Discovery Museum) offers a series of summer camps for kids from Kindergarten through 7th grade. Camp Discovery offers 9 weeks of summer camps from June 12 through August 11, 2017. There are numerous themes and sessions for various age groups - grades K, 1 to 2, 3 to 4, and 5 to 7. You can view the schedule and sign up online for Camp Discovery sessions. Get additional information from the "Camp Discovery FAQ". The Discovery is at 490 S. Center Street in Reno. The info phone is (775) 786-1000.
Art Camps from Arts for All Nevada
Week-long art camps from Arts for All Nevada are offered at the Lake Mansion and other locations around the Truckee Meadows. Camps are offered in June and July, 2017, with a variety of themes, age groups, and locations. Refer to the "Classes, Camps and Events Calendar" for details, dates, and sign up information. Arts for All Nevada main location is the Lake Mansion, 250 Court Street in Reno. Call (775) 826-6100 for more information.
Summer Outburst from Sparks Parks & Recreation
Summer Outburst is available to youth entering 1st through 7th grade and features fun-themed weeks with age appropriate activities, including arts and crafts, swimming, field trips, bowling, active games, Wild Island water slides and golf, skating, special guests and more. These activities are included in the registration fee. Sessions are from June to August, 2017. You can register online from the website or in person at the Recreation Office, 98 Richards Way in Sparks. Call (775) 353-2376 for more information.
Summer Adventure is for kids 3 to 6 years old. Sessions are at the Alf Sorensen Community Center, 1400 Baring Blvd. More information about all Sparks youth programs is available from the "Sparks Recreation Activity Guide."
Camps for Kids from the City of Reno
Reno's Department of Parks, Recreation and Community Services offers camps for kids of all ages during summer 2017. There are activities and camps geared to kids ages 6 to 14, so be sure to check out the City of Reno camp information website to see what's going on. Some of the camps available are Vacation Station, Summer Discovery Day Camp, Too Cool To Camp, Tween Camp, Performing Arts Specialty Camp, and Outdoor Wilderness Camp. Get details about times, dates, and fees from the Camps for Kids website. Call (775) 334-4280 for more information.
KIDS University at UNR
University of Nevada, Reno Extended Studies presents KIDS University, a fun and educational day camp open to children entering grades 2 to 8. There are almost 50 themed camps. Sessions are held on the University campus, and some include field trips. KIDS U features programs and activities to energize kids' minds and bodies. Full-day sessions run Monday through Friday, from 7:30 a.m. to 5:30 p.m., with a lunch break followed by afternoon recreational activities. Half-day camps are also available. Dates are June 12 through July 28, 2017. Online registration features a full list of camps, dates, times and fees. For more information, call (775) 784-4062 or 1-800-233-8928.
2017 Wolf Pack Sports Camps
Choose from 11 camps in a variety of sports. Boys and girls of all ages and abilities are invited to join Wolf Pack coaches and players for full-day, half-day and overnight camps including baseball, basketball, cross country, football, soccer, softball, tennis, track and field, volleyball and cheer. Each sports has its own information page on the Wolf Pack Camps website. Camps are in June, July and August, 2016.
Student Stewards Summer Camp
Truckee Meadows Parks Foundation is sponsoring summer camps based at Idlewild Park in Reno. Camps are for kids 9 to 12 years old. Camps are STEAM based (stands for Science, Technology, Engineering, Art, and Math) and will incorporate all of these things at camp, including science and art projects, hiking, recreation, and weekly topics, all emphasizing fun. Weekly camps run from June 12 through August 4, 2017, with a different theme each week. Monday through Friday, 9 a.m. to 4 p.m., with extended hours available. Online registration is available. (775) 453-0278.
Summer Writing Camp from Northern Nevada Writing Project
June 26 - 30, 2017, 9 a.m. to 3 p.m. Teams of Northern Nevada Writing Project consultants pair up to teach summer writing camps out in the schools or on the UNR campus. Our "Write Stuff" sessions are popular with students who love to write and who want to be around other students with similar interests. The theme is "Immortality, No Vampires Allowed." Camp will be at the Redfield Campus, 18600 Wedge Parkway in south Reno. Visit the website for details on deadlines and payment.
Camp RockSport Summer Climbing Camps
RockSport Indoor Climbing is offering both half day, full day, and advanced summer climbing camps. Sessions begin on June 12, 2017 and run through July 28. There are sessions for all abilities and those for advanced climbers. Fees per session range from $150 for half-day to $250 for full-day. For details on what's involved, visit the RockSport website or call (775) 352-7673. RockSport is located at 1901 Silverada Boulevard #10 in Reno.
TMFPD Kids' Fire Camp
The Truckee Meadows Fire Protection District (TMFPD), firefighters from Local 3895, and Washoe County Regional Parks sponsor the annual Kids' Fire Camp. Details for 2017 will be released soon. For more information, call (775) 326-6000 or (775) 328-3605.
KidScape Productions Summer Camps
KidScape Productions has summer camps in the Reno area and Truckee during June and July, 2017. KidScape camps focus on acting, theater and improv comedy. Camps are for kids ages 6 to 17 and include a performance to showcase what was learned. Visit the website for updated information about times, places and online registration. Call (775) 787-3900 for more information.
Camp Lotsafun
Camp Lotsafun is operated by Amplify Life, a non-profit organization in Reno "dedicated to providing recreational, therapeutic, and educational programs for children, teens, and adults with disabilities." There are Camp Lotsafun events and programs from May through September, 2017, for combinations of children, teens, and adults. Summer camps and activities are held at various locations in northern Nevada and northern California. For more information, call (775) 827-3866.
Camp Wasiu II with Girl Scouts of the Sierra Nevada
Camp Wasiu II is a traditional residential camp located in Sierra City, CA in the Tahoe National Forest, serving girls entering 1st grade up through high school. Girls have the opportunity to participate in canoeing, standup paddleboard, arts & crafts, hiking, campfire, outdoor cooking, disc golf and other fun camp activities. Programs range from 3 days up to 2 weeks and the cost ranges from $180 to $750 per session. Camp dates are from June through September, 2017. You don't have to be a Girl Scout to come to this camp, you just have to be a girl. Online registration is available. (775) 322-0642 x1202.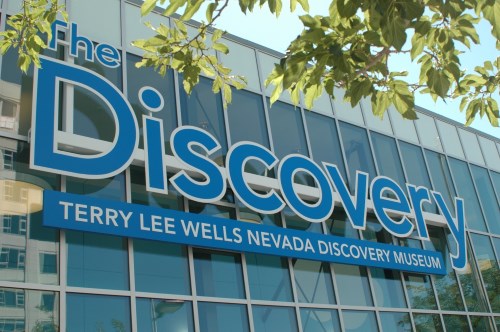 Summer camps at The Discovery in Reno, Nevada. Photo © Stan White
Summer Camps at Lake Tahoe and Other Nearby Areas
Lake Tahoe Music Camp
July 2 - 8, 2017. The 61st annual Lake Tahoe Music Camp invites middle school through high school student musicians to participate in a week of music-making, workshops, performances, and fun. The overnight camp is held at the Nevada State 4-H Camp in Stateline, Nevada, on the shores of Lake Tahoe. Sessions are conducted by award-winning UNR faculty and regional educators, guest conductors, professional chamber and jazz musicians, and more. Camp brochures and registration information are available online, at UNR School of the Arts/3048, KNPB Building, 1670 N. virginia Street, or by calling (775) 784-4278. Due to limited space, registrations are accepted on a first-come, first-served basis.
Summer Camps from Tahoe Expedition Academy
For 2017, Tahoe Expedition Academy offers adventure and academic summer day camps for kids age 4 to 14 in Truckee and Kings Beach, on Lake Tahoe's north shore. Held in week-long sessions, the summer camps focus on music, wilderness skills, rock climbing, pottery, blacksmithing and robotics – all with an outdoor focus. Campers will have the opportunity to work with professional craftsmen, musicians and artists from the Tahoe basin. Camps will be in June, July and August. They are available for kids ages 4 to 14 and divided by age groups - 4 to 6, 7 to 11, and 12 to 14. Call (530) 414-9316 for more information.
Camp Sugar Bowl 2017 summer camps are an opportunity for school-aged children to engage in experiential learning, master outdoor sporting skills and gain a deeper understanding of the natural environment. Camps are tailored to specific age groups ranging in age from 4 to 15. Activities include hiking, rock climbing, kayaking, swimming, mountain biking, nature art, storytelling and yoga. Sugar Bowl Resort's 2017 summer camps run on July 24 - 28 and July 31 - August 4. You can register online or call (530) 426-9000. The information phone number is (530) 426-6790.
Sierra Nevada Journeys Summer Camps
Week-long summer camps in 2017 are in June and July. Campers will be involved in educational and fun, adventurous activities like outdoor science learning, teamwork, and leadership. Each week offers a different camp theme, from basic summer camp activities to extreme adventures. Camps are held at Grizzly Creek Ranch, 45 minutes north of Reno in Portola, CA. Get all the details from "Sierra Nevada Journeys Summer Camp Family Handbook." For more information, call the Reno office at (775) 355-1688.