Great Basin Naturalists at Galena Summer Camp
This summer camp is for ages 8 to 12. Eight weekly camp sessions start on June 13, 2016, and will feature different weekly themes and more activities to get your children exploring the outdoors. Located within the Galena Creek Recreation Area, a beautiful forested park on the Mt. Rose Highway between Reno and Lake Tahoe, these summer camps foster creativity, promote core education, and emphasize responsibility to society and the environment. There will be both overnight residential camps and day camps. Camp dates, themes, registration information and pricing are all on the "Summer Exploration Camp" website. For more information, call (775) 849-4948.
Teen Environmental Science and Service Learning Academy
This summer, teens age 13 to 17 can be part of an elite teen leadership program designed to prepare them for future camp counselor opportunities while exploring environmental science and conservation with real world scientists. The program includes both day camps and overnight camps. Weekly sessions start on June 13, 2016, with the last program ending on August 5, 2016. Get details about dates, registration, and cost from the Learning Academy website.
More than a summer camp, this program at Galena Creek Visitor Center is a teen leadership program designed to prepare them for future camp counselor opportunities while exploring environmental science and conservation with real world field scientists and land managers. This is for teens ages 13 to 17 and includes both day camps and overnight residential camps starting on June 15, 2015.
Art High Camps and Camps for Kids at Nevada Museum of Art
These are half-day art camps at the Nevada Museum of Art's E.L. Cord Museum School. Kids ages 7 to 12 and teens ages 13 to 18 will enjoy experimenting with clay and ceramics and meet new friends during these week-long camps. Camps are in June, July and August, 2016. Visit the website for camp details and online registration. The information phone number is (775) 329-3333.
Camps for Kids from the City of Reno
Reno's Department of Parks, Recreation and Community Services offers camps for kids of all ages during summer 2016. There are activities and camps geared to kids ages 6 to 14, so be sure to check out the City of Reno camp information website to see what's going on. Some of the camps available are Vacation Station, Summer Discovery Day Camp, Too Cool To Camp, Tween Camp, Performing Arts Specialty Camp, and Outdoor Wilderness Camp. Get details about times, dates, and fees from the Camps for Kids website. Call (775) 334-4280 for more information.
Camp Discovery at The Discovery
The Discovery (Terry Lee Wells Nevada Discovery Museum) offers a series of summer camps for kids from Kindergarten through 7th grade. Camp Discovery offers six weeks of summer camps from June 13 through August 5, 2016. There are numerous themes and each week has sessions for all age groups - grades K, 1 to 2, 3 to 4, and 5 to 7. You can view the schedule and sign up online for Camp Discovery sessions. Get additional information from the "Camp Discovery FAQ". The Discovery is at 490 S. Center Street in Reno. The info phone is (775) 786-1000.
Art Camps from Arts for All Nevada
Week-long art camps from Arts for All Nevada are offered at the Lake Mansion and other locations around the Truckee Meadows. Camps are offered in June and July, 2016, with a variety of themes, age groups, and locations. Refer to the "Classes, Camps and Events Calendar" for details, dates, and sign up information. Arts for All Nevada main location is the Lake Mansion, 250 Court Street in Reno. Call (775) 826-6100 for more information.
Summer Day Camps from Sparks Parks & Recreation
The City of Sparks Parks & Recreation Department provides a variety of fun, age appropriate Kids Out-of-School Programs in 2016, including arts and crafts, swimming, field trips, bowling, active games, Wild Island water slides and golf, skating, special guests and more. These activities are included in the registration fee. These programs include a variety of summer day camps called Summer Outburst, which will run from June 13 to August 5, 2016. You can register online from the website or in person at the Recreation Office, 98 Richards Way in Sparks. Call (775) 353-2376 for more information.
KIDS University at UNR
University of Nevada, Reno Extended Studies presents KIDS University, a fun and educational day camp open to children entering grades 2 to 8, offered in seven weeklong sessions. Sessions are held on the University campus, and some include field trips. KIDS U features programs and activities to energize kids' minds and bodies. Full-day sessions run Monday through Friday, from 7:30 a.m. to 5:30 p.m., with a lunch break followed by afternoon recreational activities. Dates are June 13 through July 29, 2016. Details about registration, times, and dates is available on the website and in the online brochure. For more information, call (775) 784-4062 or 1-800-233-8928.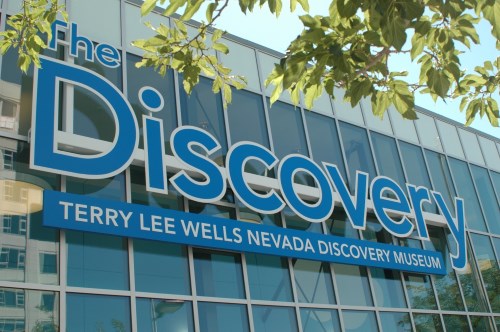 Summer camps at The Discovery in Reno, Nevada. Photo © Stan White
2016 Wolf Pack Sports Camps
Choose from 11 camps in a variety of sports. Boys and girls of all ages and abilities are invited to join Wolf Pack coaches and players for full-day, half-day and overnight camps including baseball, basketball, cross country, football, soccer, softball, tennis, track and field, volleyball and cheer. Each sports has its own information page on the Wolf Pack Camps website. Camps are in June, July and August, 2016.
RockSport Summer Climbing Camps
RockSport Indoor Climbing is offering both half day, full day, and advanced summer climbing camps. Sessions begin on June 13, 2016 and run through July 29. There are sessions for all abilities and those for advanced climbers. Fees range from $150 to $300 per session. For details on what's involved, visit the RockSport website or call (775) 352-7673. RockSport is located at 1901 Silverada Boulevard #10 in Reno.
TMFPD Kids' Fire Camp
The Truckee Meadows Fire Protection District (TMFPD), firefighters from Local 3895, and Washoe County Regional Parks are holding the second annual Kids' Fire Camp. The three day kids' camp is open to boys and girls ages 11 to 14 who are interested in the fire service. The camp will host 40 participants this year. The camp will be held at Camp WeChMe at Galena Creek Regional Park, June 13 to 15, 2016. The kids will stay overnight June 13 and 14. Please submit an application no later than Friday, May 20, 2016. For more information, call (775) 328-3605.
Reno Aces Summer Baseball Camps
Camps are designed forbaseball players ages 7 through 16 and will cover every aspect of the game of baseball. Instruction will include pitching mechanics, catcher skills, infield play ,outfield play, hitting and base running, along with contests and prizes. Instruction is from former and current professional and collegiate players and coaches. Three 2016 sessions will be June 14 - 17, July 11 - 13, and August 3 - 5. Extra sessions available at additional cost. You can register online from the website. For more information, call (775) 334-7010.
KidScape Productions Summer Camps
KidScape Productions has summer camps in the Reno area and Truckee during June and July, 2016. KidScape camps focus on acting and theater. Camps are for kids ages 6 to 17 and include a performance to showcase what was learned. Visit the website for updated information about times, places and online registration. Call (775) 787-3900 for more information.
Camp Lotsafun
Camp Lotsafun is operated by Amplify Life, a non-profit organization in Reno "dedicated to providing recreational, therapeutic, and educational programs for children, teens, and adults with disabilities." There are Camp Lotsafun events and programs from May through September, 2016, for combinations of children, teens, and adults. Summer camps and activities are held at various locations in northern Nevada and northern California. For more information, call (775) 827-3866.
Summer Camps at Lake Tahoe and Other Nearby Areas
Lake Tahoe Music Camp
July 3 - 9, 2016. The 60th annual Lake Tahoe Music Camp invites middle school through high school student musicians to participate in a week of music-making, workshops, performances, and fun. The overnight camp is held at the Nevada State 4-H Camp in Stateline, Nevada, on the shores of Lake Tahoe. Sessions are conducted by award-winning UNR faculty and regional educators, guest conductors, professional chamber and jazz musicians, and more. Camp brochures and registration information are available online, at Extended Studies on the UNR Redfield campus, Nell J. Redfield Building A, 18600 Wedge Parkway, or by calling (775) 784-4046 or (800) 233-8928. Due to limited space, registrations are accepted on a first-come, first-served basis.
Blue Bear Summer Camp
Blue Bear camps in 2016 will be at Davis Creek Regional Park, just south of Reno in Washoe Valley. Dates are July 10 - 14, 2016. The focus is an outdoor driven, residential, back to basics style camp for 9 to 11 year old children. Outdoor geared activities include hiking, shooting ranges, archery, arts and crafts, field games, and outdoor education experiences. For more information, call (775) 843-4737.
Summer Camps from Tahoe Expedition Academy
For 2016, Tahoe Expedition Academy offers hybrid adventure and academic summer day camps for kids age 4 to 14 in Truckee and Kings Beach, on Lake Tahoe's north shore. Held in week-long sessions, the summer camps focus on music, wilderness skills, rock climbing, pottery, blacksmithing and robotics – all with an outdoor focus. Campers will have the opportunity to work with professional craftsmen, musicians and artists from the Tahoe basin. Camps will be in July and August. They are available for kids ages 4 to 14 and divided by age groups - 4 to 6, 7 to 11, and 12 to 14. Call (530) 546-5253 for more information.
Camp Sugar Bowl 2016 summer camps, in partnership with the Gateway Mountain Center, are an opportunity for school-aged children to engage in experiential learning, master outdoor sporting skills and gain a deeper understanding of the natural environment. Camps are tailored to specific age groups ranging in age from 4 to 15. Activities include hiking, rock climbing, kayaking, swimming, mountain biking, nature art, storytelling and yoga. Sugar Bowl Resort's 2016 week-long summer camps run on July 25 to 29 and August 1 to 5. You can register online at the website or call (530) 426-7000. The information phone number is (530) 426-6790.
Sierra Nevada Journeys Summer Camps
Week-long summer camps in 2016 are in June and July. Campers will be involved in educational and fun, adventurous activities like outdoor science learning, teamwork, and leadership. Each week offers a different camp theme, from basic summer camp activities to extreme adventures. Camps are held at Grizzly Creek Ranch, 45 minutes north of Reno in Portola, CA. For more information, call (775) 560-6218.