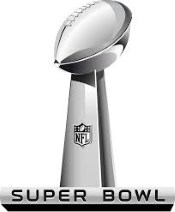 The Reno area has some of the biggest and best Super Bowl parties around, which isn't surprising considering that we some of the best big events in the West. If football is your thing (and maybe betting on football), you can have a good time with like-minded fans at numerous places in the greater Reno region.
Teams playing in Super Bowl LI (51)
TBD vs. TBD
Final stop for these teams this season is Super Bowl LI on Sunday, February 5, 2017.
Location of Super Bowl LI
Super Bowl 50 will be played on Sunday, February 5, 2017. The location will be NRG Stadium in Houston, Texas (home of the Houston Texans). Reno area fans can watch the game on local Fox station KRXI channel 11, or be at one of the parties to see the action on huge screens. Kickoff is scheduled for 3:30 p.m. Reno time.
Big Game Blitz 51 Party at the Peppermill
Watch the Big Game at the Peppermill's Tuscany Event Center. Your ticket includes an all-you-can-eat stadium food buffet, mug and a hat, Bud and Bud Light at every table, and door prizes at every quarter. Doors open at 2:30 p.m. You can get an assigned seat for $65 or a table for 10 for $600. The Peppermill is at 2707 S. Virginia Street in Reno.
Big Game Party with the Eldorado and Silver Legacy
This party will be in the downtown Reno Ballroom. Your ticket includes two beverages/cocktails, all-you-can-eat buffet and a souvenir hat. Tickets are $50 in advance, $60 the day of the event. Doors open at 2:30 p.m. Tickets are available online or by calling (775) 325-7401. The Reno Ballroom is at 401 N. Center Street.
Big Bowl Bash LI at the Atlantis
The Atlantis Big Game party is centered in the sports book, with casino-wide big screens and party action. There will be drawings, a pigskin pool, beer and food specials, prizes and more things to do with winning money. The Atlantis Casino Resort Spa is at 3800 S. Virginia Street in Reno.
Big Game Bash 51 at the Grand Sierra Resort
Cheer on your favorite team at the Big Game Bash 51 and watch on the big screen in full HD in the Silver State Pavillion. Tickets are $65 and include an all-you-can-eat stadium style buffet and two drinks. Betting stations located in the room. Doors open at 2:30 p.m. Get tickets at the casino box office or call (775) 789-1115. The Grand Sierra is at 2500 East Second Street in Reno.
Nugget Big Game Bash
The site of this Big Game party is the Convention Level Ballroom at the Nugget in Sparks. It starts at 2:30 p.m. Tickets are $65 and include a stadium buffet, hosted bar, two video walls, 5 gigantic screens and video monitors. Tickets are available online for this 21 and over bash. The Nugget is at 1100 Nugget Avenue.
Party at Breweries and Brewpubs in Reno and Sparks
Beer has to be the favorite drink of football fans. There is no shortage of suds to be had at the many Reno and Sparks brewpubs and breweries. To find one of these Big Game party spots near you, go to "Breweries, Brew Pubs and Distilleries in Reno and Sparks."