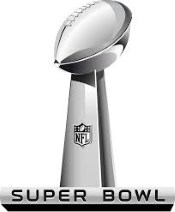 The Reno area has some of the biggest and best Super Bowl parties around, which isn't surprising considering that we host some of the best big events in the West. If football is your thing (and maybe betting on football), you can have a good time with like-minded fans at numerous places in the greater Reno region.
Teams playing in Super Bowl LII (52)
Philadelphia Eagles vs. New England Patriots
Playoff game scores: Eagles (38) vs. Vikings (7) and Patriots (24) vs. Jaguars (20).
Location of Super Bowl LII
Super Bowl LII (52) will be played on Sunday, February 4, 2018. The location will be U.S. Bank Stadium in Minneapolis, MN (home of the Minnesota Vikings).
Reno area fans can watch the game on local NBC station KRNV channel 4, or be at one of the parties to see the action on huge screens. Kickoff is scheduled for approximately 3:30 p.m. Reno time. The half-time show will be headlined by Justin Timberlake.
Big Game Blitz LII Party at the Peppermill
Watch the Big Game at the Peppermill's Tuscany Events Center. Your ticket includes an all-you-can-eat stadium food buffet, mug and a hat, Bud and Bud Light at every table, and door prizes at every quarter. Doors open at 2:30 p.m. You can get an assigned seat for $65 or a table for 10 for $600. The Peppermill is at 2707 S. Virginia Street in Reno.
Ultimate Big Game Parties at the Silver Legacy and Eldorado
It's going to be a Super Bash LII weekend. Watch Super Bowl LII at any of these venues - Silver Baron Ballroom at the Silver Legacy, Laugh Factory, Novi and Cin Cin! at the Eldorado and the Eldorado Theatre. Visit the website for price information and to purchase tickets online. The Silver Legacy is at 407 N. Virginia Street. The Eldorado is at 345 N. Virginia Street. Fans can also watch the game at Bar Centro, Stadium Bar, The Brew Brothers, Rum Bullions, Blast Bar, Village Bar and El Jefe's Cantina.
2018 Super Bash LII at the Eldorado, Silver Legacy, Circus Circus
Watch the action on five giant HD screens at the Eldorado Convention Center. Enjoy all this with a 50-yard line tailgate buffet and open bar. You can also choose to watch the Big Game at the Grande Exposition Hall in Silver Legacy or at the Mandalay Ballroom in Circus Circus Reno. There will also be appearances by former NFL players Frank Hawkins of the Oakland Raiders, Dan McGwire of the Seattle Seahawks and Miami Dolphins, Conrad Dobler of the St. Louis Cardinals, Tony Hill of the Dallas Cowboys, Phil Villapiano of the Oakland Raiders and Tim Wrightman of the Chicago Bears.
Big Bowl Bash LII at the Atlantis
The Atlantis Big Game party is in the Grand Ballroom with tailgate buffet, hosted bar, prize giveaways, and more. Additional Super Bowl LII action will be in the sports book, plus casino-wide big screen viewing. There will be drawings, a pigskin pool, beer and food specials, prizes and more things to do with winning money. The Atlantis Casino Resort Spa is at 3800 S. Virginia Street in Reno.
Big Game Bash 52 at the Grand Sierra Resort
Cheer on your favorite team at the Big Game Bash 51 and watch on the big screen in full HD in the Silver State Pavillion. Tickets are $75 and include an all-you-can-eat stadium style buffet and two drinks. Betting stations located in the room. Doors open at 2:30 p.m. Get tickets at the casino box office or call (775) 789-1115. The Grand Sierra is at 2500 East Second Street in Reno.
Nugget Big Game Parties
There will be two big Super Bowl parties at the Nugget in Sparks. Tickets for the Big Game Buffet in the Nugget Ballroom are $65 and include a stadium buffet, bottomless drinks, a video wall and extra large video monitors. The Game On party is $50 with bar viewing on more than 50 HD screens, all-you-can-eat tailgate buffet and bottomless draft beer. The Nugget is at 1100 Nugget Avenue.
Big Game Party at Boomtown
The Boomtown Big Game Party has a $40 general admission price or you can opt for the $80 VIP seating option with more perks. Both feature an all-you-can-eat stadium style buffet, drinks, multiple big screens and giveaways throughout the game. Tickets are available online. Boomtown is at 2100 Garson Rd. in west Reno, next to I80 at exit 4.
Party at Breweries and Brewpubs in Reno and Sparks
Beer has to be the favorite drink of football fans. There is no shortage of suds to be had at the many Reno and Sparks brewpubs and breweries. To find one of these Big Game party spots near you, go to "Breweries, Brew Pubs and Distilleries in Reno and Sparks."
Big Game Party at Club Cal Neva
For $25, you will receive entry into the party with special seating and viewing areas, including two 25-foot big screens. You will also get access to all-you-can-drink Bud, Bud Light, wine and well drinks until the end of the 3rd quarter, all-you-can-eat stadium food until the end of the 3rd quarter, and giveaways. Starts an hour before kickoff. Get tickets at the cashier cage. The Cal Neva is at 38 E. 2nd Street in downtown Reno.
Big Game Event at the Sands Regency
The Sands will have great stadium food and drink specials for the Big Game at the Pipeline Lounge and 3rd Street Bar. For a non-smoking option, go to the Copa Bar & Grill. The Sands Regency is at 345 N. Arlington Avenue in Reno.
Big Game Viewing Parties at Harrah's Reno
Parties take place in The Stage at The Zone and in the Robert A. Ring Convention Center, starting at 2:30 p.m. Tickets are $35 or $25 for Total Rewards members. There will be drink specials and a stadium-style buffet is included. Harrah's is at 219 N. Center St. in Reno.
Super Bash Party at Rail City Casino
The Big Game will be on view throughout the casino. There will be giveaways, including a 55" LED HDTV, cash, and football memorabilia. Rail City is at 2121 Victorian Ave. in Sparks.