Father's Day 2019 is Sunday, June 16. In the Reno and Sparks region, there are plenty of fun things you can do with and for the father in your life.
Go to the Movies with Dad - The Truckee Meadows has a big variety of movie theaters showing the latest releases. This includes the Sparks IMAX Luxury+ at the Outlets at Sparks and the re-opened Galaxy Theater in Victorian Square. For an out-of-this-world experience, go to a Star Show at the Fleischmann Planetarium.
Ride the Steam Train at the Nevada State Railroad Museum - On Father's Day weekend (June 16 and 17, 2018), bring Dad to Carson City for a train ride behind a steam locomotive. Purchase tickets at the Wabuska Station with cash or check, no credit cards. The fare is $8 for adults 12 and older, $4 for kids ages 4 to 11, free for ages 4 and under and half price for Museum members. Call (775) 687-6953 for more information. Rides run from 10 a.m. to 4 p.m. The Nevada State Railroad Museum is open from 9 a.m. to 4:30 p.m., Thursday through Monday.
Art and Culture Day is Saturday, June 16, 2018. The historic #25 Steam Train will be running, taking passengers on rides around the museum. There will be food and drink, craft vendors, and plenty of room to come and enjoy the beginning of Father's Day weekend.
Father's Day at the Reno Rodeo - Sunday, June 17, 2018. The Reno Rodeo will be in high gear during Father's Day weekend. There will be lots of rodeo action and other activities on both days, making this a great venue for family fun with Dad on Father's Day.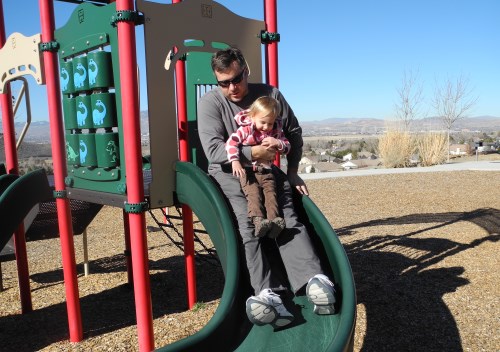 Take Dad to a park on Father's Day. Photo © Stan White
Father's Day with the Reno Aces - Sunday, June 17, 2018. Bring Dad to Greater Nevada Field and enjoy a game between the Reno Aces and Omaha Storm Chasers. This homestand runs from Wednesday through Tuesday, June 13 - 19, 2018. The Father's Day game on June 17 starts at 1:05 p.m. Come early and play catch with Dad on the field. There will be other promotions as well. The Saturday evening game (June 16) is Super Hero Night featuring Captain America.
Stewart Father's Day Powwow - Friday through Sunday, June 15 - 17, 2018. Celebrate Father's Day and experience Native American heritage and history at the Stewart Father's Day Powwow. During the event, visitors are able to experience first-hand the true history of the school by joining hundreds of alumni, American Indians and general public who come from near and far for the event which features competition American Indian dancing, arts and craft vendors, Indian Taco vendors and Stewart alumni activities. This event is at 5500 Snyder Avenue in Carson City. It is free and open to the public. This is an alcohol and drug free event.
Father's Day Weekend on the V & T Railroad - Saturday and Sunday, June 16 and 17, 2018. The Virginia and Truckee Railroad is running steam trains between Carson City and Virginia City during Father's Day weekend. Trips depart each day at 10 a.m. from the depot east of Carson City at 4650 Eastgate Siding Road. For more information, call (877) 724-5007 or (775) 291-0208. Purchasing tickets in advance is strongly recommended.
Father's Day Train Rides in Virginia City - Saturday and Sunday, June 16 and 17, 2018, 10:30 a.m. to 4 p.m. Celebrate this Father's Day weekend with the entire family by taking Dad out for a fun-filled day on the V&T Railroad. This ride is a round trip from Virginia City to Gold Hill and return. Reservations not needed - get tickets at the F Street Depot in Virginia City.
Taylor Creek Visitor Center at Lake Tahoe - Taylor Creek Visitor Center is a great (and free) family destination. Take Dad to enjoy hiking trails, interpretive programs, a stream profile chamber on Taylor Creek and information about the big variety of natural ecosystems and features found in the Lake Tahoe Basin. Nearby are beaches on the shores of Lake Tahoe and the Tallac Historic Site.
Take a Hike with Dad - Some trail time with Dad might be something he would enjoy with the family. There are trails for all abilities around Reno, from mild to wild and everything in between. Check out "Reno Area Hiking and Walking Trails" for information on many area pathway.