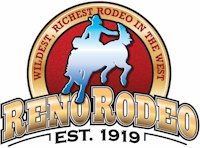 The 2016 Reno Rodeo will be in town from Thursday, June 16 through Saturday, June 25. The Reno Rodeo is a huge event with lots of activities and things to do for the whole family in addition to the rodeo itself. You don't need to be a buckaroo to enjoy the fun and action at the "Wildest, Richest Rodeo in the West."
2016 Reno Rodeo
The Reno Rodeo is a big time rodeo sanctioned by the Professional Rodeo Cowboys Association (PRCA). There are rodeo event performances every night, which include bareback, saddle bronc, steer wrestling, team roping, women's barrel racing, bull riding, specialty acts and more.
There are also a number of special events, with something just about everyone can enjoy and some things you can participate in. Some of these include the cattle drive, drill team competition, special kids rodeo, mutton bustin', carnival rides and midway, Reno Rodeo parade, and lots more.
Here are links to information you need to enjoy all the Reno Rodeo has to offer...
Reno Rodeo Parade
The Reno Rodeo Parade is a popular event. Come a bit early to secure a good spot to view the pageantry. The 2016 Reno Rodeo Parade is on Saturday, June 18. It starts at 10 a.m. and runs through downtown Reno along Virginia and Center Streets.
Reno Rodeo Location and Parking
The Reno-Sparks Livestock Events Center is located at 1350 N. Wells Avenue in Reno. Parking at the Reno-Sparks Livestock Events Center is $6. The Reno Rodeo rodeo grounds web page has details about where things are, parking, and seating in the outdoor arena. For more specific information about getting to the parking areas, go to "Directions for Public Parking - Reno Rodeo."
Reno Rodeo Tickets
You can purchase Reno Rodeo tickets at the Events Center on the day of the event, but they cost an extra $3 and no discounts apply. To purchase tickets ahead of time, download the 2016 Ticket Order Form and follow the steps to get your tickets.
You can also purchase tickets online or by calling 800-325-7328. Ticket prices vary depending on seating and performance date. There are a variety of discounts available. For ticket information, call (775) 784-4444, Monday through Friday from 10 a.m. to 5 p.m.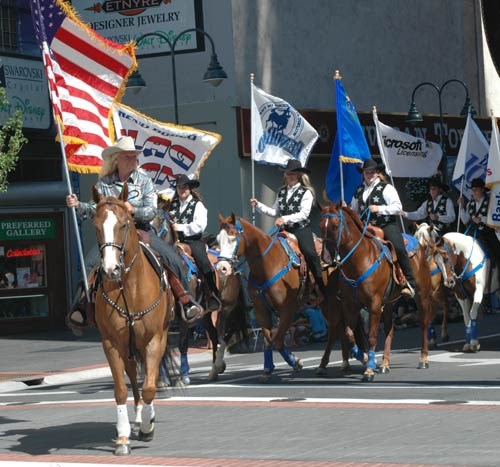 Reno Rodeo Parade through downtown Reno, Nevada. Photo © Stan White
Source: Reno Rodeo Association.