---
"Walk with Washoe" in Washoe County
Explore parks and trails at various Washoe County locations
Search NewToReno
Custom Search
---
---
Memorial Day Weekend

This three-day weekend (May 25 - 27, 2019) is the traditional start of the summer vacation season and there are lots of things to do around the Reno region.
V & T Railroad 2019 Season

Excursion trains closely follow the originial V & T route between Carson City and Virginia City during the heyday of the Comstock mining era.
Washoe County staff leads these "Walk with Washoe" outings at various locations around the county. All walks are on Tuesday evenings (except as noted) and are free and open to the public. These are moderate strolls of about one to a little over two miles.
2019 "Walk with Washoe" Schedule
Here are the parks and dates for the 2019 "Walk with Washoe" series.
May 21 at 7 p.m., Mayberry Park
June 13 (Thursday) at 7:30 p.m., Galena Creek Regional Park, Jones Creek Interpretive Trail - Special Moonlight Walk
June 18 at 7 p.m., Sun Valley Regional Park
July 30 at 7 p.m., Slide Mountain Trailhead
August 20 at 7 p.m., Huffaker Hills
September 17 at 5:30 p.m., North Valleys Regional Park
October 1 at 5:30 p.m., Rancho San Rafael Regional Park
More Reno Area Hiking and Walking Trails
You can, of course, strike out on your own on any of numerous other hiking and walking trails in the Reno area. To learn about some of these, refer to...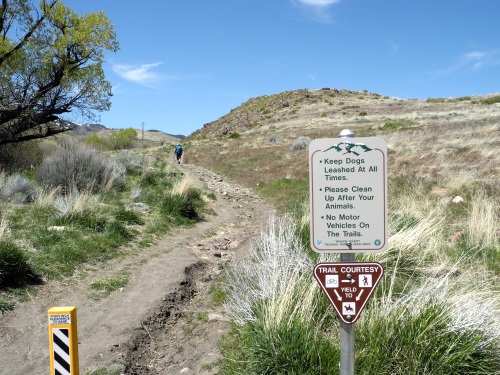 Ballardini Ranch Trailhead, hiking trail in Washoe County, Nevada. Photo © Stan White -