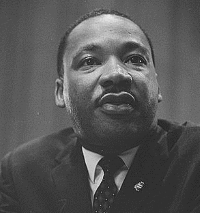 Martin Luther King, Jr. Day in 2022 will be observed on Monday, January 17. The day is an official national holiday observed across the country, with most federal, state and local government offices closed for the day. Some private businesses close as well at their own discretion.
The holiday occurs on the third Monday in January as an observation of the civil rights leader's birthday, which was on January 15. The law setting the holiday was signed by President Ronald Reagan in 1983.
Martin Luther King, Jr. Day of Service
Concurrent with this holiday is the Martin Luther King, Jr. Day of Service. On this day, citizens are encouraged to engage in volunteer volunteer service in honor of Dr. King. The federal legislation was signed into law by President Bill Clinton in 1994. In Reno, there are numerous opportunities for volunteer service. You can see if something is of interest in the Reno listings of volunteer organization All for Good. You can also conduct your own search to see if there is something in your neighborhood.
MLK Day Bio Blitz with Truckee Meadows Parks Foundation
Monday, January 17, 2022. Sign up for the 2022 MLK BioBlitz and Wetland Cleanup that is taking place for the National Day of Service. TMPF's Day of Service will be dedicated to the Rosewood Nature Study Area where volunteers will be participating as citizen scientists, surveying and recording biological species (BioBlitzing), and picking up harmful debris and trash from the wetland. Please register for this event.
Martin Luther King, Jr. Day Interfaith Memorial Service
Sunday, January 16, 2022, 5 p.m. The Northern Nevada Dr. MLK Jr. Memorial Committee in cooperation with the Nevada Interfaith Association, invites the community to the 36th Annual Dr. Martin Luther King Jr. Interfaith Memorial Service. The event will honor Lonnie L. Feemster for his community service with the Reno/Sparks NAACP and the Progressive Leadership Alliance of Nevada (PLAN) for their courageousness to bring together diverse and potentially competing organizations into one cohesive force for social and environmental justice in Nevada. The theme for this year is "Reclaiming Black Joy." At the McKinley Arts & Culture Center, 925 Riverside Dr. in Reno. The program will also be live on the Nevada Interfaith Association Facebook page.
34th Annual Dr. Martin Luther King, Jr. Birthday Celebration
Monday, January 17, 2022. This event has been canceled due to COVID concerns.
24th Annual Martin Luther King, Jr. Community Memorial Caravan
Monday, January 17, 2022, 11 a.m. The caravan will be on the Rev. Dr. Martin Luther King Jr. Highway (I-580 / US 395). Meet at 10 a.m. at the Sparks United Methodist Church, 1231 Pyramid WaY. (775) 358-0925.
Free Admission Days on Public Lands
Admission fees will be waived at many public lands facilities administered by the federal government on Martin Luther King, Jr. Day. Other fees, such as for overnight camping and cabin rentals, will still apply. Facilities involved include those administered by the National Park Service, Bureau of Land Management (BLM), U.S. Forest Service (USFS) and U.S. Fish and Wildlife Service (USFWS).
(Image courtesy the National Archives.)
Sponsored Links
Sponsored Link