Cinco de Mayo Festival at the Glow Plaza
Friday through Sunday, May 5 - 7, 2023. This annual Cinco de Mayo event is northern Nevada's largest celebration of Latino heritage. It will be at the Glow Plaza Festival Grounds in Reno, located at J Resort, 345 N. Arlington Ave. in Reno. Admission to the event is $20 for adults, $8 for kids under 16 and seniors over 65, under 2 free. Once in, all entertainment is free (except carnival rides and games). Hours on Friday are 4 p.m. to 9 p.m., Saturday and Sunday 12 noon to 8 p.m.
Cinco de Mayo events and activities at this celebration include...
Dancing Horses
Live Music
Amateur Boxing
Mexican Food
Vendors offering specialty items, clothes, art, crafts, community information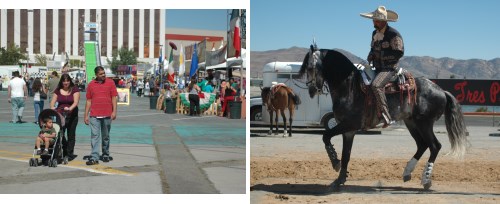 Activities at Reno's Cinco de Mayo Hispanic heritage event.
Wicked Wayz Car Club Cinco de Mayo Ride & Shine
Saturday, May 6, 2023, 11 a.m. to 4 p.m. Wicked Wayz CC invites you to their 4th Annual Cinco De Mayo Ride & Shine Car Show, where every form of custom cars and trucks will be on display. Join us for a day of family fun. There will be live entertainment, food trucks, Mariachi and more. Free admission, but there is a fee to register vehicles for display and to be judged for trophies. At the Bonanza Casino, 4720 N. Virginia Street in Reno.
Cinco de Mayo Dance for All
Sunday, May 7, 2023, 2 p.m. to 4 p.m. The City of Reno and City of Sparks collaborate for a dance series for teens and adults with special needs. This Cinco de Mayo dance will be at Evelyn Mount Northeast Community Center, 1301 Valley Road in Reno. Admission is $3 at the door.
Sponsored Links
Sponsored Link