NewToReno Info
---
Cinco de Mayo in Reno and Sparks
Search NewToReno
Custom Search
---
---
Current Topics
Artown in Reno
Reno becomes Artown during the whole month of July. Residents and visitors enjoy a month's worth of music, art, dance and other cultural experiences, many of which are free.
Lazy 5 Regional Park
Big family park in Sparks with water play, free summer concerts, shady picnic spots and lots more.
Farmers Markets
There's a farmer's market going on in Reno and/or Sparks almost every day of the week during summer and early fall.
Summer Camps for Kids
Enroll your kids early for the best choices among a wide variety of Reno area summer camps.
Reno Aces Baseball
The Reno Aces' 2017 season is now playing at Greater Nevada Field. Let's go out to a ball game.
The Reno / Sparks area likes to celebrate the Cinco de Mayo holiday in a big way. If you want to join in, come to northern Nevada's big annual celebration of Latino heritage at the Grand Sierra Resort in Reno. There are other celebrations happening around Reno / Tahoe as well.
2017 Cinco de Mayo Celebration at the Grand Sierra Resort
This annual Cinco de Mayo event is northern Nevada's largest celebration of Latino heritage. It will be at the Grand Sierra Resort in Reno, in the southeast parking area. Admission to the event is $10 for adults, $5 for kids under 12 and seniors over 65. Once in, all musical entertainment is free. Bring the family and join the 2017 Cinco de Mayo party. Here are the hours...
Saturday, April 29, 2017 - 12 noon to 8 p.m.
Sunday, April 30, 2017 - 12 noon to 8 p.m.
Other Cinco de Mayo events and activities on Saturday and Sunday will include...
Mexican Dancing Horses
Carnival Rides
ARCE Amateur Boxing
Expo with Games, Prizes, and Free Face Painting
Mexican and American Food, Drink, Arts, Crafts, Informational Booths
This Cinco de Mayo event supports non-profit organizations providing products and services to the northern Nevada community. For more information, call (775) 291-3651 or (775) 856-4888.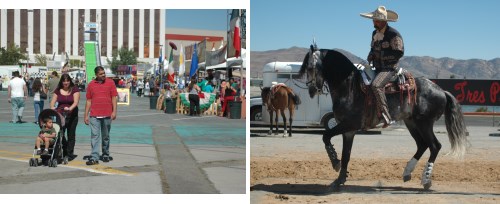 Cinco de Mayo Latino Heritage event at the Grand Sierra Resort in Reno, Nevada.
Pinatas & Predators at Animal Ark
For Cinco de Mayo with a wild twist, come to Animal Ark near Reno on Saturday, May 6, 2017, from 10:15 a.m. to 2:30 p.m. Watch the predators break open pinatas to get their treats. Admission is $15 for adults, $12 for children ages 3 to 12, $13.50 for seniors age 62+, free for kids two and under. Bring your camera for some great photo opportunities. Contact the Animal Ark for more information. The contact phone number is 1-775-970-3111 (you must dial 1-775 when calling from the Reno area).