The Reno / Sparks area likes to celebrate the Cinco de Mayo holiday in a big way. If you want to join in, come to northern Nevada's big annual celebration of Latino heritage at the Grand Sierra Resort in Reno. There are other celebrations happening around Reno / Tahoe as well.
2016 Cinco de Mayo Celebration at the Grand Sierra Resort
This annual Cinco de Mayo event is northern Nevada's largest celebration of Latino heritage. It will be at the Grand Sierra Resort in Reno, in the southeast parking area. Admission to the event is $5 for adults. Once in, all entertainment is free. Bring the family and join the 2016 Cinco de Mayo party. Here are the hours...
Friday, April 29, 2016 - 3 p.m. to 8 p.m.
Saturday, April 30, 2016 - 12 noon to 8 p.m.
Sunday, May 1, 2016 - 12 noon to 8 p.m.
The music TBA on Friday, Los Horoscopos and De Durango on Saturday, and Tiranos Del Norte on Sunday.
Other events and activities on Saturday and Sunday will include...
Mexican Dancing Horses
Miss Cinco De Mayo Contest
Carnival Rides until 10 p.m.
ARCE Amateur Boxing
Expo with Games, Prizes, and Free Face Painting
Mexican and American Food, Drink, Arts, Crafts, Informational Booths
Climbing Wall by Rock Sport
This Cinco de Mayo event supports non-profit organizations providing products and services to the northern Nevada community. Event proceeds help support Nevada Broadcasters' Foundation Scholarship Fund. For more information, call (775) 291-3651 or (775) 856-4888.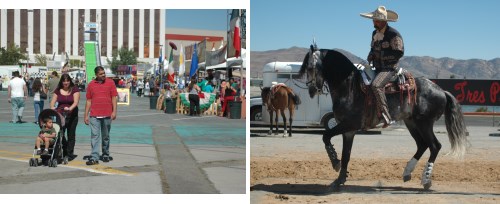 Cinco de Mayo Latino Heritage event at the Grand Sierra Resort in Reno, Nevada.
Pinatas & Predators at Animal Ark
For Cinco de Mayo with a wild twist, come to Animal Ark near Reno on Saturday, May 7, 2016, from 10:15 a.m. to 2:30 p.m. Watch the predators break open pinatas to get their treats. Admission is $15 for adults, $12 for children ages 3 to 12, $13.50 for seniors age 62+, free for kids two and under. Bring your camera for some great photo opportunities. Contact the Animal Ark for more information. The contact phone number is 1-775-970-3111 (you must dial 1-775 when calling from the Reno area).