Spring Break 2016 for the Washoe County School District is March 21 through April 1. With numerous spring break camps and activities available in Washoe County, keeping the kids busy and entertained shouldn't be a problem.
Sssnakes Alive! at the May Museum
Through April 10, 2016. Snakes are the animals everyone lives to hate, but they are fascinating creatures and you can learn their ins and outs at the "Sssnakes Alive!" interactive exhibit at Reno's Wilbur D. May Museum. Museum hours are Wednesday through Saturday from 10 a.m. to 4 p.m. and Sunday from 12 noon to 4 p.m. Admission is $9 for adults, $8 for children and seniors.
Arts for All Nevada Spring Break Art Camps
There will be three art camp sessions from Arts for All Nevada. Click the camp links for more details and to register online. These camps are for kids ages 6 to 10.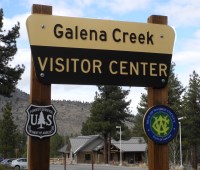 Spring Exploration Camp by Great Basin Naturalists at Galena
March 28 through April 1, 2016. Campers ages 8 to 12 spend the day outside learning outdoor survival skills, exploring forest and water ecosystems, hiking trails, playing group games, creating art, and making new friends. Exploration Camp provides kids with the joys of hiking, exploring, and learning in a forest environment with qualified and dedicated Great Basin Institute at Galena Naturalists. Camp runs daily, Monday through Friday from 9 a.m. to 5 p.m. Fees are $175 per week. Extended hours, 8 a.m. to 5:30 p.m., available for an additional $10. Full and partial scholarships available. Camp is held at Galena Creek Visitor Center in south Reno. For more information, call (775) 849-4948.
University Spring Break Camps from UNR Extended Studies
These spring break camps are not all offered on the same dates or for the same age groups, so be sure to check before deciding to sign up. Camps will be held on the University of Nevada, Reno campus, featuring cool class subjects incorporating the academic STEAM components - science, technology, engineering, arts and math. The weekly sessions run Monday through Friday from 9 a.m. to 3:30 p.m. each day. Full payment is due upon registration. Registration for University Spring Break Camps will be available online.. Early registration is encouraged as sessions can fill fast. For more information, call UNR Extended Studies at (775) 784-6685 or (775) 682-7554.
Vacation Station at the City of Reno
The City of Reno Parks and Recreation Department hosts Vacation Station for kids ages 6 to 14. There will be two 2016 spring break camp sessions - March 21 to March 25 and March 28 through April 1. Camp hours are 7 a.m. to 6 p.m. each day. Activities will include sports, field trips, and arts and crafts. The fee is $100 for the first week or $30 per day. Vacation Station locations will be Evelyn Mount Northeast Community Center, Plumas Park and Gym, and Double Diamond Elementary School. For more information, call (775) 334-4280. Financial scholarships available.
Spring Vacation Fun with Sparks Parks and Rec
Spring Vacation Fun is a Kids Out-Of-School program offered by Sparks Parks and Recreation for children from kindergarten through 6th grade. The program is from 7 a.m. to 6 p.m. and there will be two sessions for 2016 - March 21 through March 25 and March 28 through April 1. This camp includes organized games, arts and crafts, and field trips, all included in the registration fee. The cost is $144 or $120 for Sparks residents. The daily drop-in fee is $43 or $36 for Sparks residents. For more information, call (775) 353-2376.
Activities for Kids and Families at the Washoe County Library
Find fun activities at your local Washoe County Library branch during spring break, March 21 to April 1, 2016. The Washoe County Library System offers many free events, activities, and presentations. Children of all ages, families, and adults will find something of interest at every library branch in Washoe County.
Spring Break Camp at The Discovery
The Discovery Museum in Reno is hosting a set of spring break camps in 2016. From dinosaurs to superheroes to silly science, Camp Discovery has something for all interests. These camps are popular and the number of kids is limited, so sign up as soon as you can to ensure your child a spot. Online registration is available at the Camp Discovery web page. Camps for older kids go from 9 a.m. to 4 p.m., with early dropoff and late pickup available. Kindergarten camps are from 9 a.m. to noon and 1 p.m. to 4 p.m. The cost is $100 to $200 for Museum members, $112.50 to $225 for non-members. There are camps for kids from Kindergarten through 7th grade. The camp information phone number is (775) 398-5954.
Ride the Idlewild Park Train
The popular and fun train ride in Reno's Idlewild Park will be running during spring break, daily from 11 a.m. to 3 p.m. beginning Saturday, March 19 through Sunday, April 3, 2016. The fare is only $2 (cash only). Kids 2 and under riding on an adult's lap are free.
AC / DC Bike Camp Spring Break
AC / DC will be offering two day camp sessions during spring break 2016 - March 21 - 25 and March 28 - April 1. There will be both all-day and half-day camps. Kids will learn bicycle safety, tricks and manuevers, techniques for riding in different situations, and much more. You can register online. Early drop off and late pickup are available. AC / DC camps are held at Double Diamond Athletic Club, 9400 Double Diamond Parkway in south Reno. For more information, call (775) 997-3888.
Spring Break Camps at TMCC
Making learning fun is central to Truckee Meadows Community College (TMCC) Workforce Development and Community Education's camp programs. Parents will be able to choose among programs, ranging from LEGO Robotics and computer programming to yoga and indoor rock climbing. There are STEM topics, sports, arts, language, and music. Week-long camps will be held March 21 through 25 and March 28 through April 1. They are divided into three age groups: 6 to 9, 10 to 13 and 14 to 17. Camp sizes are kept small and programs are taught by adults who are experts in their fields. Visit the website to get details on available programs and age groups, costs, and to register online. You can also register by calling (775) 829-9010. Advance registration is required. Programs are held at various locations.
Reno Little Theater Spring Break Camp
Spring break campers will have the opportunity to explore creative storytelling, improvisation, puppetry, creative movement, and musical theater. The camp will run from March 28 to April 1 and is open to kids Kindergarten through 6th grade. On the last day, family and friends are invited to to see their actors in action. Camp is 9 a.m. to 5 p.m. daily with early drop off and late pickup available. You can register online or call (775) 813-8900 to register by phone. For more information, call (775) 372-7507.
Spring Break Camps at the Nevada Museum of Art
The Nevada Museum of Art in Reno will be all about clay for spring break. There will be two camps - Spring Break Clay Camp from March 21 - 25, 2016 (for kids ages 7 to 12) and High Art: Clay Intensive from March 28 to April 1, 2016 (for ages 13 to 18). The first is from 8:30 a.m. to 12 noon and the second is from 1 p.m. to 4 p.m. Both camps include all materials. Visit the website to sign up online. Presented by the E.L. Cord Museum School. For more information, call (775) 329-3333.
Spring Break Horse Camps from LEAD with Horses
Horse camps provide the young horse enthusiast with an introduction to horses. Students learn basic horsemanship and social skills in a fun and accepting atmosphere. Attend one week or two. Open to all ages, this is a great opportunity for kids to get outdoors, make new friends, and develop new skills. There a session each week during spring break. Kids can go either week or sign up for both. For more information, call (775) 223-5181. LEAD (leadership education & active development) is a non-profit organization providing educational and therapeutic equine assisted programs in Washoe County and the surrounding communities.
Spring Break 2016 Improvisation and Full Play Camps from KidScape Productions
Full play campers will work on producing a play, and at camp's end, they will perform "Harry's Hotter at Twilight." The camp is for kids ages 6 to 17 and will be at Damonte Ranch High School in south Reno from March 28 through April 1, 2016. The cost is $199 plus a $25 material fee. You can register online. For more information, call (775) 787-3900.
Improvisation camp ends with a free community performance. It will be March 21 - 25, 2016 at Reno High School. The cost is $199. It is for ages 6 to 17 and you can register online.
Go to The Movies
The Reno metro area offers five multi-screen theaters (including an IMAX theater complex), a low-cost cinema at the Grand Sierra Resort, feature films and star shows at the Fleischmann Planetarium, and in Sparks, one of the few real-live drive-in theaters still showing movies in America.
Easter Egg Hunts
Saturday, March 26, 2016. Easter falls in the middle of spring break, which means there are several opportunities for fun at free Easter egg hunts around the Reno area. Note that almost all of these are on Saturday, the day before Easter Sunday.
Reno Bighorns Basketball
The Reno Bighorns have several home games during 2016 spring break at the Reno Events Center. Bighorns games are always fun and inexpensive family entertainment.
Sunday, March 20, 7 p.m. - vs. Texas Legends
Wednesday, March 23, 7 p.m. - vs. Los Angeles D-Fenders
Friday, March 25, 7 p.m. - vs. Los Angeles D-Fenders
Saturday, March 26, 7 p.m. - vs. Idaho Stampede
Friday, April 1, 7 p.m. - vs. Bakersfield Jam
Saturday, April 2, 7 p.m. - vs. Bakersfield Jam