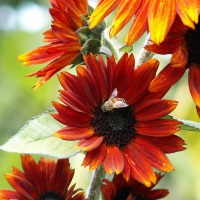 It may be tough to grow a vegetable garden and other plants in northern Nevada, but it's not impossible - if you know how. Thanks to the University of Nevada Cooperative Extension (UNCE) and Washoe County Regional Parks and Open Space, you can learn about how to do it through a series of free classes titled "Gardening in Nevada: The Bartley Ranch Series."
All classes are on Tuesday evenings from 6 p.m. to 8 p.m. at Bartley Ranch Regional Park, 6000 Bartley Ranch Road in Reno. They will be every Tuesday evening during February and March, 2022. The classes are taught by UNCE horticulturists and experts, local business owners and Cooperative Extension's certified Master Gardener volunteers. For more information, call UNCE at (775) 784-4848. Persons needing special accommodations or assistance must call or notify Rachel McClure at (775) 336-0274 or rmcclure@unr.edu at least three days prior to the scheduled class.
These classes are free, but online registration is required. Please consider bring a canned food item for the Food Bank of Northern Nevada.
2023 Class Schedule for Gardening in Nevada: The Bartley Ranch Series
February 7 – Fruit Tree Selection with Michael Janik
February 14 – Let's Talk Tomatoes with Beth Heggeness
February 21 – Gardening for Pollinators with Barbara Fenne
February 28 – What Lives in the Nighttime Garden with Shari Elena Quinn & Linda Fulton
March 7 – Pruning and Training Fruit Trees with Michael Janik
March 14 – Success with Succulents with Liz Morrow
March 21 – Planting for Food Preservation with Doreen Spires and Cindy Edwards
March 28 – Successful Vegetable Gardening with Randy Robinson
Source: University of Nevada Cooperative Extension.
(Photo courtesy Wendy Hanson Mazet, University of Nevada Cooperative Extension)
Sponsored Links
Sponsored Link