NewToReno Info
---
Free Classes about Gardening in Nevada
Gardening in Nevada: The Bartley Ranch Series
Search NewToReno
Custom Search
---
---
Current Topics
Farmers Markets
There's a farmer's market going on in Reno and/or Sparks almost every day of the week during summer and early fall.
Reno Food Trucks
Reno and Sparks food trucks are not the old roach coaches of yore. These food trucks offer a wide variety of high quality dishes.
Memorial Day Weekend
Memorial Day weekend is the start of the summer vacation season and there are lots of things to do around the Reno region.
Summer Camps for Kids
Enroll your kids early for the best choices among a wide variety of Reno area summer camps.
Reno Aces Baseball
The Reno Aces' 2017 season is now playing at Greater Nevada Field. Let's go out to a ball game.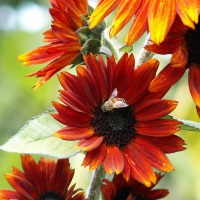 It may be tough to grow a vegetable garden and other plants in northern Nevada, but it's not impossible - if you know how. Thanks to the University of Nevada Cooperative Extension (UNCE) and Washoe County Regional Parks and Open Space, you can learn about how to do it through a series of free classes titled "Gardening in Nevada: The Bartley Ranch Series."
All classes are on Tuesday evenings from 6 p.m. to 8 p.m. at Bartley Ranch Regional Park, 6000 Bartley Ranch Road in Reno. They will be every Tuesday evening during February and March, 2017. The classes are taught by UNCE horticulturists and experts, local business owners and Cooperative Extension's certified Master Gardener volunteers. For more information, call UNCE at (775) 784-4848. People needing special accommodations or assistance should call at least three days prior to the class(es) they wish to attend.
2017 Class Schedule for Gardening in Nevada: The Bartley Ranch Series
February 7: Selecting and Caring for Fruit Trees – Certified Arborist and Cooperative Extension Master Gardener Volunteer Michael Janik, who grows more than 100 varieties of fruit trees in northern Nevada, gives tips on fruit tree selection, planting, maintenance, and soil and pest management.
February 14: Four Seasons of Interest – Cooperative Extension Horticulturalist and Master Gardener Coordinator Wendy Hanson Mazet discusses bringing both texture and color to the landscape by incorporating bulbs, perennials and shrubs into existing space.
February 21: Attracting Native Pollinators – Rail City Garden Center Owner Pawl Hollis teaches the basics of identifying, attracting and housing a diverse array of native pollinators in the garden and landscape.
February 28: Be Ember Aware – Cooperative Extension Natural Resources Specialist and Living With Fire Program Coordinator Ed Smith discusses home and landscape features vulnerable to embers.
March 7: Training and Pruning Fruit Trees – Certified Arborist and Cooperative Extension Master Gardener Volunteer Michael Janik discusses the basics of fruit tree pruning, pruning to maximize production and the art of espalier (training fruit trees to grow on trellises or against a flat surface).
March 14: Composting – Some Like it Hot – Cooperative Extension Horticulture Specialist Heidi Kratsch presents information about hot composting, the most efficient and safe composting method.
March 21: Spice it Up With Tomatoes & Peppers – Cooperative Extension Master Gardener Volunteer Pamela Van Hoozer discusses custom picking tomatoes and peppers to spice up your garden.
March 28: Successful Vegetable Gardening – Cooperative Extension Master Gardener Volunteer Randy Robison shares how he produces abundant crops and tips on improving garden soil, crop rotation, companion planting and gardening in raised beds.
Source: University of Nevada Cooperative Extension press release.
(Photo courtesy Wendy Hanson Mazet, University of Nevada Cooperative Extension)