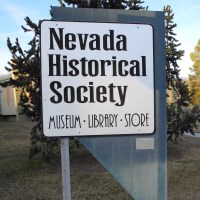 Established in 1904, the Nevada Historical Society (NHS) is the oldest museum in the Silver State. The NHS facility in Reno houses a large collection of artifacts, documents and photographs that chronicle Nevada's history. The collection covers everything from the time of prehistoric people through the coming of white settlers and the vast changes they wrought. Also included are stories about mining and gambling, two activities that continue to have great influence on the lives of Nevadans and economic activity in the state.
Features at the Nevada Historical Society
Programs and Exhibits - NHS offers a variety of programs and exhibits. Go to the Upcoming Programs calendar to see what is coming up during the next few months.
The Permanent Gallery includes exhibits on Reno history and the bigger picture of Nevada history. The Changing Gallery features rotating exhibits on various topics related to Reno and Nevada history.
Research - Research facilities at NHS include...
Museum Store - Hours are 10 a.m. to 4:30 p.m., Tuesday through Saturday. The store features of Nevada books, NSH publications, T-shirts, Nevada turquoise jewelry, kid's items, and unique gifts.
Membership and Volunteering - Becoming a NHS member has numerous benefits, including supporting the work of the Society. You can become a docent (volunteer) and help with a wide variety of tasks that go into operating NHS.
Visiting Nevada Historical Society
The Nevada Historical Society is located at the north end of the University of Nevada, Reno campus, 1650 North Virginia Street, Reno, NV 89503. There is limited parking next to the building. If the lot is full, museum staff can give you a temporary permit to park in UNR permit spaces. Admission is $5 for adults and free for children 17 and under. Admission to the Research Library is free, though there are fees for some services. Hours are Tuesday through Saturday, 10 a.m. to 4:30 p.m. Closed on state holidays and UNR football home game days. The information phone is (775) 688-1190.
Source: Nevada Historical Society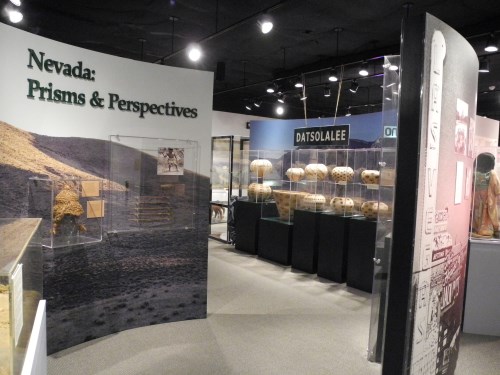 Exhibits at the Nevada Historical Society museum in Reno. Photo © Stan White
Sponsored Links