The 2016 Reno Earth Day celebration in Idlewild Park will be on Sunday, April 24, from 11 a.m. to 6 p.m. Admission to this family-friendly event is free. You'll enjoy many environmentally-friendly vendors and information booths, lots of great food and drink, live music, opportunities to participate, and more. Idlewild Park is just west of downtown Reno, between Idlewild Drive and the Truckee River.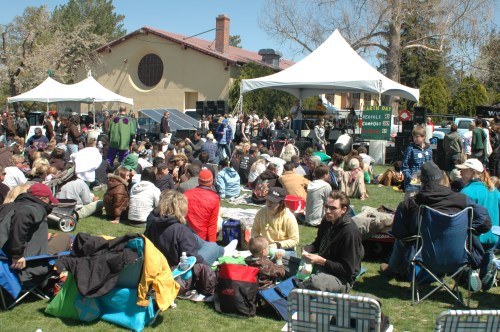 Earth Day at Idlewild Park in Reno, Nevada. Photo © Stan White
Reno Earth Day Theme Areas and Special Programs
There will be theme areas for numerous different interests at Reno Earth Day.
Animalia Kingdom
The Artists' Grove
Earth Innovations
The Garden
The Great Outdoors
Future of Transportation
Many Spokes for Many Folks
Special Programs at Reno Earth Day
Attending Reno Earth Day need not be a passive activity. There are several ways you can participate through special programs.
Earth Innovations Science Fair
Edible Art Theme (EAT) Culinary Art Showcase
Poster Art Contest
Creative Writing and Poetry Reading
Photo Sharing and Contest
To see what is going on and when, refer to the Reno Earth Day Event Schedule.
Dogs at Reno Earth Day
Unlike most of Reno's special events, dogs are allowed at Reno Earth Day for pet owners willing to follow a few rules to ensure the safety and comfort of both event goers and pets. Dogs must remain on a leash at all times. Owners are responsible for their dogs' behavior and for cleaning up after their pets. Doggie day care will be available in Animalia Kingdom, where dogs can have a little runaround room or a place to rest. Supplies for cleaning up pet messes will be located at doggie day care.
Getting to Idlewild Park and Parking for Reno Earth Day
Reno Earth Day draws a big crowd (over 20,000 last year). Parking in and around Idlewild Park is limited, so be sure to leave yourselves plenty of time to find a parking slot and walk or bike to the event. Carpooling with friends is a good idea and in keeping with the Earth Day theme. You can arrange carpooling by using the RTC SMART TRIPS carpool ride matching website.
Reno Earth Day will provide free parking at nearby Reno High School. Attendants in the lots will help you find a parking spot. A shuttle provided by non-profit partner ComputerCorps will take passengers straight from the parking lots into Idlewild Park. Shuttles will run on biodiesel from G-diesel/Advanced Recycling Concepts. There will be no public parking on Idlewild Drive in front of the park.
The Many Spokes for Many Folks program will have scheduled bike rides into the event. Once there, you can safely park your bike with the Reno Bike Project's bike valet located in front of the California Building. Don't have a bicycle? You can take care of that at any of several excellent "Reno Area Bicycle and Cycling Shops."
Reno Earth Day Sponsors
A number of sponsors support Reno Earth Day so we can freely celebrate Mother Earth. Major sponsors include the City of Reno and Mercury Momentum, which are joined by numerous other government entities, private businesses, and volunteers to help make Reno Earth Day a successful asset to the community.
Source: Reno Earth Day.
More Reno Area Earth Day Events
Earth Day at UNR
Friday, April 22, 2016, 10 a.m. to 3 p.m. The University of Nevada, Reno celebrates Earth Day with a number of campus and community participants and activities organized by the Joe Crowley Student Union, including a sapling giveaway, a dumpster dive and recycling with trash collected from University dumpsters, a visit from the Bag Monster and a free public debate about a public bicycling program by the University's nationally ranked debate team. The event will be at the Joe Crowley Student Union, Gateway Plaza.
Earth Day Celebration at the May Arboretum
Saturday, April 23, 2016, 8 a.m. to 12 noon. Everyday is Earth Day at the Wilbur D. May Arboretum and Botanical Garden in Rancho San Rafael Regional Park. In collaboration with the Lahontan Audubon Society, the May Arboretum Society welcomes you to the Arboretum and Gardens with an Earth Day Celebration. During an early morning guided walking tour, you'll observe different bird species and wildlife. Experienced birders will be situated in the wetlands, woodlands and gardens, mini-presentations on attracting birds and butterflies to your own garden, and Earth Day crafts. Bring your old flower pots and plant trays for reducing, reusing and recycling. This event is free and open to the public. Do not bring pets - dogs are not allowed in the Wilbur D. May Arboretum and Botanical Garden.
Tahoe Truckee Earth Day
Saturday, April 16, 2016, 11 a.m. to 5 p.m. The Tahoe Truckee Earth Day Festival is a volunteer run, non-profit event to recognize, celebrate and promote the region's unique beauty. Come to the Village at Squaw Valley for fun, live music and entertainment, and to learn how to preserve and protect our local and global natural resources.
South Tahoe Earth Day
Saturday, April 23, 2016, 10 a.m. to 3 p.m. Earth Day recognizes, celebrates, and promotes the region's unique beauty while educating the public about local environmental issues. Come learn about ways to counteract global climate change through recycling and composting, alternative energy, water conservation, sustainability, and reducing our ecological footprint. Enjoy local live music and dance, swing through the Kid Zone to make some recycle-themed arts and crafts, or get your face painted. Lots of local food and drink. The event will be at Bijou Community Park.