The Huffaker Hills Trailhead is a gateway to some pleasant and scenic hiking in south Reno. The area is surrounded by development, making it a refreshing piece of open land in the urban sprawl of the Truckee Meadows. It is managed by Washoe County. For more information, call (775) 328-2000.
The Huffaker Hills Trailhead gives you access to three developed trails. You can see there they are located on this map of the Huffaker Hills Trailhead provided by Washoe County. Elevation gain on all trails is modest.
Lakeview Loop Trail is .7 miles. Along the way, you can see wildflowers (in season), Alexander Lake, and views to the east and south.
Twin Peaks Trail adds another .25 miles to the hike. It takes off from the Lakeview Look Trail for an out-and-back hike to the top of one of the Twin Peaks. The view up here is tremendous on a clear day. Things you can see include Peavine Mountain, downtown Reno, Hidden Valley, Sparks, South Meadows, Galena, Mt. Rose, Slide Mountain, and more. It's well worth a little extra effort to stand atop Twin Peaks.
Western Loop Trail is 1.4 miles down to a ravine, then back up to intersect with the rest of the trail system.
About the Huffaker Hills Trails
All of these trails were developed with a natural dirt and rock tread. It's mostly easy hiking, but it's not a sidewalk. Wear sturdy shoes and watch for occasional uneven surfaces and a few rocks you will need to step on or over. Trails are open to hikers, mountain bikers, and dogs on leash (see note below). They are not ADA accessible.
This natural area has no trees, no shade, and no shelter from the elements. Consider the weather, season, and time of day before setting out so you can bring appropriate hat, clothing, sunscreen, and enough water.
Looming above the trail system immediately north is Rattlesnake Mountain. It is named that for a reason - rattlesnakes inhabit the area and you may see one during your hike. The do not chase people and only want to be left alone. After enjoying seeing one of these interesting reptiles, give it a wide berth and continue hiking.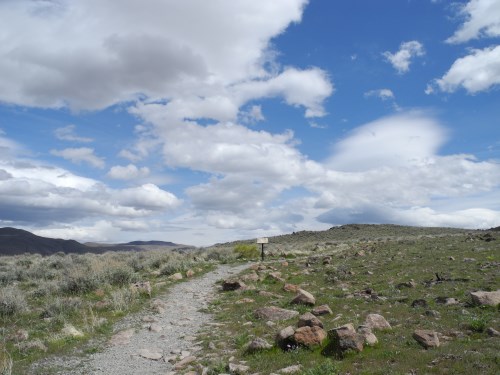 Hike the Huffaker Hills in Reno, Nevada. Photo © Stan White
Directions to the Huffaker Hills Trailhead
The trailhead parking area is off of Alexander Lake Road. From the eastbound lanes of S. McCarran Boulevard, the intersection is one block east of the traffic light at Longley Lane. Turn right onto Alexander Lake Road, being careful for traffic merging from Longley. To about a mile up the side of Rattlesnake Mountain until you see a water tank, which is just before the right turn into the parking area. There is a Huffaker Hills Trailhead sign at the intersection.
This is a nice trailhead. The parking area is paved and fenced. There are ADA accessible picnic tables and sunshades. Restroom facilities are porta-a-potties and there is no water up here. Be sure to bring plenty of your own. There is a dumpster for picnickers and hikers to dispose of trash, and for dog owners to properly dispose of their animals' feces.
About Dogs on the Trails
Unfortunately for everyone else, some people let their dogs run loose on these trails. Not only does this annoy and potentially threaten other hikers, it is against the law. Dog owners, please leash your animals and prevent them from being a problem to others trying to enjoy these trails. You'll also prevent your dog from chasing wildlife others would enjoy seeing and you may save it from being bitten by a rattlesnake. If your dog poops, pick it up - a disgusting number of people don't. Bring your own bags or use one from the trailhead kiosk. There is a dumpster in the parking area. (Refer to the Washoe County Code, Chapter 55, Sections 55.100 and 55.130 for regulations regarding restraining animals and disposing of their waste.)
Sponsored Links
Sponsored Link