---
"The Nutcracker" Ballet Dances in Reno
Dance Companies Bring 2017 Holiday Performances to the Truckee Meadows
Search NewToReno
Custom Search
---
---
Current Topics
Fall Break Camps & Activities

Fall break activities for children and families around Reno and Sparks include camps and other things to do from several area organizations.
Wolf Pack Football

Go Pack! Root for our own hometown football team, the University of Nevada, Reno.
Reno Webcams

See what's happening around Reno and along major area highways.
The Nutcracker at the Pioneer Center
Friday through Sunday, December 8 - 10, 2017. The stage at the Pioneer Center for the Performing Arts will be alive with a sugar plum fairy and dancing mice as A.V.A. Ballet Theatre presents the annual Nutcracker Ballet, with music by the Reno Philharmonic Orchestra. Principal dancers who have performed with professional ballet companies such as Ballet West, Houston Ballet and the Diablo Ballet will perform the leading roles with a large cast of local talent. A special Sugar Plum party will be held after the Saturday and Sunday afternoon performances where children can meet the Nutcracker characters.
Performance times will be Friday, December 8 at 8 p.m., Saturday, December 9 at 2 p.m. and 8 p.m., and Sunday, December 10 at 2 p.m. Tickets prices start at $27, with discounts for seniors and children. For tickets by phone, call 1-866-553-6605 or purchase tickets online. Box office hours are Monday through Friday, 11 a.m. to 6 p.m. and two hours prior to a show. Box office phone is (775) 686-6600. The Pioneer Center is at 100 S. Virginia Street in downtown Reno.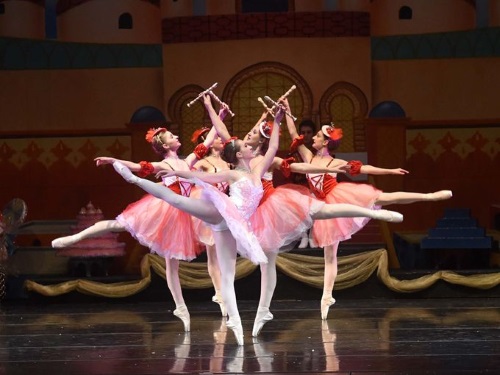 "The Nutcracker" at the Pioneer Center for the Performing Arts, Reno, Nevada. Photo courtesy A.V.A. Ballet Theatre.
The Nutcracker at the Grand Sierra Resort
Saturday and Sunday, December 2 - 3, 2017. For one weekend only, Grand Sierra Resort will be hosting "The Nutcracker" for two performances in the Grand Theatre. The show will be danced by Bay Pointe Ballet from South San Francisco. Both shows start at 2 p.m. Visit the website to reserve your seats online or calling the box office at (775) 789-1115. The Grand Sierra Resort and Casino is at 2500 E. Second Street in Reno.
The Nutcracker at The Nugget
Friday, Saturday, Sunday, December 16 - 17 and 22 - 24, 2017. Reno Dance Company's annual Nutcracker will perform in the Celebrity Showroom. Tickets are $26.95 for regular table seating, with discounts available for seniors and children. VIP booth seating is available for $36.95. Showtimes on December 16 are 3 p.m. and 8 p.m. On December 17, 3 p.m. and 7 p.m. December 22, 8 p.m. December 23, 3 p.m. and 8 p.m. December 24, 2 p.m. Tickets are available online. To purchase child and senior discounted tickets, call (775) 356-3300 or purchase in person at The Nugget. The Nugget is at 1100 Nugget Avenue in Sparks.
The Peanutcracker: The Story in a Nutshell
Peanutcracker is a shortened, kid-friendly version of the classic holiday ballet suitable for families with young children who wouldn't do well at a full-length performance of The Nutcracker. Bay Area principal dancers Terrin Kelly and Luke Lazzaroto and the Sierra Nevada Ballet of Reno perform this piece along with more than 50 local children. Public performances will be on Saturday, December 2, 2017, at 2 p.m. and 4 p.m., at the Carson City Community Center, 850 E. William St. Tickets are $6 to $11 and available online.
Sources: Pioneer Center, Grand Sierra Resort, The Nugget, Sierra Nevada Ballet