The Nutcracker at the Pioneer Center
The stage at the Pioneer Center for the Performing Arts will be alive with a sugar plum fairy and dancing mice as A.V.A. Ballet Theatre presents the annual Nutcracker Ballet, with music by the Reno Philharmonic Orchestra. Principal dancers who have performed with professional ballet companies such as Ballet West, Houston Ballet and the Diablo Ballet will perform the leading roles with a large cast of local talent. A special Sugar Plum party will be held after the Saturday and Sunday afternoon performances where children can meet the Nutcracker characters.
Performances in 2016 will be Friday, December 9 at 8 p.m., Saturday, December 10 at 2 p.m. and 8 p.m., and Sunday, December 11 at 2 p.m. Tickets are $25 to $55, with discounts for seniors and children. For tickets, call the Pioneer Center box office at 1-866-553-6605 or purchase tickets online. Box office hours are Monday through Friday, 11 a.m. to 6 p.m. The Pioneer Center is at 100 S. Virginia Street in downtown Reno.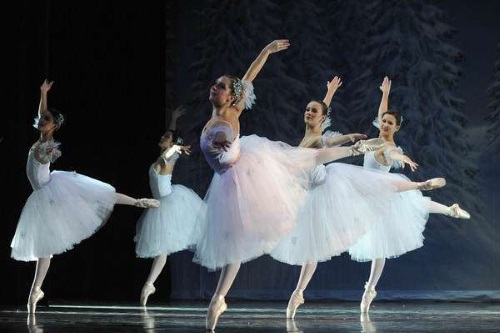 "The Nutcracker" at the Pioneer Center for the Performing Arts, Reno, Nevada. Photo courtesy A.V.A. Ballet Theatre.
The Nutcracker at the Grand Sierra Resort
For one weekend only, Grand Sierra Resort will be hosting "The Nutcracker" in the newly renovated Grand Theatre for two matinee performances. The show will be danced by Bay Pointe Ballet from South San Francisco. Shows will be Saturday and Sunday, December 3 and 4, 2016, both at 2 p.m. Reserve your seats online or by calling the box office at (775) 789-1115. The Grand Sierra Resort and Casino is at 2500 East Second Street in Reno.
The Nutcracker at The Nugget
Reno Dance Company's 15th Annual Nutcracker will perform in the Celebrity Showroom from December 17 through 23, 2016. Tickets are $26.95 for regular table seating, $21.95 for seniors, and $19.95 for children under 12 (tables only). VIP booth seating is available for $36.95. The Saturday and Sunday, December 17 - 18 shows are at 3 p.m. and 8 p.m. Tuesday, Wednesday, and Thursday performances are at 7 p.m. and the Friday show is at 8 p.m. Tickets are available online or by calling (775) 356-3334. The Nugget is at 1100 Nugget Avenue in Sparks.
Sources: A.V.A Ballet Theatre, Grand Sierra Resort, The Nugget