2018 Fall Break - Pumpkin patch and corn maze attractions are another activity available during fall break at Washoe County Schools.
Andelin Family Farm Fall Festival Pumpkin Patch & Corn Maze
Opens on Saturday, September 22, 2018 - Pumpkin Patch times are Tuesdays through Thursdays from 10 a.m. to 3 p.m., and on Fridays and Saturdays from 10 a.m. to 6 p.m., closed Sundays and Mondays. There are lots of attractions, including a hay ride, cow train, meeting farm animals, a corn shed, hay bale maze, and lots more. The Corn Maze is open Tuesday through Thursday from 6 p.m. to 10 p.m. and Friday and Saturday from 10 a.m. to 10 p.m. There will be a scary Corn Creepers haunted corn field open from 8 p.m. to 10 p.m. (see more at "Halloween Haunted Houses"). A popular attraction is Zombie Paintball Apocalypse, where you can do battle with the undead. The battle wagons roll starting September 28, 2018. Visit the website for more details.
The Andelin Family Farm Pumpkin Patch is located on a real working farm in the Spanish Springs area of Sparks, at 8100 Pyramid Highway, about half a mile north of Lazy 5 Park. Pumpkin Patch admission is $7 per person (kids under 2 are free) and includes a hayride, cow train, meeting farm animals, hay bale maze for kids, cart track, and lots more. The Corn Maze is $7 (kids 4 and under free). Combo admission for both attractions is $12. For more information, call (775) 530-8032.
Toll House Pumpkin Patch & Fall Harvest Festival
Open October 1 through 31, 2018. The Toll House Pumpkin Patch is a big production with lots of activities for the kids, including the huge Child's Garden bounce house / sliding structure, a petting zoo, pony rides, train ride, climbing wall, dragon bounce, face painting, kiddie ferris wheel, and lots more. Tickets for the attractions are $1 each, with the number of tickets required varying for each activity. A book of 22 tickets is $20.

Toll House Pumpkin Patch is at 12185 S. Virginia Street in Reno, on the west side just south of Bishop Manogue Drive. Hours are Sunday through Thursday, 9 a.m. to 8 p.m. Rides close at 7 p.m. Friday and Saturday hours are 9 a.m. to 9 p.m., with rides closing at 8 p.m. The information phone number is (503) 551-0397.
Ferrari Farms Fall Festival
September 29 through October 31, 2018. Ferrari Farm puts on a big Halloween event. There is a pumpkin patch, corn maze, bounce house, farm animals, hay rides, haunted corn field, zombie paintball hunting, a train ride, and pumpkins and squash for sale. Entry is free with activities individually priced. If you get hungry, you can get burgers and hot dogs at the grill. Hours are 9:30 a.m. to 8 p.m. Sunday through Thursday, Friday and Saturday till 10 p.m. You can go out in the field and pick your own pumpkin. Ferrari Farm is at 4701 Mill Street in Sparks, a block east of Rock Boulevard. Get more information at (775) 997-FARM (3276).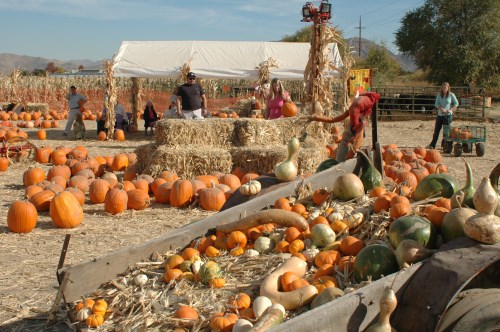 Pumpkin patch and corn maze at Ferrari Farm in Reno, Nevada. Photo © Stan White
Lattin Farms Corn Maze and Fall Festival in Fallon
The big attraction at Lattin Farms is a huge corn maze that has a different theme each year. The 2018 corn maze opens on Friday, September 28, and will be open every Friday from 5 p.m. to 8 p.m. and Saturdays from 10 a.m. to 8 p.m. through October, including Nevada Day. Corn maze admission is $7 for 15 years and older, $5 for kids 4 to 14, and free for children 3 and under.
The Lattin Farms Fall Festival is every Saturday starting on September 29 and Saturdays in October, from 10 a.m. to 6 p.m. There will be a pumpkin patch, hayride, Kids Korner, Cow Train, Scarecrow Factory, Crafters Market, Pumpkin Tower, and farm animals to visit. While visiting Lattin Farms, check out the produce stand and the Country Kitchen. Lattin Farms is about 60 miles east of Reno / Sparks, at 1955 McLean Road, Fallon, Nevada 89406. For more information, call (775) 867-3750 or toll free at (866) 638-6293.
39th Annual Pumpkin Patch in Incline Village
Saturday, October 13, 2018, 11 a.m. to 3 p.m. The Pumpkin Patch will feature live music with Mojo Green, Kyle Ledson and bilingual DJ Felipe Leon, food trucks and concessions, pony rides, face painting, glitter tattoos, bounce houses, bungee trampoline, rock climbing wall, carnival games, local vendors and merchants, pumpkin sales, pumpkin decorating, and more. The event is a fundraiser for Incline Village Nursery School. Admission is free, with attraction tickets available for purchase. It will be at Incline Park, behind Incline Middle School. (775) 831-4040.
Corley Ranch Pumpkin Patch
October 1 - 31, 2018. Corley Ranch is located south of Carson City at 859 Highway 395 South in Gardnerville, NV 89410. Corley Ranch will be hosting a weekend pumpkin patch that includes, pig races, farm animals, bounce house, hay rides, a Kiddie Land and straw maze, entertainment, and other activities like train and pony rides and a giant slingshot. You can also buy pumpkins and visit sellers of food, crafts, and other vendors. Hours are 11 a.m. to 5 p.m. on Saturdays and Sundays. Admission is $7 for adults and children, $5 for seniors and free for kids 2 and under. There is an extra fee for things like the train and pony rides. On weekdays, the Country Store, pumpkin sales, and some of the pumpkin patch attractions are open with no admission charge from 11 a.m. to 5 p.m. For more information, call (775) 790-1705. Do not bring dogs (except service dogs) or other animals.
More Halloween Activities