Halloween is a popular activity in the Reno area. To support the frightening business, seasonal stores sell costumes and other Halloween decorating items. You can also get costumes makings and other Halloween supplies at some of the locally-owned businesses and thrift stores in the Truckee Meadows.
Melting Pot World Emporium
The locally-owned Melting Pot has clothing, hats, jewelry, and costume making items in abundance. If you know that The Melting Pot is one of the main suppliers to the Burning Man set, you'll understand the unusual and varied selection they have on hand.

1049 S. Virginia Street, Reno, NV 89502
(775) 322-9445
Spirit Halloween Stores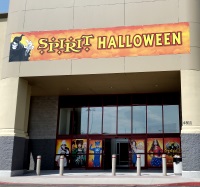 4813 Kietzke Lane (former Sports Authority)
Reno, NV 89509
(866) 586-0155
175 Disc Drive (next of Office Depot)
Sparks, NV 89436
(866) 586-0155
971 Topsy Ln. #334 (former Pier One)
Carson City, NV 89705
(866) 586-0155
Savers
Savers offers a big variety of Halloween costumes for the whole family, plus accessories, decorating items, and other Halloween goodies. These stores support a number of local charities.

3800 S. Kietzke Lane, Reno, NV 89502
(775) 284-4350
Halloween City
Get costumes for everyone in the family and every other Halloween item you need for a spooky good time.

2825 Northtown Lane, Reno, NV 89512
(775) 446-0277
Party City
Chain store with lots of Halloween costumes, accessories, and party supplies.

2825 Northtown Lane, Reno, NV 89512
(775) 446-0277
Party America Reno
Costumes and supplies for Halloween and lots of other party occasions.

5925 S. Virginia St., Reno, NV 89502
(775) 825-0825
Junkee Clothing Exchange
Visit this MidTown store for a huge selection of vintage clothing, costumes, and accessories for Halloween and lots of other reasons.

960 S. Virginia St., Reno, NV 89502
(775) 322-5865
Dress the Party
This costume shop was formerly in Truckee. It now operates out of a warehouse in Incline Village, NV, with primary sales conducted through their website, with occasional pop-up sales.

895 Tanager Street, Incline Village, NV 89451
(925) 519-0608
Reno Area Thrift Stores
There are several thrift stores around Reno and Sparks, all offering really cheap clothing and other goodies. Bring your imagination and look for things to make some awesome Halloween costumes.
More Halloween Activities
Sponsored Links
Sponsored Link