"Expedition: Dinosaur" is an interactive exhibit at the Wilbur D. May Museum at Rancho San Rafael Regional Park in Reno. You can come and explore this larger-than-life display from January 14 through April 30, 2023.
Expedition: Dinosaur will feature 11 animatronic, larger-than-life dinosaurs with realistic movement and sounds, as well as interactive adventurer's stations, photo-ops, video centers, and excavation digs. Hands on interactive technologies throughout the exhibit will captivate as museumgoers manipulate dinosaur eggs, mix and match dinosaurs, and explore the tools needed to find fossils. This is an exhibit of Jurassic proportions.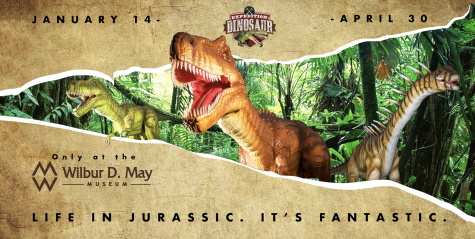 Entry Fee and Location for Expedition: Dinosaur
The entry fee to Expedition: Dinosaur is $10 for adults, $9 for children 3 to 17 and seniors. Kids under 3 are free. Hours at the Wilbur D. May Museum are Wednesday through Saturday, 10 a.m. to 4 p.m. and Sunday from 12 noon to 4 p.m. The museum is closed on Monday and Tuesday.
The Wilbur D. May Center is located in Rancho San Rafael Regional Park at 1595 N. Sierra Street in Reno. There is plenty of free parking right next to the museum.
Source: Information and images courtesy Wilbur D. May Museum and Washoe County press release.
Sponsored Links
Sponsored Link