About Learn to Ski and Snowboard Month
January is Learn to Ski and Snowboard Month. Ski areas across the country are offering deals designed to get new skiers and snowboarders on the slopes and to help veterans improve their technique during the winter ski season. Downhill and crosscountry ski resorts within 100 miles of Reno are offering discounts on lessons, lift tickets, rentals and more, giving you incentives to try a new sport.
If you aren't so sure about snowboarding and skiing, many of these same resorts offer snowshoeing areas and snow play parks for tubing and sledding.
Diamond Peak Ski Resort
Diamond Peak will be offering special Learn to Ski & Ride packages for just $39 from January 9 to 13, 2017, as part of "Learn to Ski and Snowboard Month." The Ski and Snowboard School (ages 7 and up) will have Learn to Ski and Burton Learn to Ride packages, which include a beginner lift ticket, rental equipment and 1 hour 45 minute lesson beginning at 10 a.m. and 2 p.m. Sign up at the Ticket Windows. The Diamond Peak Child Ski Center (ages 4 to 7) will also offer a 2 hour Learn to Ski package at 10 a.m. The package includes a lift ticket, rental equipment and 2 hour lesson. Sign up at the Child Ski Center. No advance reservations needed. Arrive at least an hour before the lesson start time. For more information, call (775) 832-1177.
Mt. Rose Ski Tahoe
Mt. Rose has beginner packages for both skiing and snowboarding. First timer packages are for those 11 and older and include a lift ticket for dedicated beginner lifts, rental equipment for the day, and a 2 hour group lesson. Morning lessons are from 10 a.m. to 12 noon. Afternoon lessons are from 1 p.m. to 3 p.m.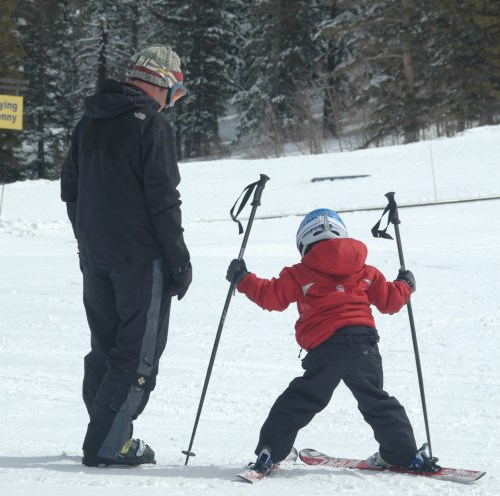 Learning to ski on Sierra Nevada slopes. Photo © Stan White
Tahoe Donner Ski Area
Never skied before? Tahoe Donner Downhill will be celebrating Learn to Ski and Snowboard Month. During January 9 to 13 and 17 to 20, 2017, beginner packages will be only $39. These packages are only for first timers, which include an all-day lift ticket, rental equipment, and a 1.75 hour group lesson for ages 7 and up.
Northstar California
Northstar offers a variety of lesson options for first-timers, as well as guides that can be paired with seasoned skiers and snowboarders. Private lessons include lift lane privileges for quick access to the slopes, undivided one-on-one attention or the option to share with up to six guests, and customizable experiences based on skier level and desired terrain. Ultimate 4 lessons provide students with more one-on-one instruction and group lessons are a fun way to build confidence. There are also customizable experiences with the Adventure, Guiding and Learning Center.
Boreal Mountain Resort
Boreal Mountain Resort continues to offer one of the best beginner programs around: "Take 3, Ride FREE." Before heading up to the resort, purchase a lessons package online. On their fourth visit, riders or skiers will be rewarded with a free 2015 - 2016 Boreal season pass.
Alpine Meadows / Squaw Valley
The Learn to Ski & Ride Special at Alpine Meadows is $99, which includes beginner lift ticket, equipment rental and 2.25 hour lesson. Available Monday through Friday all season, except December 19-30, 2016 and February 20-24, 2017. This first time lesson package for ages 13+. The morning session is from 10 a.m. to 12:15 p.m. The afternoon lesson is from 1 p.m. to 3:15 p.m.
Homewood Mountain Resort
Homewood offers ski and snowboard packages tailored for those who have never skied or snowboarded before. Homewood has stunning views of Lake Tahoe and offers adult Learn to Ski/Ride packages inclusive of a lift ticket, rentals and half-day lesson for $59. Purchase online at least two days before hitting the slopes to receive this rate, which is a $40 savings.