The Discover Science Lecture Series at the University of Nevada, Reno brings renowned scientists and science lecturers from around the country to share their knowledge with the community. Below are the presentations in the series during the latter part of 2017 and the first part of 2018.
"Science encompasses a wonderfully diverse collection of explorations into the unknown," said Jeff Thompson, dean of the UNR College of Science. "Come and experience the universe of science as the best scientists on the planet visit Nevada for our lecture series. It's a wonderful opportunity for students, faculty and the public."
Lectures will be held evenings at 7 p.m. in the Redfield Auditorium in the Davidson Mathematics and Science Center on the University campus. Admission is free and on a first come basis. Parking is reserved for the event on the top level of the Brian J. Whalen Parking Complex on North Virginia Streett, next to the E.L. Wiegand Fitness Center. For more information, call (775) 784-4591 or visit the College of Science website.
James Gates, Jr. - "An Inchoate Epoch: Possibility of Evolution in Mathematics Laws of The Universe" - Thursday, March 8, 2018. Theoretical physicist Gates talks about his work on supersymmetry, supergravity and superstring theory. He was awarded the National Medal of Science in 2013 by President Obama. Gates currently works as the John S. Toll Professor of Physics at the University of Maryland.
Mick Hitchcock - "Finding treatments and cures for diseases caused by viruses like HIV and hepatitis" - Thursday, April 5, 2018. Hitchcock's 30 years in the biopharmaceutical industry has led to easier-to-manage treatment of HIV. With his colleague, John Martin, their biopharmaceutical company, Gilead, developed two drugs: Viread and Atripla. The latter was approved by the FDA as the first single-tablet regimen for treatment of HIV. He is a University of Nevada, Reno Foundation Trustee and has been recognized for his philanthropy in the University's Honor Court.
Source: University of Nevada, Reno.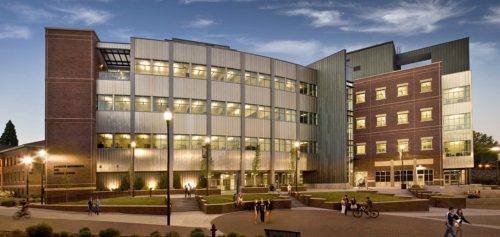 Davidson Mathematics and Science Center at University of Nevada, Reno. Photo courtesy UNR.