The Discover Science Lecture Series at the University of Nevada, Reno brings renowned scientists and science lecturers from around the country to share their knowledge with the community.
"Science encompasses a wonderfully diverse collection of explorations into the unknown," said Jeff Thompson, dean of the UNR College of Science. "Come and experience the universe of science as the best scientists on the planet visit Nevada for our lecture series. It's a wonderful opportunity for students, faculty and the public."
Lectures are held in the evening at 7 p.m. in the Redfield Auditorium in the Davidson Mathematics and Science Center on the University campus. Admission is free and on a first come basis. Parking is reserved for the event on the top level of the Brian J. Whalen Parking Complex on North Virginia Streett, next to the E.L. Wiegand Fitness Center. For more information, call (775) 784-4591 or visit the College of Science website.
Jim Bell - "The Ultimate Interplanetary Travel Guide: A Futuristic Journey Through the Cosmos" - Thursday, September 20, 2018. Do you dream of traveling to other worlds? Well then, why not? Come with noted astronomer, planetary scientist, and interplanetary travel guide Professor Jim Bell on a tour of what the solar system has to offer as of 2018.
David Hillis - "Applications of the Tree of Life" - Thursday, November 15, 2018. Darwin's view of a connected Tree of Life captured the imagination of mid-19th Century biologists. Now in the 21st Century, sequencing of genomes is finally allowing biologists to reconstruct and explore the Tree of Life in detail. The resulting information is being used throughout biology to compare and understand biological problems and processes.
Source: University of Nevada, Reno.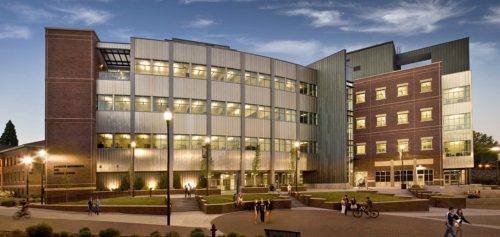 Davidson Mathematics and Science Center at University of Nevada, Reno. Photo courtesy UNR.