The Discover Science Lecture Series at the University of Nevada, Reno brings renowned scientists and science lecturers from around the country to share their knowledge with the community.
"Science encompasses a wonderfully diverse collection of explorations into the unknown," said Jeff Thompson, dean of the UNR College of Science. "Come and experience the universe of science as the best scientists on the planet visit Nevada for our lecture series. It's a wonderful opportunity for students, faculty and the public."
Lectures are held in the evening at 7 p.m. in the Redfield Auditorium in the Davidson Mathematics and Science Center on the University campus. Admission is free and on a first come basis. Parking is reserved for the event on the top level of the Brian J. Whalen Parking Complex on North Virginia Street, next to the E.L. Wiegand Fitness Center. For more information, call (775) 784-4591 or visit the Discover Science Lecture Series website.
Gregory Crouch, author of "The Bonanza King" - Tuesday, September 17, 2019. In his lecture, Crouch will discuss the rags-to-riches American frontier tale of Irish immigrant John Mackay, and the rich body of gold and silver so immensely valuable that it changed the destiny of the United States.
Gabriela Gonzalez, LIGO physicist - Saturday, October 19, 2019. Dr. Gabriela González is a physicist working on the discovery of gravitational waves with the Laser Interferometer Gravitational-Wave Observatory (LIGO) team, a collaboration of more than 1,000 scientists who measured for the first time the gravitational waves that Einstein predicted over 100 years ago.
Dr. William Tate, Washington University - February 6, 2020. Tate has a particular interest in STEM attainment. Ongoing research projects include understanding the distal and social factors that predict STEM doctoral degree attainment defined broadly to include highly quantitative social sciences disciplines.
Source: University of Nevada, Reno.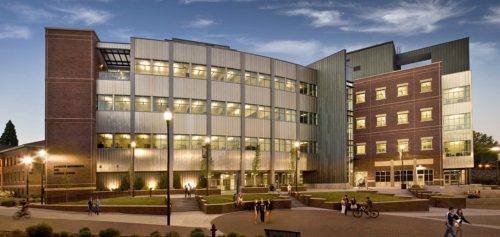 Davidson Mathematics and Science Center at University of Nevada, Reno. Photo courtesy UNR.