May is Older American's Month. To help Reno area seniors get outside for the mental, social, and physical benefits a walk provides, the Truckee Meadows Parks Foundation, together with the Reno Parks, Recreation, and Community Services Department, is leading free walks in four different Reno parks during May, 2017.
All walks are about a mile long and last approximately one hour. During these interpretive strolls, participants will learn about the cultural and natural history of the parks they visit. All walks are on Thursdays and begin at 10 a.m. The City of Reno will provide a shuttle from the Evelyn Mount Northeast Community Center at 9:30 a.m. for each walk. For more information about the walks, contact Carl Rumpp at (310) 469-8971.
The Walks
Idlewild Park - May 4, 2017. Com learn about one of Reno's oldest and most storied parks. We'll also be identifying a selection of trees and shrubs growing in the park and perhaps sight an assortment of birds along the Truckee River.
Directions to Idlewild Park: From downtown Reno, take Arlington Avenue south and turn right (west) on 1st Avenue. Turn left onto Riverside Drive and follow it until it crosses the river. Make the first right on Idlewild Drive and the park will be on your right. Turn right on Cowen Drive and meet at the office - 50 Cowan Drive, Reno, NV 89509.
Valley Wood Park - May 11, 2017. The paved Valley Wood Trail offers insight into the local ecology in an urban setting. There is a bit of elevation change on the 1.1 mile walk. The Valley Wood Trail was built by housing developers and subsequently turned over to the City. Valley Wood Park opened in 2002.
Directions to Valley Wood Park: (6512 Valley Wood Drive, Reno, NV) Drive West on I-80 from downtown Reno. Take exit 9 for Robb Drive, then turn right and go 1 mile to Mae Ann Avenue. Turn left on Mae Ann and then take an immediate right on Valley Wood Drive. Drive 1/2 mile and the park is on your left. Parking is on-street.
Virginia Lake Park - May 18, 2017. Enjoy a one mile walk around this interesting urban lake. Learn how the lake came to be and identify a surprisingly rich assortment of plants and animals that live here in the heart of Reno. We will discuss the improvements being made to the lake and nearby dog park.
Directions to Virginia Lake: (2400 Lakeside Drive, Reno NV 89509) From downtown Reno, head south on S. Virginia Street. Turn right on Plumb Lane and drive one block. Turn left on Lakeside Drive, then bear right to follow Lakeside Drive around the west side of the lake. Meet at the playground at the southwest corner of the lake.
Oxbow Nature Study Area - May 25, 2017. Oxbow Nature Study Area is a hidden gem right in the heart of Reno. The park is an important bird area, but many other animals live here as well. Possible wildlife sightings include deer, beavers, hawks, snakes, muskrats, and other critters. Dogs are prohibited. The trail is flat, but unpaved. It is not ADA accessible.
Directions to Oxbow Nature Study Area: (3100 Dickerson Road, Reno) From the intersection of 2nd Street and Keystone Avenue, drive west on 2nd Street to the end of the pavement (2nd St. becomes Dickerson Road). Meet around the back side of the nature center in the grassy area.
More Reno Area Hiking
There is a related series of park walks from the Truckee Meadows Parks Foundation. These are free and open to everyone wanting to explore many of the parks around Washoe County. Learn more from "Discover Your Parks Walks in Washoe County."
You can, of course, strike out on your own on any of numerous other hiking and walking trails in the Reno area. To learn about some of these, refer to "Reno Area Hiking and Walking Trails."
Source: Truckee Meadows Parks Foundation.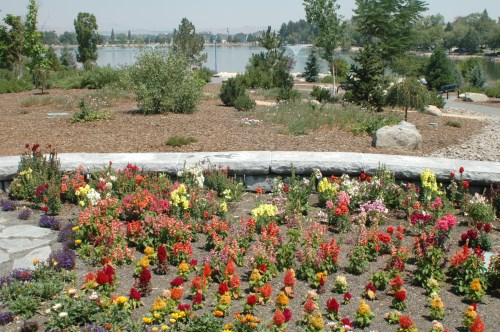 Virginia Lake Park in Reno, Nevada. Photo © Stan White