May is Older American's Month. To help Reno area seniors get outside for the mental, social, and physical benefits a walk provides, the Truckee Meadows Parks Foundation, together with the Reno Parks, Recreation, and Community Services Department, is leading free walks in four different Reno parks during May, 2016.
All walks are about a mile long and last approximately one hour. During these interpretive strolls, participants will learn about the cultural and natural history of the parks they visit. All walks begin at 10 a.m. For those needing a ride, buses will leave the Evelyn Mount Northeast Community Center (1301 Valley Road in Reno) at 9:30 a.m. the day of each outing. You are asked to be there at 9:15 a.m. Buses will return at around 11:30 a.m. Reservations are required. Call (775) 334-2262 to reserve a seat. For more information about the walks, call (775) 453-0713.
The Walks
Sparks Marina Park - May 5, 2016. Stroll the entire two-mile path encircling Helms Lake and discuss the interesting history of the marina. The marina is a perfect place for a summer evening stroll with great views, open water and a diversity of water birds to check out.
Directions to Sparks Marina: (300 Howard Drive, Sparks) From I-80 eastbound, take exit 19 for McCarran Blvd. Turn left (north) onto McCarran and then turn right on Nichols Blvd. Take the roundabout north onto Howard Drive and turn into the large parking lot. Turn left once in the lot. Meet at the north end of the parking lot.
Rancho San Rafael Arboretum - May 12, 2016. On this 2.25 mile walk, explore sections of the May Arboretum and the wetlands area near Herman's Pond on the way to the Nature Trail. Given extreme weather conditions this year, fall colors may be coming early and Rancho is one of the best places appreciate the change of seasons.
Directions to Rancho San Rafael Regional Park: (1595 North Sierra Street, Reno) From I-80, take exit 13 and drive until you find Virginia St. Head north on Virginia to 9th St. and turn left (west). Take your first right onto N. Sierra St. (north) and continue on for about seven or eight blocks. The park entrance will be on your left. Enter the park and park your vehicle in the first parking lot you come to. Meet right inside the parking lot near San Rafael Drive.
Virginia Lake Park - May 19, 2016. Enjoy a one mile walk around this interesting urban lake. Learn how the lake came to be and identify a surprisingly rich assortment of plants and animals that live here in the heart of Reno. We will discuss the improvements being made to the lake and nearby dog park.
Directions to Virginia Lake: (2400 Lakeside Drive, Reno NV 89509) From downtown Reno, head south on S. Virginia Street. Turn right onto Plumb Lane and drive one block. Turn left onto Lakeside Drive, then bear right to follow Lakeside Drive around the west side of the lake. Meet at the playground at the southwest corner of the lake.
Oxbow Nature Study Area - May 26, 2016. Oxbow Nature Study Area is a hidden gem right in the heart of Reno. The park is an important bird area, but many other animals live here as well. Possible wildlife sightings include deer, beavers, hawks, snakes, muskrats, and other critters. Dogs are prohibited. The trail is flat, but unpaved. It is not ADA accessible.
Directions to Oxbow Nature Study Area: (3100 Dickerson Road, Reno) From the intersection of 2nd Street and Keystone Avenue, drive west on 2nd Street to the end of the pavement (2nd St. becomes Dickerson Road). Meet around the back side of the nature center in the grassy area.
More Reno Area Hiking
You can, of course, strike out on your own on any of numerous other hiking and walking trails in the Reno area. To learn about some of these, refer to "Reno Area Hiking and Walking Trails."
Source: Truckee Meadows Parks Foundation.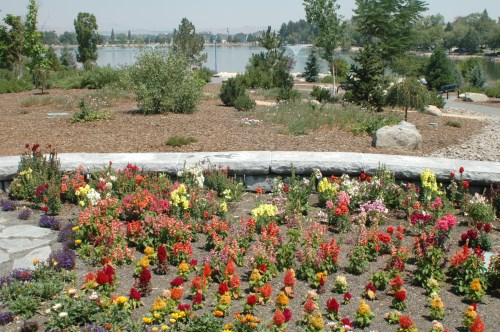 Virginia Lake Park in Reno, Nevada. Photo © Stan White