The 2018 Lake Tahoe Shakespeare Festival runs from July 6 through August 26. This 46th season of the Festival features two main plays in addition to all of the other shows and activities making up this exceptional event at Sand Harbor on the shores of Lake Tahoe.
Sand Harbor has been called "The Most Scenic Venue in the World," with audience seating in a sandy bowl facing the performances and Lake Tahoe Basin as the backdrop for the stage.
Lake Tahoe Shakespeare Festival Main Season Shows
The playbill for the 2018 Lake Tahoe Shakespeare Festival includes two main shows...
For information about the dates each show will play and getting tickets, refer to the Festival Calendar. There are a variety of ticket package and seating options - go to Ticket & Seating Pricing for details.
Showcase Series at the Lake Tahoe Shakespeare Festival
Every Monday night during the season will feature a variety of live entertainment. The Showcase Series performances will take place on the Warren Edward Trepp Stage at Sand Harbor. All performances start at 7:30 p.m.
Following the 2018 regular season, additional shows will play at the Sand Harbor venue on two Saturdays, September 1 at 7:30 p.m. and September 8 at 6:30 p.m.
D.G. Menchetti Young Shakespeare Program
Each year the D.G. Menchetti Young Shakespeare Program presents an interactive, one-hour adaptation of a Lake Tahoe Shakespeare Festival mainstage production that is created with the young audience member in mind. In addition to Sand Harbor, the production travels to other venues throughout the Reno/Sparks, Minden and Tahoe/Truckee region.
Performances are free (suggested donation $5 per adult; $1 per child), but reservations are required due to limited seating capacity at Sand Harbor and other venues. Reservations are available from the D.G. Menchetti Young Shakespeare Program website.
Directions and Parking at the Lake Tahoe Shakespeare Festival
Sand Harbor is in Lake Tahoe Nevada State Park. To get there from Reno, take the Mt. Rose Highway (Nevada 431) to Incline Village, turn left on Nevada 28 and drive six miles to the park entrance. The Festival website has detailed directions on getting to Sand Harbor from various locations. Carpooling is recommended as parking is limited. Parking at Sand Harbor is free to Festival attendees starting at 5 p.m. Earlier, it is $10 for Nevada residents, $12 for everyone else. Note that there are no public transportation services in the evening for Festival goers. It is illegal to park along the roadway near the Sand Harbor entrance.
Additional information is available from Frequently Asked Questions and by calling (775) 832-1616.
No Pets at the Lake Tahoe Shakespeare Festival
Animals are not allowed at Sand Harbor State Park or at the Festival. Pets may not be brought and left in the car. Pets left in cars will be removed by state park personnel and you will be fined. Service animals trained to work performing tasks for people with disabilities are not pets and are permitted. Therapy and emotional support animals are not permitted.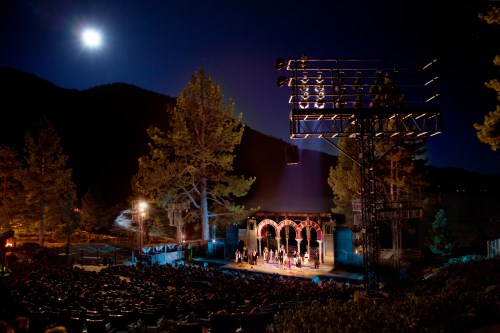 Lake Tahoe Shakespeare Festival at Sand Harbor. Image courtesy Lake Tahoe Shakespeare Festival