What is Winter Trails?
Winter Trails includes events throughout the month of January. The purpose is to get people to try snowshoeing and/or cross country skiing at participating ski resorts and parks. There are over 100 Winter Trails locations across the country, including our Lake Tahoe and Sierra Nevada region. Events at many locations are free or offered with deep discounts.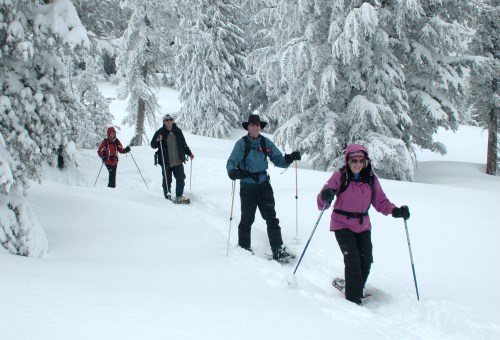 Snowshoeing at Tahoe Meadows, in the Sierra Nevada near Lake Tahoe. Photo © Stan White
Winter Trails 2018 is during the month of January. At locations withing easy driving distance from Reno, you can try out different snowshoes and crosscountry skis, talk to equipment reps, and get tips from resort staff. People new to these sports will learn how easy it is to get started, pick up information about buying needed equipment, and get tips on places to enjoy being outside during winter. Experienced snowshoers and cross country skiers can learn about the latest gear and different models.
Winter Trails Anchor Sites
Anchor sites are larger events where manufacturers bring demo equipment for you to try out, along with staff to help those new to the sports learn the basics.
Winter Trails Affiliate Sites
Affiliate sites generally put on smaller events run by the local resort and other sponsors hosting Winter Trails events.
Kirkwood Cross Country and Snowshoe Center
Highway 88, Kirkwood, CA 96120
(209) 258-7248
Saturday and Sunday, January 6 - 7, 2018. Join us for a snowshoe adventure at 50 percent off. Snowshoe rental and trail pass will be offered at 50% discount. We will provide an introduction to the equipment and the trails. Call (209) 258-7248 for information and required registration.
Loon Lake Lodge - El Dorado Nordic Ski Patrol
Ice House Road - 30 miles from Hw 50
Eldorado County, CA
Saturday and Sunday, January 27 - 28, 2018. The El Dorado Nordic Ski Patrol will have information on several local marked cross country ski trails and will have maps available as well as updates on winter safety. The Patrol will be serving hot drinks and goodies and provide a place to warm up by the fire for a while. Free demos and activities will include ski and snowshoe orientation to local trails, backcountry ski skills, winter safety, clothing, and ski repair. The event is from 9 a.m. to 3 p.m. Contact by email - info@ednsp.org.
Source: Winter Trails.
Other Guided Winter Activities
Lassen Volcanic National Park
Mineral, Mill Creek and Chester, CA
(530) 595-4480
Saturdays and Sundays from January 6 through April 1, 2018. Park visitors are invited to participate in free, ranger-led snowshoe walks. Snowshoes are provided; a $1 donation is suggested to help with equipment maintenance. Route and distance varies depending on group ability and fitness. At the beginning of each snowshoe walk, a ranger will demonstrate how to put on snowshoes and how to move around. Reservations are required for organized groups, but not for families or individuals. Walks are open to those eight years of age and older and limited to 40 people per program. Children in carriers are not allowed due to safety concerns. Meet at Kohm Yah-mah-nee Visitor Center at the park's south entrance. Walks are 1:30 p.m. to 3:30 p.m.