What is Winter Trails?
Winter Trails is now partnered with Learn To Ski and Snowboard Month during January. The purpose is to get people to try snowshoeing and/or cross country skiing at participating ski resorts and parks. Events at many locations are free or offered with discounts.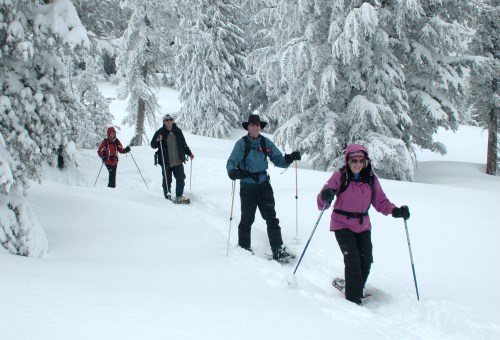 Snowshoeing at Tahoe Meadows, in the Sierra Nevada near Lake Tahoe. Photo © Stan White
At locations withing easy driving distance from Reno, you can try out different snowshoes and crosscountry skis, talk to equipment reps, and get tips from resort staff. People new to these sports will learn how easy it is to get started, pick up information about buying needed equipment, and get tips on places to enjoy being outside during winter. Experienced snowshoers and cross country skiers can learn about the latest gear and different models.
Get more information skiing and snowboarding lessons from "Learn to Ski and Snowboard Month."
More Guided Winter Activities
Lassen Volcanic National Park
Mineral, Mill Creek and Chester, CA
(530) 595-4480
Saturdays and Sundays from January 4 through March 29, 2020. Park visitors are invited to participate in free, ranger-led snowshoe walks. Snowshoes are provided; a $1 donation is suggested to help with equipment maintenance. Route and distance varies with travel over moderately strenuous terrain. At the beginning of each snowshoe walk, a ranger will demonstrate how to put on snowshoes and how to move around. Reservations are required for organized groups larger than 10, but not for families or individuals. Walks are open to those eight years of age and older and space is limited - obtain a free ticket at the front desk the day of. Children in carriers are not allowed due to safety concerns. Meet at Kohm Yah-mah-nee Visitor Center at the park's south entrance. Walks are 1:30 p.m. to 3:30 p.m. Walks may be cancelled at the last minute due to extreme weather conditions. Call (530) 595-4480 ahead to check on conditions.
Sponsored Links
Sponsored Link