---
Reno 1868 FC Soccer Team
Professional Soccer in Reno, Nevada
Search NewToReno
Custom Search
---
---
Christmas Tree Cutting Permits

You can get Christmas tree cutting permits from the U.S. Forest Service (USFS) or Bureau of Land Management (BLM) to go get a tree on nearby public land.
Reno / Lake Tahoe Ski Areas

Snow is less than an hour away, along with many world-class downhill skiing, snowboarding, cross country skiing and other snow sports areas.
Christmas Events & Activities

Enjoy lots of family-friendly events and activities during the Christmas holiday season around Reno and Sparks. Check out these top choices.
Santa Holiday Trains

Get aboard these holiday trains to meet Santa and have lots of other fun during the Reno area holiday season.
Nutcracker Ballet

Dance companies bring 2019 holiday performances of The Nutcracker to the Truckee Meadows.
About Reno 1868 FC Soccer Team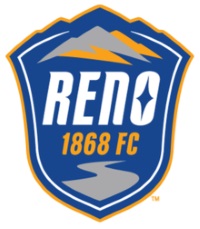 Reno 1868 FC is a professional soccer team in the United Soccer League, a Division II league under Major League Soccer (MLS) in North America. Games are played at Greater Nevada Field, home to the Reno Aces baseball team. Reno 1868 FC is affiliated with the San Jose Earthquakes of MLS.
As you may know, the word "football" refers to soccer just about everywhere else in the world except the United States. The name for Reno's pro soccer team uses the year Reno became a city and FC for "football club."
2019 Reno 1868 FC Home Game Schedule at Greater Nevada Field
Saturday, February 9, 12:15 p.m. - San Jose Earthquakes (preseason)
Saturday, March 9, 1:45 p.m. - Orange County SC
Saturday, March 16, 1:45 p.m. - Austin Bold FC
Saturday, March 30, 5:45 p.m. - OKC Energy FC
Saturday, April 20, 6:45 p.m. - New Mexico United
Saturday, May 4, 6:45 p.m. - Tulsa Roughnecks FC
Saturday, June 1, 7:15 p.m. - Las Vegas Lights FC
Saturday, June 15, 7:15 p.m. - LA Galaxy II
Tuesday, June 18, 7:15 p.m. - Phoenix Rising FC
Saturday, June 29, 7:15 p.m. - Sacramento Republic FC
Wednesday, July 3, 7:15 p.m. - Rio Grande Valley FC
Saturday, July 27, 7:15 p.m. - Colorado Springs Switchbacks FC
Saturday, August 10, 7:15 p.m. - San Antonio FC
Saturday, August 31, 6:45 p.m. - Portland Timbers 2
Saturday, September 7, 6:45 p.m. - Fresno FC
Tuesday, September 10, 6:45 p.m. - Seattle Sounders 2
Saturday, September 28, 5:45 p.m. - Real Monarchs SLC
Saturday, October 5, 5:45 p.m. - El Paso Locomotive FC
Reno 1868 FC Home Game Tickets
Online tickets for home games are available online. Here you will find choices including single game tickets, group tickets, memberships and information about game day experiences for fans. For ticket information, call (775) 334-7001. For other information about the team, memberships, special deals and promotions, go to the official Reno 1868 FC website.